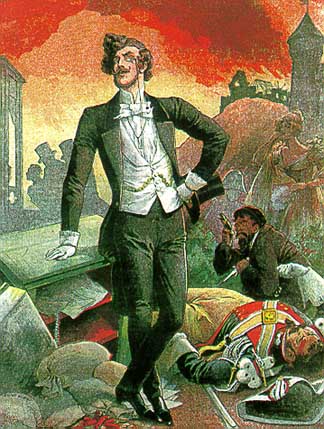 "O Paris! Paris!
You are the true Babylon, the battlefield of the spirits,
the temple where evil welcomes its worshippers and disciples,
and I believe that you feel the eternal breath of the archangel of darkness upon you,
as the high seas tremble upon the winds of the storm."
Sir Williams - "Rocambole"

Created & Written by: Pierre Alexis Ponson du Terrail (1829-1871)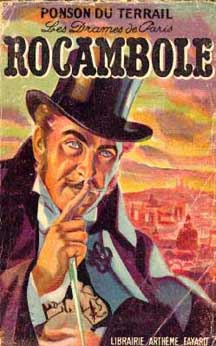 One could hardly cover the field of 19th-century roman feuilleton (thus named because it was serialized in the pages of daily newspapers) without mentioning Ponson du Terrail, the author of the saga of Rocambole a.k.a. Les Drames de Paris (The Dramas Of Paris), a sprawling series of novels published between 1857 and 1870.

Rocambole was an adventurer who began on the wrong side of the law, but ended up doing good, just like his literary descendents, Raffles, Arsène Lupin and The Saint. As was the case with Sherlock Holmes The Shadow, and Doc Savage, Rocambole eventually gathered around him a group of dedicated assistants, selected from various slices of society, ready to drop everything to help their "Master." He often operated in the shadows, pulling strings from behind the scenes. Finally, he mastered the skills of the Orient and inherited the secrets of ancient Tibetan (or equally exotic) civilizations. In short, Rocambole became more than a mere man, he was the first modern, literary super-hero.

When Ponson du Terrail embarked on writing the saga he entitled Les Drames de Paris for the daily newspaper La Patrie in 1857, he merely meant to copy the success of Eugène Sue's best-selling Les Mystères de Paris (1842-43). Armand is Prince Rodolphe, Maman Fipart is La Chouette, Rocambole is Tortillard, etc, etc.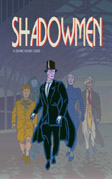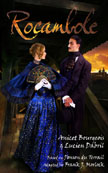 TO FIND OUT MORE, BUY THESE BOOKS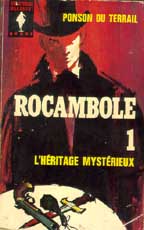 The first novel, known as L'Héritage Mystérieux (The Mysterious Inheritance) began with a prologue taking place in 1812 during the Russian retreat of Napoleon's great army. There, we meet captain Armand de Kergaz, a French nobleman from Britanny, who is murdered his young Italian aide-de-camp, Paolo de Felipone. (As theorized in our article on the genealogies of the French Wold Newton families, Paolo was a son of the godfather of the Black Coats known as Colonel Bozzo-Corona).

Armand's wife, Hélène, had a son also named Armand. Then, in 1816, after her husband's death, she married Paolo, not suspecting his role in her husband's death, and had another son, Andrea. Paolo, of course, got rid of baby Armand to clear the path for Andrea to inherit the Kergaz' rich estate of Kerloven. Hélène died soon after after finding out the truth.

The story then moves to 1840 when a grown up Armand de Kergaz (II) eventually return. His mother long-dead, he is still able to expose Paolo who confesses his villainy on his death-bed, and he reclaims his birthright. The thoroughly evil Andrea is forced him to flee to England, but not before swearing revenge: "It will be between the two of us now, my virtuous brother," Andrea said to Armand. "We shall see who shall win -- you the philanthropist or I the villain. Heaven or Hell... And Paris shall be our battlefield!"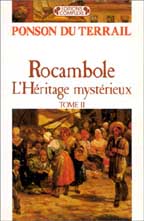 While in England, Andrea became a major figure in the British criminal underworld (the Black Coats were established in London since the 18th century by the Colonel and were later directed by Fergus O'Breane), and took the alias of Irish baronet "Sir Williams". (Some scholars have even theorized that, during his stay in England, Andrea's blood crossed into the Moriarty line.)

Sir Williams returns to Paris in 1843, and soon a prodigious battle of wits begins between him and Armand. Armand is trying to find the legitimate heir to the Kermouaret inheritance, a young woman named Hermine, while Sir Williams tries to steal the money by marrying her. Among the many protagonists of this saga, the one who stands out the most is the beautiful Baccarat, a courtesan, a daring and resourceful adventuress, who does not hesitate to interfere in the affairs of men and, at first, straddles the line between helping Armand and joining forces with Sir Williams.

Another, at first minor, protagonist is an extremely resourceful boy, an orphan, whose origins are unknown, who is the adopted son of Maman Fipart, a horrible, evil old woman who owns an inn where villains from the Paris underworld gather. That boy is named Rocambole. When we first meet him, Ponson du Terrail claims that he is 14. But as the character became Sir Williams' protégé, he showed so much potential and displayed so much charisma that Ponson aged him in the course of a few chapters, and he suddenly became 16!

The true hero of L'Héritage Mystérieux was, of course, the fearless Armand who, at the end, defeated his half-brother and married the lovely Jeanne de Balder. Baccarat eventually chose good over evil, and became a nun. Rocambole, too, switched sides (for money) and helped Armand expose Andrea.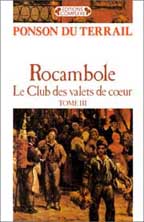 The next novel, Le Club des Valets de Coeur (The Club Of The Jack Of Hearts), begins five years later (circa 1848-49). Andrea has convinced Armand of his repentance and lives with him. Armand has even put him in charge of his private police to fight a gang of thieves known as the Jack of Hearts. But in reality, Andrea is as rotten as ever, and he is the secret leader of the Jack of Hearts, ably assisted by Rocambole, now posing as the Viscount of Cambohl.

Sir Williams' evil plans are derailed by the return of Baccarat, who at first pretends to be bad again, but who, in reality, has joined forces with the brave Russian Count Stanislas Artoff to expose Andrea. In the end, the villain is defeated, Van Hop, Dai Natha and Cherubin are killed, and Turquoise goes mad. Rocambole again betrays Sir Williams to Armand, who was until the very end refusing to believe in his half-brother's villainy. Taken prisoner by Count Artoff, Sir Williams is forcibly blinded, his tongue is cut off, his face disfigured, and he is exiled to live among the savages of South America. Baccarat marries Count Artoff. Rocambole, who has struck a bargain with Armand, goes to London with 200,000 francs and Sir Williams' address book.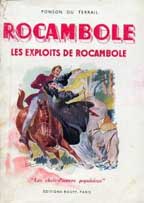 Rocambole returns to Paris two years later (1851) in Les Exploits de Rocambole (The Exploits Of Rocambole). He is more than ever a villain: a ruthless, brilliant schemer, motivated purely by greed. He steals and murders without remorse, but with a wicked sense of humor and banter that will become characteristic of future heroes like Arsène Lupin and the Saint.

This time, Rocambole's goal is to impersonate the Marquis Albert de Chamery and marry a wealthy Spanish heiress, Concepcion de Sallandrera. As luck would have it, he comes across the disfigured Sir Williams who has returned to Europe from the New World under the alias of Walter Bright (a British sailor allegedly disfigured by the Indians), and takes him under his wing.

Sir Williams becomes Rocambole's evil mentor and advises him in his schemes. To cover his tracks, Rocambole does not hesitate to kill even his own adopted mother, Maman Fipart, whom he strangles with his own hands.

Ultimately, Rocambole comes to the conclusion that only one man remains who knows his true identity, Sir Williams himself, so he regretfully pushes him to his death. And yet, after the "savage's death" Rocambole becomes mortally afraid -- he remembers all too well his mentor's dying curse: "I am the genius who presided over your lucky star... When I am no more, your star will fall..."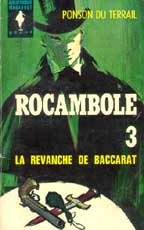 And fall it does in the last part of the story, also known as La Revanche de Baccarat (Baccarat's Revenge), which takes place in 1852. For it is the then-Countess Artoff who, back in Paris, pieces together the puzzle and comes to the conclusion that the Marquis de Chamery is none other than her old foe, Rocambole. She manages to enlist the help of Rocambole's henchman, Zampa, locates the real Albert (who was prisoner in Cadiz), marries him to Concepcion, and ultimately captures Rocambole in a castle in Cadiz in Spain. Baccarat's punishment is horrible: Rocambole's handsome face is burned with acid; he is then dispatched to the gallows of Cadiz (to take Albert's place), then to the hard-labor camp of Toulon (where Jean Valjean had been imprisoned thirty years or so before).

The novel ends with a tragic scene: during a charitable visit to the labor camp, Albert's sister, Blanche de Chamery, a woman Rocambole loved as if she had been his true sister, now married to Fabien d'Asmolles, fails to recognize Rocambole in the the bedraggled, disfigured convict he has become. "She did not recognize me," laments Rocambole. "All I have suffered until now was nothing. That is the true punishment!"

Les Exploits de Rocambole was a huge success, causing the sales of La Patrie to go through the roof. But Ponson du Terrail had left his charming yet utterly villainous anti-hero in a desperate predicament. Something had to be done.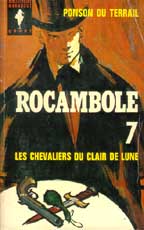 Rocambole's return was trumpeted the following year in Les Chevaliers du Clair de Lune (The Knights of Moonlight), a Count of Monte-Cristo-like tale whose story began c. 1854-1855. Yet, the entire long, first chapter of this complicated saga does not even feature the hero. Once again, the plot revolves around a complex inheritance. Four youg men, Gontran de Neubourg, Lord Blackstone of Galwy, Arthur de Chenevières and Albert de Verne decide to join forces, dubbing themselves the "Knights of Moonlight", to help a mysterious young woman, first known only as "Domino" but whose identity is later revealed to be Danielle de Main-Hardye, to avenge her murdered parents and reclaim her inheritance from the evil Ambroise de Mortefontaine. Two other characters are the brave but crippled French army captain Charles de Kerdrel nicknamed Grain-de-Sel, and the courtesan Saphir.

Where is Rocambole? He barely appears in the novel. His face is still scarred, he now wears blue- or green-tinted glasses (a disguise Arsene Lupin will use use in L'Agence Barnett), and walks with a pronounced limp. He did not escape from Toulon but was pardoned thanks to Fabien and Blanche's efforts (they recognized him after all). Now financed by Armand de Kergaz and the Countess Artoff, Rocambole uses his talents for the cause of good, to make up for his evil past. But his role in the novel is not that of a man of action -- that part is reserved to the four Knights of Moonlight -- but that of a schemer, a man who pulls the strings behind the scenes. Baccarat is also totally missing from the novel.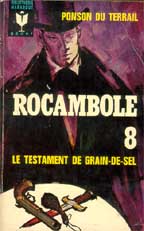 This was NOT what the readers wanted, and the sales of La Patrie went down accordingly. The editors asked Ponson du Terrail to switch gears in a hurry, and the novel was wrapped up hurriedly in a brief epilog tagged at the end of the third (and final) section entitled Le Testament de Grain de Sel (The Testament Of Grain-Of-Salt).

Then, Ponson du Terrail did something extraordinary -- after a three years' interval, he went back to the point when Rocambole was prisoner at the hard labor camp of Toulon, and started the story over, thereby erasing Les Chevaliers du Clair de Lune from the continuity of the series, without bothering to pretend it had been a dream or something else -- just as the TV series Dallas did years later.

So Rocambole (now known as Convict No. 117) returned again, in a new saga apty entitled La Résurrection de Rocambole (The Resurrection Of Rocambole), for it was both a literary resurrection as well as the tale of a moral redemption.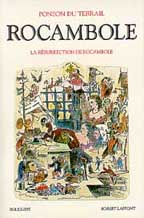 The first part of the book shows Rocambole (no longer disfigured) escaping from the labor camp of Toulon after ten years of captivity -- so the events now take place in the "present", when the novel was written, c. 1865 -- and experiencing a Saint Paul-like moral epiphany. He decides to become a force for good, and has gathered around him a small cadre of associates who call him "Master": the repented hulkish convict Milon and the fiercely loyal Vanda.

Rocambole's first task is to protect two orphaned girls, first Antoinette, then her sister Madeleine, from the schemes of the evil Karle de Morlux and his partner-in-crime, the Russian she-devil, Countess Wasilika Wasserenoff. Rocambole's new secret identity is that of Major Avatar, a respected Russian nobleman. During the course of the adventure, his path again crosses that of Baccarat, a.k.a. the Countess Artoff, who eventually comes to accept his redemption when she sees him deliberately let Madeleine (whom he dearly loves) marry Yvan Potenieff. Then and only then, Baccarat knows that Rocambole has exorcised the ghost of Sir Williams, and whispers in his ear a single word: "Redemption!"

In a short epilog entitled La Vengeance de Wasilika (Wasilika's Revenge), Rocambole, having put his affairs in order, wants to kill himself -- even Milon and Vanda fail to persuade him otherwise. But then, Blanche de Chamery (whom he loved as a sister) comes to tell him the Wasilika has kidnaped her son, and Rocambole is once again resurrected. Rocambole saves the child and kills Wasilika, but escapes mortally wounded. The book ends on a cliffhanger, with Milon saying, "Rocambole is dead!" and Vanda replying, "No, God would not will it -- ROCAMBOLE STILL LIVES!"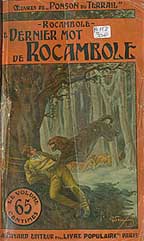 From that point forward, the publication of a new Rocambole serial was heralded with much advance publicity, and caused the sales of newspapers to go through the roof. Ponson du Terrail was crowned king of the roman feuilleton. He left La Patrie and gave his next Rocambole novel to La Petite Presse, who had offered him a small fortune for the rights.

Rocambole made his much-heralded return in Le Dernier Mot de Rocambole (Rocambole's Last Word), another complex saga sprinkled with fantastic elements. Rocambole infiltrates a gang of thieves known as the Wreckers. During the course of a burglary, he comes across Thugee from India via England, who seek to kidnap yourg virgins chosen to serve the goddess Kali. Rocambole travels to London with Milon, Vanda and several reformed Wreckers (including young Marmouset) to fight the Thugee. Their target is Gipsy, a girl raised among gipsies whose real identity is Anna Blesingfort, and whose inheritance was stolen by her aunt nicknamed "Milady", who the mistress of Ali-Remjeh, the Thugee's leader. Rocambole saves Gipsy; the British government loans him a ship and he captures Ali-Remjeh and Milady. He pardons the woman and delivers the Thugee to the British. He then goes to India, leaving his friends behind.

In the second part of the story, Marmouset comes across a mysterious woman nicknamed the "Beautiful Gardener" who grows deadly plants in her garden. Several members of a club of idle rich, the so-called "Dead Men", have broken into her house and discovered the wax statue of one of their members, Maurevers, who was also a friend of Turquoise (from The Club Of The Jack Of Hearts above) (hence of Rocambole) and who mysteiously vanished. The "Beautiful Gardener" is Roumia, a gipsy woman , who has kidnaped Maurevers because he killed his bastard half-brother Perdito who was also her lover. Roumia captures Marmouset and Vanda, when Rocambole returns from India, accompanied by his new friend, Nadir, leader of the good Sons of Shiva, enemies of the evil Kali-worshipping Thugee. Rocambole defeats Roumia, who sees the errors of her ways and frees Maurevers.

We learn that, while in India, Rocambole joined forces with Rajah Osmany. With the help of Nadir, he defeated Osmany's villainous minister Sir Edward Linton. But Linton escaped taking with him the Rahjah's young son. He returned to Europe, and Rocambole has been hot on his trail. The story moves back to London. There, Roumia helps Rocambole defeat Linton, but in turn the villain has arranged for Rocambole to be arrested by the British police. Roumia, Marmouset, Milon and Vanda capture Linton, and get the Rajah's son and treasure back.

Le Dernier Mot de Rocambole was a huge commercial success, and only confirmed Ponson's reputation. Its final section was entitled La Vérité sur Rocambole (The Truth About Rocambole) and was a strange departure, almost a semi-biographical novel in which Ponson du Terrail portrayed himself, and the life of a writer of serials, and explained how he had become Rocambole's biographer! In it, he states that he had heard only rumors about Rocambole when he wrote The Mysterious Inheritance (therefore that story was mostly made up), then the real Rocambole contacted him and told his his true adventures, then he lost contact with Rocambole again after he was captured (and therefore Ponson had entirely made up The Knights of Moonlight), until Rocambole renewed his acquaintance with him after his escape from Toulon. Since then, he's only written trrue stories, as conveyed to him by Rocambole himself. Ponson ends stating that he just learned that Rocambole escaped from a British jail and that new adventures are on their way.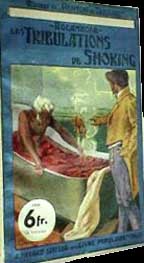 The following instalment of the saga was entitled Les Misères de Londres (The Miseries Of London) and again took place in England. In it, the name of Rocambole is never mentioned; he is merely known as the fearsome "Man in Grey"... His allies are Irish priest Samuel, and the beggar Barclay nicknamed "Shocking" (because it's his favorite expression). The stakes are to locate the last heir of a wealthy Irish family, Ralph, who's been raised in the gutters of London in a transparent Dickensian fasion. Rocambole's enemies are Lord Palmure and his daughter, the beautiful Miss Ellen, who stand to inherit, and their associate, the diabolical Reverend Peters Town. After many complicated plots, Rocambole finally outwits Miss Ellen, but is recaptured by the police. As he is taken away, Ellen realizes she was in love with him

The adventures of Rocambole continued with Les Démolitions de Paris (The Demolitions Of Paris), also known as Rocambole en Prison (Rocambole in Jail). Rocambole is prisoner in Newgate. Miss Ellen goes to Paris to enlist the help of Rocambole's old gang: Vanda, Milon, and Marmouset. (One presumes that Nadir is now back in India lhappily married to Roumia.) But Lord Palmure and Peters Town (a.k.a. Patterson) have sworn revenge. Their henchman, James Wood, captures Ellen near a construction site (hence the title) but she is rescued by a young bricklayer dubbed the "Limousin" (so named because he comes from the part of France called Limousin). "Shocking" also comes to Paris to seek help for Rocambole. Eventually Wood is defeated, the gang gets back together and travels to London. Ellen is reconciled with his father, who regrets his evil ways. With Samuel's help the gang prepares to spring Rocambole, but runs afoul of a similar scheme by the Irish patriots. The story ends with a huge explosion in the tunnels under Newgate.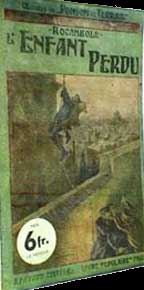 Rocambole's adventures were abruptly interrupted in the midst of the last saga, La Corde du Pendu [The Hanged Man's Rope], by Ponson du Terrail's sudden death during the German invasion of 1871. Everyone has now escaped safe and sound from Newgate. While in jail, Rocambole met a man, Tom, who was a servant working for the Pembertons and discovered a sinister plot by Evandale Pemberton who stole the fortune and title of the rightful heir, his half-brother, William. Tom killed Evandale, but William is now locked in Bedlam. Rocambole decides to help him but runs afoul of his old enemy, Peters Town (Patterson), now working for Sir Archibald, Evandale's father-in law. Marmouset springs William out of Bedlam. Rocambole and Shocking capture Patterson. Vanda seduces Sir Archibald and takes him to France... But Patterson's criminal organization is hot on the trail of the heroes... Then the story stopped.

In August, 1870, with France's situation becoming critical (Napoleon III surrendered in September), Ponson fled to his country estate near Orléans, gathered a group of like-minded companions, and began a guerilla-style wafare, not unlike what Rocambole himself would have done. Reportedly, one of his friends bemoaned before dying, "Ah! If only Rocambole was here to save us!"

The Germans drove him to flee to Bordeaux after burning down his castle and executing his friends and his dogs. Ponson du Terrail died at age 42 on 20 January 1871, leaving the saga of Rocambole uncompleted.

Like Les Habits Noirs, Rocambole was primarily a crime thriller/adventure series. Its importance in popular fiction cannot be underestimated for it represents the transition from the old-fashioned gothic novel to modern heroic fiction, in the sense that it created and virtually defined all the archetypes of modern super-heroes and super-villains. The fact that the word "rocambolesque" has become common in French to label any kind of fantastic adventure is the best testament Ponson du Terrail could have dreamed of.

Many thanks to Vincent Mollet.


---
THE BOOKS


The bibliography of Rocambole is particularly hard to compile because of its various editions in different repackagings under different titles. We have tried to list all the major editions with their variant titles, as follows: (i) the original newspaper serialization; (ii) the original hardcover editions by L. de Potter, Dentu, Charlieu & Huillery, and Rouff; (iii) the early 1960s reedition by Marabout. (There is also a late 1940s edition by Fayard under different titles but we do not have a list of their titles.)

A. ORIGINAL NEWSPAPER SERIALIZATIONS:

1. Les Drames de Paris [The Dramas of Paris] (first serialized in La Patrie, 1857)
-- a. Les Deux Frères [The Two Brothers]
-- b. L'Héritage Mystérieux [The Mysterious Inheritance]

2. Le Club des Valets de Coeur [The Club Of The Jack Of Hearts] (first serialized in La Patrie, 1858)
-- a. Le Club des Valets de Coeur [The Club Of The Jack Of Hearts]
-- b. Turquoise la Pécheresse [Turquoise the Sinner]

3. Les Exploits de Rocambole [The Exploits Of Rocambole] (first serialized in La Patrie, 1858-59)
-- a. Une Fille d'Espagne [A Girl from Spain]
-- b. La Mort du Sauvage [The Savage's Death]
-- c. La Revanche de Baccarat [Baccarat's Revenge]

4A. Les Chevaliers du Clair de Lune [The Knights of Moonlight] (first serialized in La Patrie, 1860-62)
-- a. Le Manuscrit du Domino [The Domino Manuscript]
-- b. La Dernière Incarnation de Rocambole [The Last Incarnation Of Rocambole]
-- c. Le Testament de Grain de Sel [The Testament Of Grain-Of-Salt] (includes an epilog entitled Le Château de Bellombre [The Castle of Bellombre])

4B. La Résurrection de Rocambole [The Resurrection Of Rocambole] (first serialized in Le Petit Journal, 1865-66)
-- a. Le Bagne de Toulon [The Penitentiary Of Toulon]
-- b. Les Orphelines [The Two Orphan Girls]
---- (i) Antoinette
---- (ii) Saint-Lazare
-- c. Madeleine
---- (i) L'Auberge Maudite [The Cursed Inn]
---- (ii) La Maison de Fous [The Madhouse]
-- d. Le Souterrain [The Tunnel]
---- (i) Redemption
---- (ii) La Vengeance de Wasilika [Wasilika's Revenge]

5. Le Dernier Mot de Rocambole [Rocambole's Last Word] (first serialized in La Petite Presse, 1866-67)
-- a. Les Ravageurs [The Wreckers]
-- b. Les Etrangleurs [The Stranglers]
-- c. Le Fils de Milady [Milady's Son]
-- d. Les Millions de la Bohémienne [Gipsy's Millions]
-- e. Le Club des Crevés [The Club Of Dead Men]
-- f. La Belle Jardinière [The Beautiful Gardener]
-- g. Le Retour de Rocambole [Rocambole's Return]
-- h. Le Bûcher de la Veuve [The Widow's Stake] (a.k.a. Un Drame dans l'Inde [A Drama in India])
-- i. Les Trésors du Rajah [The Rajah's Treasure]
-- j. La Vérité sur Rocambole [The Truth About Rocambole]

6. Les Misères de Londres [The Miseries Of London] (first serialized in La Petite Presse, 1867-68)
-- a. La Nourrisseuse d'Enfants [The Nursemaid]
-- b. L'Enfant Perdu [The Lost Child]
-- c. Le Moulin sans Eau [The Waterless Mill]
-- d. Newgate: Le Cimetière des Suppliciés [The Graveyard Of The Tortured] (a.k.a. La Cage aux Oiseaux [The Birdcage])
-- e. Un Drame dans le Southwark [A Drama in Southwark]
-- f. L'Enfer de Mistress Burtin [Mistress Burtin's Hell] (a.k.a. Les Tribulations de Shoking [Shoking's Tribulations]) (includes a chapter entitled La Sirène (The Siren)].

7. Les Démolitions de Paris [The Demolitions Of Paris] (a.k.a. Rocambole en Prison [Rocambole in Jail]) (first serialized in La Petite Presse, 1869)
-- a. Les Amours du Limousin [The Limousin In Love]
-- b. La Captivité du Maître [The Captivity Of The Master] (a.k.a. Les Souterrains de Newgate [The Tunnels of Newgate])

8. La Corde du Pendu [The Hanged Man's Rope] (First serialized in La Petite Presse, 1870, never completed)
-- a. Le Fou de Bedlam [The Madman of Bedlam]
-- b. L'Homme Gris [The Man In Grey]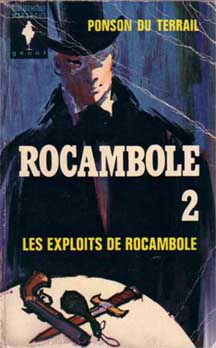 B. L. DE POTTER ORIGINAL HARDCOVER EDITIONS (1 to 4A in six volumes) (1859-63); followed by CHARLIEU & HUILLERY EDITIONS (1 to 7 in five volumes collecting entire story arcs) (1863-69)


C. DENTU PAPERBACK EDITIONS (1 to 8, in 26 volumes, broken down in chapters) (1866-71)


D. ROUFF COLLECTED OMNIBUS EDITION (1 to 8, in 4 large volumes, 1884)


E. FAYARD PAPERBACK EDITION (1 to 7, in 15 volumes, early 1940s)


F. MARABOUT PAPERBACK EDITION (1 to 4B, in 8 volumes, 1963-66)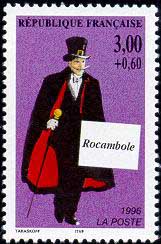 Sequels by Constant Guéroult:

Le Retour et la Fin de Rocambole [The Return And The End Of Rocambole]
(Serial. La Petite Presse, 1875)
(Rep. Benoist, 1876)
Les Nouveaux Exploits de Rocambole [The New Adventures Of Rocambole] (Capiomont, Calvet, 1880)
Note: Rocambole now lives in Paris with Vanda and Milon under the alias of "Mr. Portal". He defeats criminals planning to commit crimes using his name...

Sequel by Jules Cardoze:

Les Bâtards de Rocambole [Rocambole's Bastards]
(Rep. L. Boulanger, 1886)
-- Les Deux Bâtards [The Two Bastards]
Note: The story is mostly about Rocambole's illegitimate children, and takes place while he is prisoner in Toulon; in a true conspiracy crossover, Cardoze mentions the notorious exploits of Paul Feval's Les Habits Noirs, Alexandre Dumas' Mohicans of Paris, Rocambole's earlier Valets de Cœur, Eugène Sue's Ravageurs from Les Mystères de Paris and Etrangleurs from Le Juif Errant.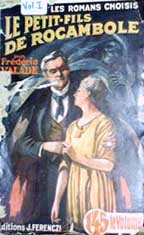 Sequels by Frédéric Valade:

Le Petit-Fils de Rocambole [Rocambole's Grand-Son] (Ferenczi, 1922)
La Haine immortelle [Immortal Hatred] (Ferenczi, 1922)
Le Testament de Rocambole [Rocambole's Testament] (Tallandier, 1931)
Olivia contre Rocambole [Olivia vs. Rocambole] (Tallandier, 1931)
La Justice de Rocambole [Rocambole's Justice] (Tallandier, 1932)
La Belle Olivia [The Beautiful Olivia] (Tallandier, 1932)
Les Larmes de Rocambole [Rocambole's Tears] (Tallandier, 1933)
Le Châtiment d'Olivia [Olivia's Punishment] (Tallandier, 1933)
Note: In 1886, before his death, an 80-year-old or so Rocambole (who did marry Ellen Palmure) grooms his grand-son Edward to take over his crime-fighting career. Edward is then assisted by Ursule (Milon's daughter) a new Vanda (the daughter of the previous Vanda and a brother of Count Artoff), and Mistigris, son of Marmouset. The villains include first the Irish-German spy O'Sullivan, and later the beautiful Olivia, daughter of O'Sullivan's right-hand man, Faradol. The series ends c. 1907.

Many thanks to Vincent Mollet.

Sequel by Michel Honaker

Published by Gallimard-Jeunesse in their Hors-Piste imprint:
1. Rocambole et le Spectre de Kerloven [Rocambole and the Spectre of Kerloven] (2002)
2. Rocambole et les Marionnettes de la Mort [Rocambole and the Puppets of Death] (2003)
3. Rocambole et le Pacte de Sang [Rocambole and the Pact of Blood] (2004)
4. Rocambole et le Diable de Montrouge [Rocambole and the Devil of Montrouge] (2005)
5. Rocambole et la Sorcière du Marais [Rocambole and the Witch of the Marais] (2005)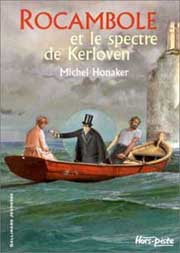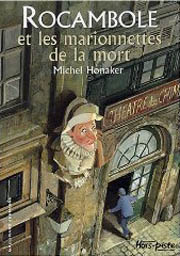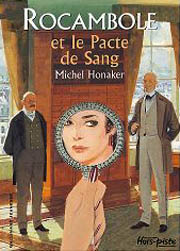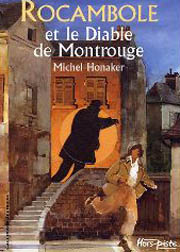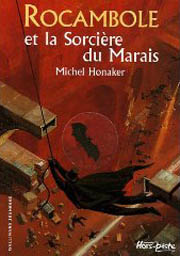 ---
THE FILMS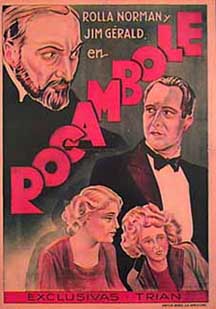 Rocambole
(B&W., 1914)
Dir/Wri: Georges Denola.
Cast: Gaston Silvestre (Rocambole).
Story: Serial comprised of three episodes entitled La Jeunesse de Rocambole (Rocambole's Youth), Les Exploits de Rocambole (Rocambole's Adventures) and Rocambole et l'Héritage du Marquis de Morfontaine (Rocambole and the Marquess of Morfontaine's Inheritance).

Rocambole
(B&W., 1924)
Dir/Wri: Charles Maudru.
Cast: Maurice Thorèze (Rocambole), Claude Mérelle.

Rocambole
(B&W., 1932)
Dir/Wri: Gabriel Rosca.
Cast: Rolla Norman (Rocambole).


4. Rocambole
(B&W., 105 min., 1947)
Dir: Jacques de Baroncelli.
Wri: Léon Ruth, André-Paul Antoine.
Cast: Pierre Brasseur (Rocambole), Sophie Desmarets (Baccarat), Lucien Nat (Andréa), Robert Arnoux.

Rocambole
(Col., 100 min., 1962)
Dir: Berbard Borderie.
Wri: Ugo Liberatore.
Cast: Channing Pollock (Rocambole), Nadia Gray (Baccarat), Guy Delorme.
---
TELEVISION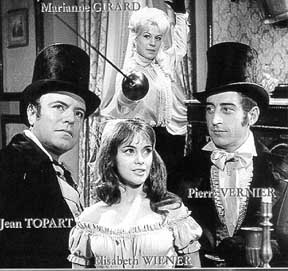 Rocambole
(ORTF 2, B&W., Three Seasons of Twenty-Six 15-min. episodes, 1964-65)
1st Season: L'Héritage Mystérieux (The Mysterious Inheritance) (18 April - 7 May 1964).
2nd Season: Les Étrangleurs (The Stranglers) (8 May - 9 June 1964).
3rd Season: La Belle Jardinière (The Beautiful Gardener) (15 April - 10 May 1965).
Dir: Jean-Pierre Decourt.
Wri: J.-P. Decourt, Anne-Marie Salerne, Louis Falavigna.
Cast: Pierre Vernier (Rocambole), Jean Topart (Sir Williams), Marianne Girard (Baccarat), René Clermont (Beaupréau), Alain Dekock (Marmouset), Jean Heynau (Mourax), Paul Bisciglia (Bistoquet), Michel Puterflam (Mort-des-Braves), Jeanne Herviale (La Fipart).
---
RADIO

Rocambole
(RDF, 4 episodes, 1943)
Dir/Wri: Léon Ruth.
Voices: Julien Bertheau (Rocambole), Alice Field (Baccarat), Paul Amiot, JacquesBernier, Yvonne Gandeau, Laurence Bianchini.

Rocambole
(France-Culture, 31 July 1991)
Note: Actual excerpt read by Pierre Vernier (who played Rocambole on television) on the anthology Héros du Roman Noir Français (Heroes of French Gothic Novels).
---
THE COMICS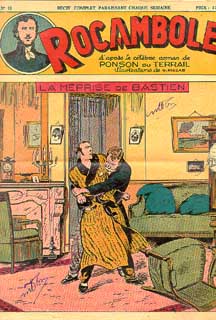 Rocambole
(14 issues, Éditions Armand Fleury, 1947)
Wri/Art: Gaston Niezab.
Story: Faithful adaptation of the first serial.


Rocambole
(242 strips, Le Parisien Libéré, 1949-50)
Wri/Art: André Galland.

Nouvelles Aventures de Rocambole [Rocambole's New Adventures]
(610 strips, Le Parisien Libéré, 1954-56)
Wri/Art: André Galland.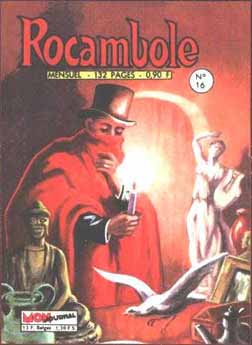 Rocambole
(41 issues, Éditions Aventures & Voyages (Mon Journal), Febr. 1964 - Aug. 67)
Wri/Art: Riera.
Note: #1-#6 are an adaptation of the television version of L'Héritage Mystérieux, including the use of actor Pierre Vernier's likeness. #7-#9 are a very loose adaptation of the second novel, Le Club des Valets de Coeur [The Club Of The Jack Of Hearts]. Rocambole is right from the start a hero. His real name is given as Gaetan, Count (or Viscount) of Cambolth.

Wri: Giancarlo Ottani; Art: Renzo Savi.
Note: Starting with #10, the publisher bought the rights to an Italian comics named Tarvin, featuring Nick Tarvin, Il Solitario, which was merely renamed Rocambole for the French edition, with occasional references to earlier adventures. The character himself switched from dark hair to blond hair. He now lived in the Castle of Dagomar in the Pas-de-Calais (near the British channel) with his butler Jerome and German Shepherd Kid. This new Rocambole occasionally worked for the British Intelligence service. Stories now took place from 1866 to 1890 and in fact #10 begins with a caption that says that ten years have elapsed since #9.

Crossovers: In #13, Rocambole meets Princess Sonia Danidoff from the Fantômas series. In #17, Rocambole disguises himself as his "rival" Sherlock Holmes.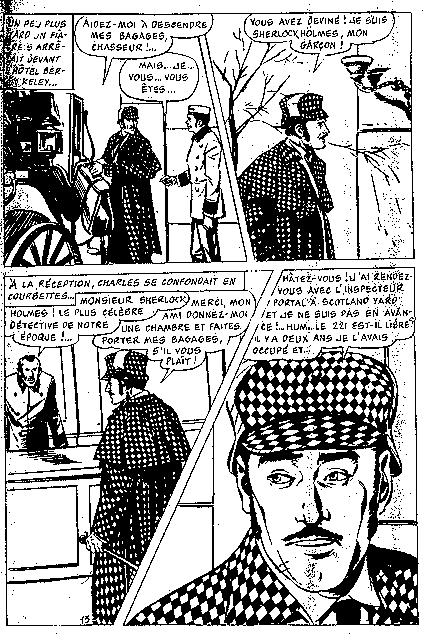 Publishing History: With No. 21, Rocambole merged with its sister magazine Rouletabille and became Rocambole et Rouletabille. With No, 26, Rouletabille became the lead feature. With No. 29, the magazine was called Rouletabille Rocambole and with No. 37 Rouletabille et Rocambole. However the two characters never met.
Thanks again to Vincent Mollet.