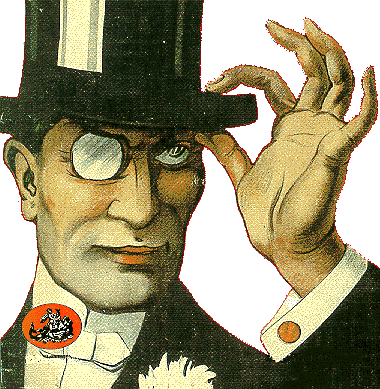 "Caesar. Charlemagne. William the Conqueror. Richard the Lionheart.
Louis XI. François 1st. Henri IV. Louis XIV. Arsène Lupin.
What pride I felt the day I set foot in this forgotten place.
To have found the lost secret of the Kings of France,
to become its master, its only master, to receive such inheritance!"
("L'Aiguille Creuse"- Chapter 10)



Created by: Maurice Leblanc (1864-1941).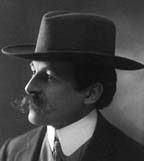 Easily the equal of Gaston Leroux (creator of Rouletabille) or Sir Arthur Conan Doyle in fame, and arguably superior in style, Maurice Leblanc (1864-1941) was the creator of the character of gentleman-burglar Arsène Lupin who, in France, has enjoyed a popularity as long-lasting and considerable as Sherlock Holmes in the English-speaking world.

There were twenty volumes in the Lupin series written by Leblanc, and five sequels written by the notorious mystery writing team of Boileau-Narcejac, better known for Diabolique and the novel on which Alfred Hitchcock based Vertigo. While the Arsène Lupin saga only occasionally featured any fantasy elements, its preeminence in French pulp fiction warrants its inclusion in any serious genre study.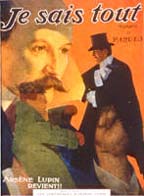 The character of Lupin was first introduced in a series of short stories serialized in the magazine "Je Sais Tout", starting in 1905. A literary descendent of Ponson du Terrail's Rocambole, Lupin was, like Holmes, a literary archetype. Although he was on the other side of the law, he was clearly a force for good, and those he defeated, always with characteristic gallic style and panache, were worse villains than he. In other words, Lupin was the Simon Templar of early 20th century France.

Indeed, the two characters were bound to meet and, in an unprecedented act of literary pastiche and cross-over, Sherlock Holmes himself appeared several times in the Lupin novels, first as himself, then in the transparent guise of "Herlock Sholmes," after some legal objections from Conan Doyle. (FOR MORE INFORMATION ON OTHER FRENCH ADVENTURES OF SHERLOCK HOLMES.)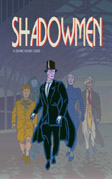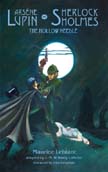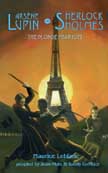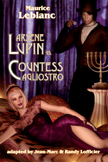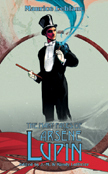 TO FIND OUT MORE, BUY THESE BOOKS

ABACCI BOOKS (E-BOOKS VERSIONS OF ENGLISH TRANSLATIONS OIF SOME OF THE LUPIN NOVELS)



---
THE BOOKS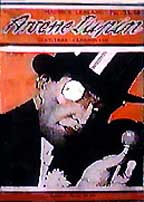 1. Arsène Lupin, Gentleman Cambrioleur [Arsene Lupin, Gentleman Burglar] (JST, 1905/07; rev. Lafitte, 1907)

2. Arsène Lupin contre Herlock Sholmes [Arsene Lupin vs. Herlock Sholmes] (JST, 1906-07; rev. Lafitte, 1908)
AVAILABLE FROM BLACK COAT PRESS

3. L'Aiguille Creuse [The Hollow Needle] (JST 1908-09; rev. Lafitte, 1909)
AVAILABLE FROM BLACK COAT PRESS

4. 813 ("Le Journal"/Lafitte, 1910)

5. Le Bouchon de Cristal [The Crystal Stopper] ("Le Journal"/Lafitte, 1912)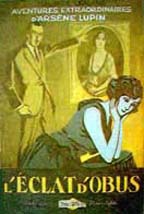 6. Les Confidences d'Arsène Lupin [The Confidences Of Arsene Lupin aka The Confessions of Arsene Lupin] (JST, 1911-13; Lafitte, 1913)

7. L'Éclat d'Obus [The Shell Shard] ("Le Journal", 1915; Lafitte, 1916)
Note: Lupin appears only in a cameo.

8. Le Triangle d'Or [The Golden Triangle] ("Le Journal", 1917; Lafitte, 1918)

9. L'Île aux Trente Cercueils [The Island Of Thirty Coffins] ("Le Journal", 1919; Lafitte, 1919)

10. Les Dents du Tigre [The Teeth Of The Tiger] ("Le Journal", 1920; Laffite, 1921; English edition in 1914)

11. Les Huit Coups de l'Horloge [The Eight Strokes Of The Clock] ("Excelsior" 1922-23; Lafitte, 1923)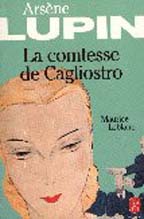 12. La Comtesse de Cagliostro [The Countess Of Cagliostro] ("Le Journal" 1923-24; rep. Lafitte, 1924)

13. La Demoiselle aux Yeux Verts [The Damsel With Green Eyes] ("Le Journal" 1926-27; rep. Laffite, 1927)

14. L'Agence Barnett et Cie. [The Barnett & Co. Agency] ("Lectures pour Tous" 1927-28; Laffite, 1928)

15. La Demeure Mystérieuse [The Mysterious Mansion] ("Le Journal", 1928; Lafitte, 1929)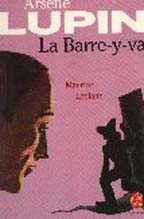 16. La Barre-y-va ("Le Journal", 1930; Lafitte, 1931)

17. La Femme aux Deux Sourires [The Woman With Two Smiles] ("Le Journal", 1932; Laffite, 1933)

18. Victor de la Brigade Mondaine ("Paris-Soir", 1933; Laffite, 1933)

19. La Cagliostro se venge [The Revenge Of The Countess Of Cagliostro] ("Le Journal", 1934; Laffite, 1935)

20. Les Milliards d'Arsène Lupin [The Billions Of Arsene Lupin] ("L'Auto", 1939; Hachette, 1941)

21. Le Dernier Amour d'Arsène Lupin [The Last Love of Arsene Lupin] (unpublished ms.)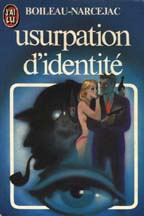 By Boileau-Narcejac:

1. Le Secret d'Eunerville [The Secret Of Eunerville] (Libr. Champs-Élysées, 1973)

2. La Poudrière [The Powder Keg] (Libr. Champs-Élysées, 1974)

3. Le Second Visage d'Arsène Lupin [The Other Face Of Arsene Lupin] (Libr. Champs-Élysées, 1975)

4. La Justice d'Arsène Lupin [The Justice Of Arsene Lupin] (Libr. Champs-Élysées, 1977)

5. Le Serment d'Arsène Lupin [The Serment Of Arsene Lupin] (Libr. Champs-Élysées, 1979)