| | |
| --- | --- |
| | GENEALOGICAL TREE OF THE FRENCH WOLD NEWTON UNIVERSE |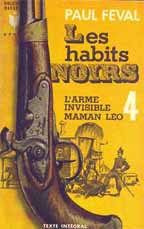 THE BLACK COATS
Monteleone / Bozzo / Corona Families
: character present at Wold Newton in 1795.
characters made up for the purpose of connections.
links (not hyperlinks - return to

) to another genealogical tree.
Name on same level may not always be on same age group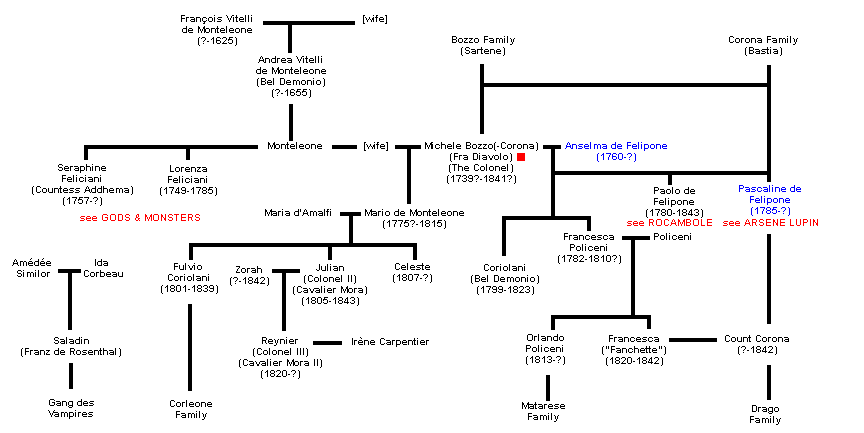 SOURCES:

The Vitelli / Monteleone and Bozzo-Corona families are from Paul Féval's Les Habits Noirs saga. Michele Bozzo-Corona, a.k.a. Fra Diavolo, The Colonel, etc. was at Wold Newton and is a leader of The Conspiracy.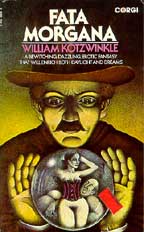 Their modern-day descendents include the Corleone (from Mario Puzo's Godfather saga), the Matarese (from Robert Ludlum's Matarese saga) and the Union Corse's Dragos (From Ian Fleming's On Her Majesty's Secret Service).

The Feliciani sisters are the wives of Joseph Balsamo (a.k.a. Cagliostro, Arthur Gordon Pym, Monte-Cristo, Nemo, Robur, etc.) as per Alexandre Dumas's eponymous novel, and William Kotzwinkle's Fata Morgana. (see Gods & Monsters Family Tree.)

The Gang of the Vampires which terrorized the Parisian Society in the 1910s is a creation of Louis Feuillade, and is offered here as a continuation of Saladin's Black Silk Hoods, an offshoot from Paul Féval's Les Habits Noirs.

Finally, we have theorized the existence of Anselma de Felipone and Pascaline de Felipone, her daughter, in order to connect the Bozzo-Coronas to yet another notorious Corsican criminal family, the Felipones, which are featured prominently in Ponson du Terrail's Rocambole saga (see Rocambole family tree) and are also connected to the Arsene Lupin family tree.