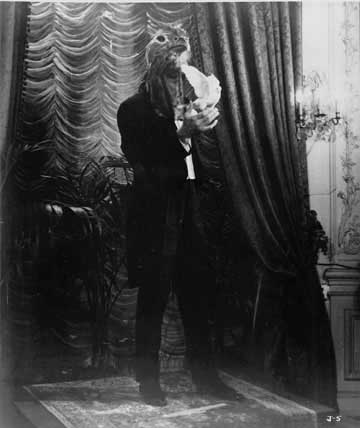 Created by: Louis Feuillade (1873-1925) and Arthur Bernède (1871-1937)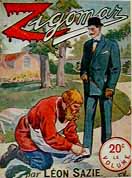 In 1908, French filmmaker Victorin Jasset virtually created the serials by filming the adventures of famous American detective Nick Carter in episodic format for the Studios Eclair. Because of its huge success, Jasset soon followed it with a serial adaptation of Leon Sazie's master criminal Zigomar : Zigomar (1910), Zigomar, Roi des Voleurs [King of Thieves] (1911), Zigomar contre Nick Carter (!) [Zigomar vs Nick Carter] (1912), and Zigomar Peau d'Anguille [Zigomar the Eel] (1912).

Rival studio Pathé then produced serials based on Rocambole and Les Mystères de New York. Maurice Tourneur made Monsieur Lecoq (1914) and Rouletabille (1914). And at rival studio Gaumont, filmmaker Louis Feuillade embarked on the classic Fantômas (5 eps., 1913-14), Les Vampires (The Vampires, 10 eps., 1915-16) and Judex (1917-18).



The son of a wine broker, Louis Feuillade began his film career as a screenwriter in 1906. The following year, he was appointed production chief at French studio Gaumont, but continued directing his own projects. Today, Feuillade is considered the father of "serials", the forerunner of German expressionism, and a master of suspense. In 20 years, he directed and wrote well over 800 films in various genres. He is, however, best remembered for his pulp fantasy serials.

In spite of their huge popularity, both Fantômas and Les Vampires were too anarchistic for the times' bourgeois sensibilities. A critic in Hebdo-Film (22 April 1916) wrote: "That a man of talent, an artist, as the director of most of the great films which have been the success and glory of Gaumont, starts again to deal with this unhealthy genre [the crime film], obsolete and condemned by all people of taste, remains for me a real problem." So, in order to show that he was not always glorifying villains, Feuillade decided to create Judex -- the name means "Judge" in latin -- perhaps the first costumed hero in the history.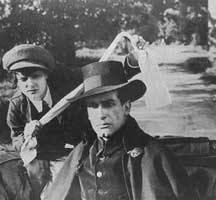 In order to create Judex, Feuillade hired writer Arthur Bernède. (For more about Bernède, see our page on Belphegor). Together, they came up with the character of a mysterious avenger, wearing a slouch hat and a dark cloak -- Judex! (Feuillade reportedly designed Judex' cloak himself.)

Judex appears and disappears like a ghost, and would appear to have mild hypnotic powers. Indeed, he is first nicknamed... The Mysterious Shadow! He is a master of disguise, and an excellent fighter. He commands the loyalty of an organization composed of circus folks and redeemed apaches. Finally, he flies a plane and has a secret lair, where he interrogates his prisoners through a "television" screen -- everything Judex writes on the screen on his desk appears on a similar screen on the wall of his victim's cell.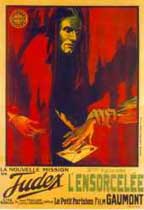 Judex' nemesis is Favraux, a corrupt banker who has left a trail of ruin and misery in his wake. Favraux is ably assisted in his criminal schemes by Marie Verdier, a.k.a. Diana Monti, his mistress, an evil woman who also displays prodigious athletic abilities, is a mistress of disguise, etc. Eventually, Judex kidnaps Favraux and condemns him to die -- it turns out that he is Jacques de Trémeuse, the son of one of Favraux's victims. But in the meantime, our hero has fallen in love with Favraux's daughter, the beautiful, innocent Jacqueline. So ultimately, he commutes Favraux's death sentence to life imprisonment.

In the first two serials, the character of Judex was remarkably played by heart-throb René Cresté, while that of Diana was played by the famous Musidora, who had made a memorable impression as Irma Vep in Les Vampires.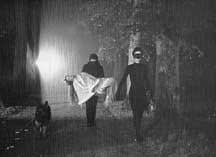 Judex was remade twice -- the first time, very faithfully, by Feuillade's own son-in-law, Maurice Champreux. The second time by renowned filmmaker George Franju (who also directed the 1959 horror classic Eyes Without A Face), assisted by Champreux' son, Jacques Champreux. Franju cast American stage magician Channing Pollock as Judex, and incorporated Pollock's own act -- an eerie number involving doves and birds -- as part of the film, in a very strange costumed ball scene where guests wear masks fashioned like birds' heads. The roles of Jacqueline was entrusted to actress Edith Scob (the mad doctor's disfigured daughter in Eyes), and that of Diana to the very competent Francine Bergé, who strikes a wonderful figure in her black leotard.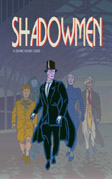 TO FIND OUT MORE, BUY THIS BOOK
---
1. Judex
(B&W., 12 episodes, 1917)
Dir: Louis Feuillade.
Wri: Arthur Bernède.
Cast: René Cresté (Judex), Louis Leubas (Favraux), Édouard Mathé, Yvette Andreyor (Jacqueline), Musidora (Diana), Bout-de-Zan (Réglisse), Juliette Clarens (Gisèle), Yvonne Dario, Marcel Lévesque, André Brunelle.



---


2. La Nouvelle Mission de Judex
(Judex's New Mission)
(B&W., 12 episodes, 1918)
Dir: Louis Feuillade.
Wri: Arthur Bernède.
Cast: René Cresté (Judex), Louis Leubas (Favraux), Édouard Mathé, Yvette Andreyor (Jacqueline), Musidora (Diana), Bout-de-Zan (Réglisse), Juliette Clarens (Gisèle), Yvonne Dario, Marcel Lévesque, André Brunelle.

BOOKS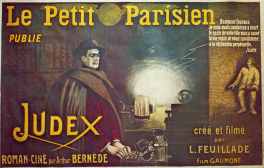 Simultaneously with the release of each serial, a novelization, signed by both Feuillade and Bernede, was released, first as a serial in Le Petit Parisien, then in a collected edition by Tallandier.


1. Judex (1917), reissued as Les Nouveaux Exploits de Judex (Judex' New Adventures) (1925)

2. La Nouvelle Mission de Judex (Judex' New Mission) (1919), reissued as La Dernière Incarnation de Judex (Judex' Last Incarnation) (1925)
REMAKES
2. Judex
(B&W., 95 min., 1934)

Dir/Wri: Maurice Champreux.

Cast: René Ferté, Marcel Vallée, Mihalesco, Jean Lefèbvre, René Navarre, Constantini.

Story: Faithful remake of Louis Feuillade's serial.
3. Judex
(B&W., 100 min., 1963)

Dir: Georges Franju.
Wri: Jacques Champreux, Francis Lacassin.

Cast: Channing Pollock (Judex), Michel Vitold (Favraux), Édith Scob (Jacqueline), Francine Bergé, Jacques Jouanneau, Théo Sarapo, Sylvia Koscina, René Genin.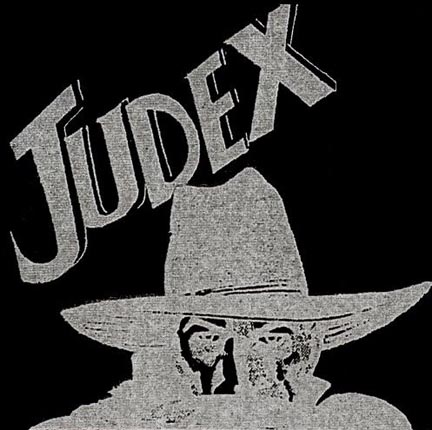 THE COMICS

Article by Jean-Michel Ferragatti © 2008 by the author

In June 1940, the Nazis invaded Paris. Because of the war, most periodicals were forced temporarily to cease publication, including the comics magazine Hurrah! published by Editions Mondiales. No. 264 dated 23 June 1940 was the last issue published until 10 December 1940, when Hurrah! returned, confusingly with a new and different No. 264. I+Meanwhile, in Vichy France, another version of Hurrah! had started oublication with a No. 1 dated 4 December 1940.

In the new No. 264 of 10 December 1940 Hurrah! published in Nazi-occupied France, two series were missing: Amazing Man (entitled Le Surhomme [The Superman] in French) and Bat-Man (entitled Masque Rouge [Red Mask] in French]. Blue Beetle (entitled Le Fantôme d'Acier [The Steel Phantom]) was still present,m but his costume was now colored red.

On the other hand, a new series began, entitled JUDEX!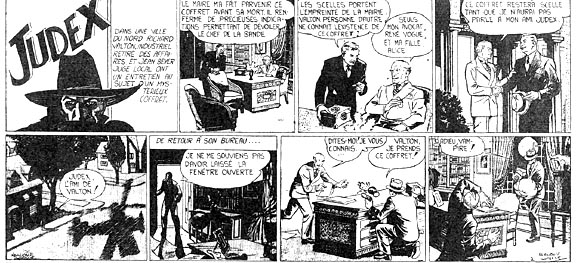 The French comics readers of 1940 were very familiar with the 1916 and 1917 Louis Feuillade serials, which had just been remade in 1934. However, they must have been surprised to discover that the secret identity of Judex wasn't Jacques de Trémeuse but -- Lamont Cranston!

This was due to the fact that this new comics series was, in reality, a French translation of the American syndicated Shadow comic strip distributed by The Ledger Syndicate starting in June 1940!

Both versions of Hurrah! published the Judex/Shadow strip. The Vichy Hurrah! then changed its name to Tarzan but continued to publish it.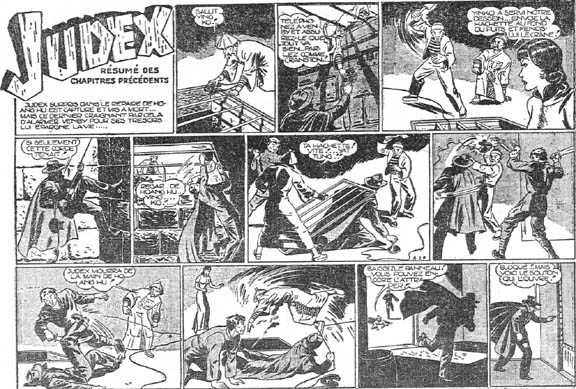 Bibliography:

1. The mystery of the sealed box (comic strip #1 to 48) was published in Hurrah! Nos. 264 to 279 and the Vichy Hurrah! No. 7 then Tarzan Nos.1-10 (Note: the beginning of the story is missing in the Vichy edition.)

2. The Mystery of the Sleeping Gas (comic strip #49 to 84) was published in Hurrah! Nos. 280 to 286 and Tarzan Nos. 11 to 17.

3. The Shadow vs Hoang Hu (comic strip #85 to 120) was published in Hurrah! Nos. 290 to 286 and Tarzan Nos. 18 to 23. (Note: The end of that episode remained unpublished in either magazine; the version printed in Hurrah! was heavily censored.)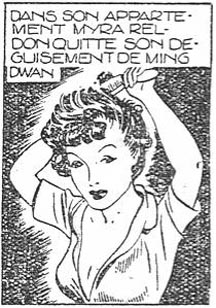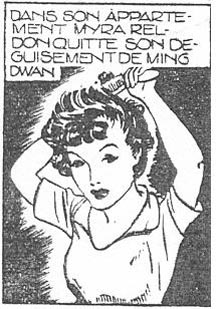 4. Danger on Shark Island (comic strip #121 to 190) was published in Tarzan Nos. 24 to 33 (?) (Note: no one seems to know if the strip was present in Nos. 34-36). The end of the story was eventually included in the reprint book Judex, No. 86 of the imprint Récits Complets / Aventuriers d'aujourd'hui.

Due to paper rationing after 1945, publishers switched to reprint books and, in 1945 and 1946, the imprint Récits Complets reprinted the adventures listed above, plus a few more: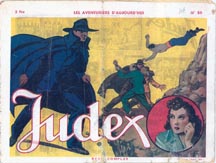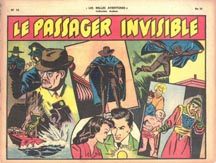 * Judex. No. 86 of Aventuriers d'aujourd'hui (August 1941) reprinted Danger on Shark Island.

* L'ombre de Judex [The Shadow of Judex]. No. 123 of Les Belles Aventures (2ème série) (no date) reprinted The Mystery of the Sleeping Gas.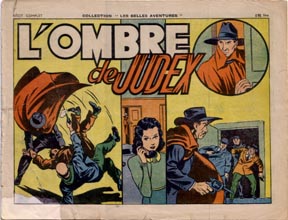 larger version click here

* La flotte fantôme [Ghost Fleet]. No number, of Les Belles Aventures (2ème série) (no date) published Ghost Fleet from The Shadow Comics Vol. 2, #3.

* Le retour de Judex [The Return of Judex]. No. 9 of Les Belles Aventures (3ème série) (October 1947) published I Am Shiwan Khan, the Golden Master from The Shadow Comics Vol. 2, #4.

* Le passager invisible [The Invisible Passenger]. No. 15 of Les Belles Aventures (3ème série) (October 1947) published ??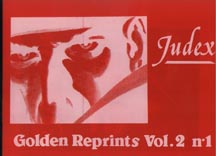 Finally, in the 1990s, the fan club Golden Color reprinted some Judex/Shadow strips in their publications.
No. 14-15 of the fanzine Golden Color reprinted La flotte fantôme, and Golden Reprints, Vol. 2, #1 reprinted the Récits Complets books Judex, L'ombre de Judex, Le retour de Judex et Le passager invisible.

That the Shadow, a character unknown to the French public, was published there under the name of Judex, then an incomic characters, makes perfect business sense.

However, did Editions Mondiales license the name of Judex from Gaumont (and/or the Feuillade/Bernede estates) on top of paying a license fee to the Ledger Syndicate for the reprint rights to Shadow strips?

Also, did Street & Smith know that their character was being exploited in France under another name?

Several facts are interesting:

American comic strips were licensed in Europe through agencies such as Opera Mundi, Agence Française de Presse, Graphlit, Trait d'Union Press, etc. which added their names in very small print on the stats sent by the American copyright holders so that it would appear in the printed copies. There is no such name on the Judex/Shadow strips.

When the name of the original US syndicate appeared on the stats, it was usually retained. On the Judex/Shadow strips, the name of The Ledger Syndicate was purposefully erased or obscured. However the name/signature of the artist, Vernon Green, was left intact.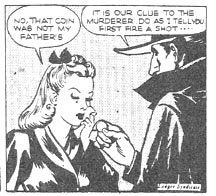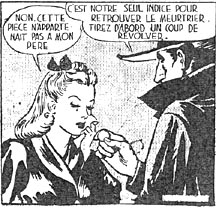 So the mystery remains -- Judex might have inspired the creation of the Shadow, which became Judex again when it returned to France...