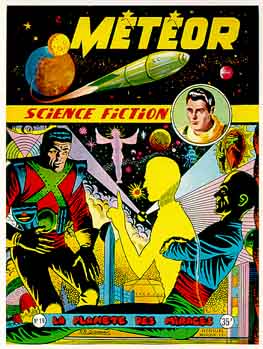 METEOR No.19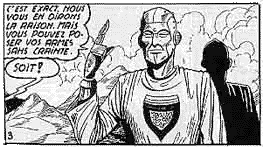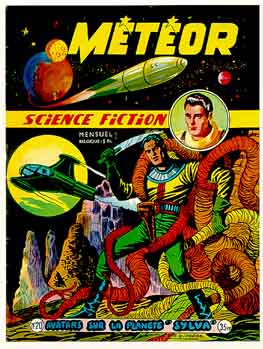 METEOR No.20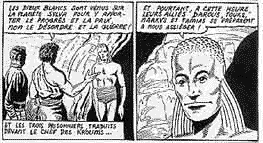 Publishing History

The Conquerors of Space were originally serialized in the comic magazine "Meteor" published by French publisher Artima (later Aredit) from 1953 to 1964.
Artima (also the publisher of "Atomos" and "Hallucinations") was one of the earliest and most famous of the French Small Format publishers. Started in 1946 by Emile Keirsbilk, Artima was headquartered in the industrial city of Roubaix in the North of France.

Artima published numerous adventure titles with colorful titles such as: "Audax" (1950-61), "Dynamic" (1950-65), "Ardan" (1952-61), "Météor" (1953-77), "Tarou" (1954-73), "Vigor" (1954-62), "Tempest" (1955-57), "Fulgor" (1955-58), "Hardy" (1955-58), "Ouragan" (1955-58), "Big Boy" (retitled "Big Boss" in 1960) (1956-62), "Cosmos" (1956-61), "Atome Kid" (1956-59) (A Spanish super-hero), "Spoutnik" (1957-60), "Mystic" (1957-59), "Éclair" (1957-58), "Vengeur" (1957-60), "Olympic" (1958-61), "Téméraire" (1958-62) and "Sidéral" (1958-62). A number of these magazines contained translations of early DC Comics science fiction series, such as Martian Manhunter, Adam Strange and Space Ranger.

In 1962, Keirsbilk sold Artima to the powerful French publishing corporation, Presses de la Cite (PC), which renamed the company Aredit.

Under PC's management, Aredit began to publish a slew of new black & white, pocket-sized magazines featuring translations of more DC Comics' series. These included "Étranges Aventures" (1966-83), "Aventures Fiction" (1966-90?), "Spectre" (1967-68), "Brulant" (1967-77), "Eclipso" (1968-83), "Aquaman" (1970-74), "Spectral" (1974-77), "Démon" (1976-83), "L'Insolite" (1977-?), etc.

Simultaneously, Aredit also launched a series of titled devoted to comics adaptations of popular novels of espionage, science fiction and horror published by PC's popular paperback imprint, Fleuve Noir. These included titles such as "Flash Espionnage" (1966-?), "OSS 117" (1966-?), "Coplan FX-18" (1969-?) and ten other espionage titles, all launched in 1974 with different degrees of success.

Science fiction and horror titles included "Anticipation" (1966-?), "Atomos" (1968-77), "Hallucinations" (1969-77), and "Clameurs" (1976-?).
Like their main competition, Editions Lug, which published "Wampus" but also Spider-Man, the Silver Surfer, the Fantastic Four and other Marvel characters, Aredit eventually concentrated on the publishing of American material, adding translations of Marvel Comics with "L'Inattendu" (1975-80), "Conan" (1977-90?), "Hulk" (1978-?), to their DC roster. They went out of business in the early 1990s.