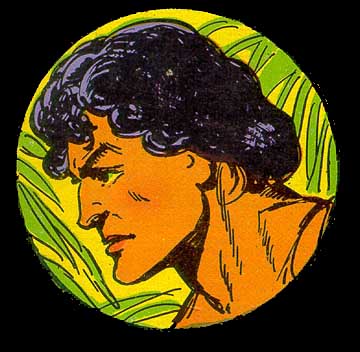 Writer/Artist: Bob Dan (pseudonym of Robert Dansler) (1900-1973)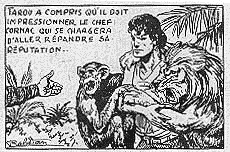 Tarou is the son of a French engineer and a native woman who died in a monstrous Pacific storm. Young Tarou is rescued and raised by tigers. Later, he inherits a fortune from a wealthy Canadian uncle, but chooses to continue to live among his friends, the animals. His companions are blonde girl-friend Denise, trusted bushmaster Gerard, Salvator the lion and Bali the monkey. Tarou also owns a boat, the Maori, which he uses to travel around the world.


The Stories

"Aventure" Magazine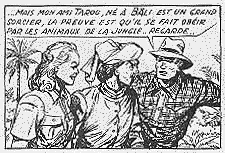 1949
1. La Jeunesse de Tarou, Maître des Lagons [The Youth Of Tarou, Master Of Lagoons]
2. L'Héritage de Tarou [Tarou's Inheritance]
3. Le Temple de Bouddha [The Temple Of Buddha]
4. La Capture de Tarou [Tarou's Capture]
5. La Vengeance de Tarou [Tarou's Revenge]
6. La Reconnaissance de Tarou [Tarou's Reward]
7. Tarou contre les Pirates [Tarou vs. The Pirates]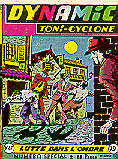 "Dynamic" Magazine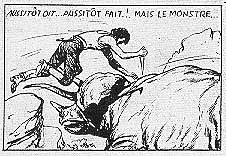 1950
8. Prisonnier des Pithécantropes [Prisoner Of The Pithecantropes]
9. La Mine d'Émeraude [The Emerald Mine]
10. L'Enlèvement de Tarou [Tarou's Kidnaping]
11. La Grande Peur de Tarou [Tarou's Great Fear]
12. La Cité des Nègres Blancs [The City Of The White Negroes]
13. La Reine des Crocodiles [The Queen Of The Crocodiles]
14. Pris au Piège [Trapped]
15. La Fin Tragique de Kaarado [Kaarado's Tragic End]
16. Le Lac de l'Anaconda [The Anaconda Lake]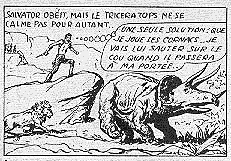 1951
17. Périlleuse Évasion [Dangerous Escape]
18. La Disparition de Tarou [Tarou's Disappearance]
19. L'Évasion de Tarou [Tarou's Escape]
20. Le Retour Agressif de Carver [Carver's Aggressive Return]
21. Les Rubis de Bakouta [The Rubies Of Bakuta]
22. Au Secours des Esclaves Blancs [To Rescue The White Slaves]
23. Déluge sur la Jungle [Jungle Flood]
24. Navigation Imprévue [Unforeseen Sea Journey]
25. L'île Maudite [The Accursed Island]
26. Perdus en Mer [Lost At Sea]
27. Panique au Zoo [Panic At The Zoo]
28. Nouveaux Périls [New Dangers]
29. Le Dieu Salvator [Salvator The God]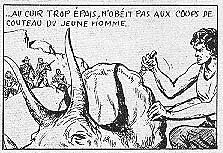 1952
30. Le Temple du Soleil [The Temple Of The Sun]
31. Le Tatou d'Or [The Gold Tattoo]
32. Prisonniers des Jivaros [Prisoner Of The Jivaros]
33. En Péril sur le Tapaua [In Danger On The Tapaua]
34. Face au Jaguar [Face-to-Face With The Jaguar]
35. La Vallée de l'Horreur [The Valley Of Horror]
36. Le Pic aux Démons [The Demons' Peak]
37. Le Sacrifice d'Hatapunca [The Sacrifice Of Hatapunca]
38. Une Fâcheuse Rencontre [An Unfortunate Encounter]
39. L'Homme de la Mine [The Man From The Mine]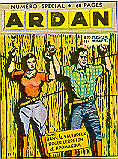 "Ardan" Magazine
1953
1-6. [Back-Up Feature]

"Tarou" Magazine
1954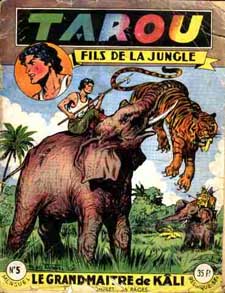 1. Les Démons de la Jungle [The Demons Of The Jungle]
2. Justice Immanente [Sudden Justice]
3. Prisonniers des Thugs [Prisoner Of The Thuggee]
4. Tragique Évasion [Tragic Escape]
5. Le Grand Maîltre de Kâli [The Grand Master Of Kali]
6. La Fin des Thugs [The End Of The Thuggee]
7. La Reine des Fauves [The Queen Of The Wild Beasts]
8. Tarou a le Dernier Mot [Tarou Has The Last Word]
9. L'Homme des Cîmes [The Man Of The Peaks]
10. Le Tigre Noir [The Black Tiger]
11. Hang-Tchin le Pirate
12. L'île aux Tortues [The Island Of Turtles]

1955
13. Face aux Bushmen [Face-to-Face With The Bushmen]
14. Pour Sauver Makiwi [To Save Makiwi]
15. Le Trésor des Hovas [The Hovas' Treasure]
16. L'Or qui Tue [The Gold That Kills]
17. Au Pays des Nyam-Nyams [In The Nyams-Nyams' Land]
18. Le Sorcier Blanc [The White Wizard]
19. L'Homme aux Éléphants [The Elephant Man]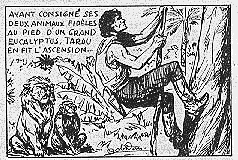 20. Le Prisonnier de Bengala [The Prisoner Of Bengala]
21. La Piste de la Soif [The Trail Of Thirst]
22. Le Tombeau de Temasgar [The Tomb Of Temasgar]
23. Périls dans la Jungle [Jungle Perils]
24. Aux Prises avec les Tikkis... [Grappling With The Tikkis]

1956
25. Le Tigre de Bali [The Tiger Of Bali]
26. Typhon sur l'île [Typhoon On The Island]
27. Mystère à Bord [Mystery On Board]
28. Le Souffleur de Volcan [The Volcano Blaster]
29. La Perle Rouge [The Red Pearl]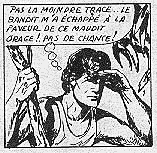 30. Le Secret du Samouraï [The Secret Of The Samurai]
31. L'Enfant du Mékong [The Child Of The Mekong]
32. L'Éléphant Blanc [The White Elephant]
33. La Maison du Klima-n'Djaro [The House Of Klima-n'Djaro]
34. L'Homme aux Gorilles [The Gorilla Man]
35. La Cité des Singes [The Ape City]
36. Le Pharaon Noir [The Black Pharaoh]

1957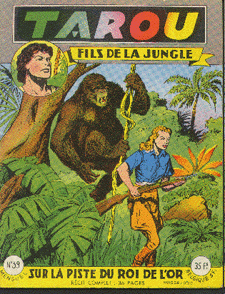 37. Le Sorcier d'Eau [The Water Wizard]
38. Sous les Chutes du Zambèze [Under The Falls Of The Zambeze]
39. Sur la Piste du Roi de l'Or [On The Trail Of The Gold King]
40. À la Recherche de Snark [Searching For The Snark]
41. Le Petit Muet de San Felix [The Little Dumb Man Of San Felix]
42. Le Temple de Poussière [The Temple Of Dust]
43. Dans la Gueule du Serpent à Plumes [In The Jaws Of The Feathered Serpent]
44. [reprints]
45. L'Ours de la Cordillère [The Mountain Bear]
46. L'Hacienda des Cactus [The Hacienda Of The Cacti]
47. Le Zoo Invraisemblable [The Impossible Zoo]
48. Le Signe du Grand Mahoupa [The Sign Of The Great Mahoupa]

1958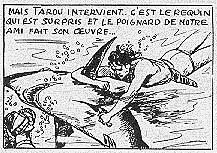 49. [reprints]
50. La Grotte du Dragon Noir [The Cave Of The Black Dragon]
51. La Vallée de la Solitude [The Valley Of Solitude]
52. Le Tigre Vert [The Green Tiger]
53. Sous le Signe de Bouddha [Under The Sign Of Buddha]
54. Le Secret de l'Île des Cocotiers [The Secret Of Coconut Tree Island]
55. [reprints]
56. Le Château dans les Sables [The Castle In The Sands]
57. Sous l'Oeil de la Caméra [Under The Camera's Eye]
58. La Forêt Interdite [The Forbdden Forest]
59. Le Monstre de Lac Malheur [The Monster Of Woe Lake]
60. Le Dernier Couagga [The Last Couagga]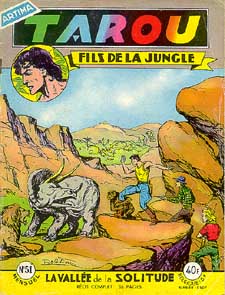 1959
61. Ivoire à Gogo [Ivory In Bulk]
62. La Grande Peur de Bâli [The Great Fear Of Bali]
67. L'Homme au Masque de Cire [The Man In The Wax Mask]
64. La Pierre qui Chante [The Singing Stone]
65. Le Temple Secret d'Azerkh-Amen [The Secret Temple Of Azerkh-Amen]
66. La Roche du Ciel [The Rock From The Sky]
67. La Cage aux Requins [The Shark Cage]
68. L'île des Galériens [The Island Of The Galley Slaves]
69. Les Démons de la Terre [The Demons Of The Earth]
70. Une Bouteille à la Mer [A Bottle Into The Sea]
71. La Piste des Hallucinations [The Trail Of Hallucinations]
72. La Tribu des Orchidées [The Orchid Tribe]

1960
73. Passeport pour la Vallée de l'Or [Passport For The Valley Of Gold]
74. L'Homme aux Grands Pieds [The Man With Big Feet]
75. Le Secret d'El Dorado [The Secret Of El Dorado]
76. La Poupée Indienne [The Indian Doll]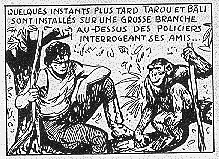 77. L'Hacienda de la Peur [The Hacienda Of Fear]
76. L'île Vagabonde [The Wandering Island]
79. Les Écumeurs de I'Amazone [The Reavers Of The Amazon]
80. Mutinerie à Bord [Mutiny On Board]
81. La Zone du Silence [The Zone Of Silence]
82. La Prison de Bambous [The Bamboo Prison]
83. L'Oiseau Moqueur [The Mocking Bird]
84. Le Sphynx du Lac Victoria [The Sphynx Of Lake Victoria]

1961
85. La Pirogue du Grand Caïman [The Canoe Of The Great Cayman]
86. La Caravane Fantôme [The Ghost Caravan]
87. Le Palais de Corail [The Coral Palace]
88. Trafic à Pondichéry [Traffic In Pondichery]
89. Seigneur Lion contre Seigneur Tigre [Lord Lion vs. Lord Tiger]
90. Les Rubis du Maharajah [The Rubies Of The Maharajah]
91. Le Portrait de Bouddha [The Portrait Of Buddha]
92. La Cascade aux Paillettes [The Sparkling Waterfall]
93. La Caverne aux Monstres Marins [The Cave Of The Sea Monsters]
94. L'Aigle de Malacca [The Eagle Of Malacca]
95. La Pagode aux Cobras [The Pagoda Of The Cobras]
96. Le Kriss d'Or [The Gold Kriss] / Les Canons de Pierre [The Stone Cannons]

1962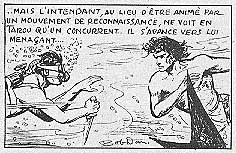 97. Le Bassin aux Lotus d'Or [The Pond With The Golden Lotus]
98. Les Trois Noix d'Arec [The Three Nuts Of Arec]
99. Le Mystérieux Météorite [The Mysterious Meteorite]
100. Les Dauphins du Pacifique [The Dolphins Of The Pacific]
101. Le Mystère de Salt River [The Mystery Of Salt River]
102. Le Réveil des Aztèques [The Aztecs Awaken]
103. Une Pêche Miraculeuse [A Miraculous Fishing]
104. Voie Interdite [Forbidden Way]
105. L'Aigle du Roc Vert [The Green Rock Eagle]
106. Le Puits d'Enfer [Hell Well]
107. Le Docteur Tatoué [The Tattoed Doctor]

1963

108. Le Gaucho Blanc [The White Gaucho]
109. Le Défilé du Dragon [Dragon's Pass]
110. La Bête du Cap Horn [The Beast Of Cape Horn]
111. Le Secret de l'île de Pâques [The Secret Of Easter Island]
112. Le Mage des îles Kermadec [The Magician Of Kermadec Island]
113. La Montagne des Hommes Blêmes [The Mountain Of The Pale Men]
114. La Forêt Infernale [Hell Forest]
115. Le Roi des Kangourous [The King Of The Kangaroos]
116. Le Toboggan de la Montagne Rousse [The Toboggan Of Rust Mountain]
117. La Rivière Empoisonnée [The Poisoned River]
118. La Cascade Diabolique [The Devil's Waterfall]
119. La Mine du Glouton [The Glutton's Mine]

1964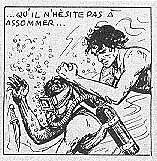 120. L'Homme sans Visage [The Faceless Man]
121. Panique sur le Pacific Railway [Panic On Pacific Railway]
122. Le Ranch du Totem [The Totem Ranch]
123. Des Triangles sur le Sable [Triangles On The Sand]
124. Une Fâcheuse Rencontre [An Unfortunate Encounter]
125. Mystère aux Caraïbes [Mystery In The Caribbean]
126. Le Cimetière des Sargasses [The Graveyard Of The Sargasso]
127. L'île du Pot au Noir [The Black Pot Island]
128. Prisonnier des Hommes-Lions [Prisoner Of The Lion-Men]
129. Le Casque de Kiriburu [The Helmet Of Kiriburu]
130. La Caverne du Léopard [The Leopard's Cave]
131. La Tribu Perdue des Gorilles [The Lost Tribe Of The Gorillas]

1965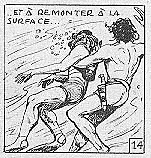 132. La Vallée des Voix [The Valley Of The Voices]
133. On a volé le Kenia [They Stole Kenya]
134. Le Gouffre aux Varans [The Varans' Pit]
135. Le Lac du Targui [The Lake Of Targui]
136. La Prison de Glace [The Ice Prison]
137. Un Tour dans la Préhistoire [A Prehistoric Journey]
138. L'Odyssée de Ia "Belle Aurore" [The Odyssey Of The "Beautiful Dawn"]
139. Les Émeraudes de Li-Fang [The Emeralds Of Li-Fang]
140. Echec aux Thugs [The Thuggee In Check]
141. Raha, l'Éléphant Fou [Raha, The Mad Elephant]
142. Le Puits Ardent [The Fiery Pit]
143. Face au Pithécantrope [Face-to-Face With The Pithecantrope]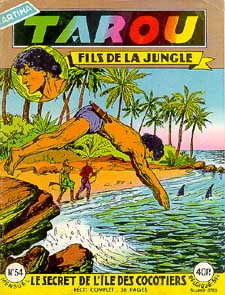 1966
144. Le Maître des Cobras [The Master Of Cobras]
145. La Météorite
146. Le Temple aux Spectres [The Temple Of Ghosts]
147. La Rivière aux Favials [The Favial River]
148. L'Île de la Licorne [The Unicorn Island]
149. La Pagode aux Perroquets [The Pagoda Of Parrots]
150. Le Gardien du Corail [The Guardian Of The Coral]
151. La Perle Noire de Kushimoto [The Black Pearl Of Kushimoto]
152. Péril en Alaska [Danger In Alaska]
153. Ursus de la Forêt [Ursus Of The Forest]
154. Le Ranch Maudit [The Accursed Ranch]

1967
155. Le Cañon de l'Aigle Rouge [The Red Eagle Canyon]
156. Une Course au Wyoming [A Race In Wyoming]
157. Dans les Cavernes de Wind [In The The Caves Of The Wind]
158. Le Saloon Hanté [The Haunted Saloon]
159. Les Naufrageurs de Socorro [The Shipwreckers Of Socorro]
160. Le Trésor de Moctezuma [The Treasure Of Moctezuma]
161. Le Cirque en Folie [The Crazy Circus]
162. Surprise aux Samoa [Surprise In Samoa]
163. Face aux Derniers Cannibales [Face-to-Face With The Last Cannibals]
164. Prisonniers des Baleines [Prisoner Of The Whales]
165. Adieu au Cormoran [Farewell To The Cormorant]
166. La Cité du Mystère [The City Of Mystery]

1968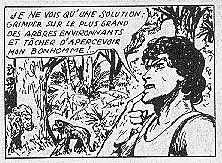 167. Le Rendez-Vous des Condors [The Condors' Rendezvous]
168. La Rivière des Malheurs [The River Of Woes]
169. Gahanda la Sorcière [Gahanda The Witch]
170. L'Idole qui Tue [The Murderous Idol]
171. La Route dans l'Ombre [The Road Into The Shadows]
172. L'Arme de Cristal [The Crystal Weapon]
173. La Captive du Dragon [The Dragon's Captive]
174. Les Sortilèges de la Forêt [The Spells Of The Forest]
175. Le Signe de Granit [The Granite Sign]
176. L'île Sous-Marine [The Underwater Island]

1969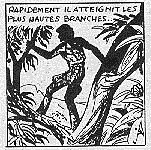 177. La Tortue d'Or [The Gold Turtle]
178. La Porte du Néant [The Gate Into The Void]
179. L'Étrange Message [The Strange Message]
180. La Malédiction du Grand Mokissos [The Curse Of Great Mokissos]
181. Le Trou sans Fond [The Bottomless Pit]
182. Le Miroir Magique [The Magic Mirror]
183. Le Serpent à Épines [The Thorny Snake]
184. Un Curieux Pirate [A Curious Pirate]
185. L'Invraisemblable Île Mini [The Impossible Mini Island]
186. Abdou Perle Noire [Abdou Black Pearl]

1970
187. Le Marabout Rouge [The Red Marabout]
188. L'Heure du Soleil Tuera! [The Hour Of The Killing Sun]
189. Le Temple du Tigre [The Temple Of The Tiger]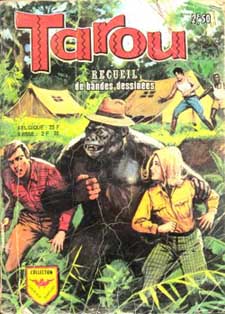 190. Le Roi des Yacks [The King Of The Yaks]
191. La Rose du Bengale [The Bengal Rose]
192. La Colère de Civa [The Wrath Of Shiva]
193. Le Lac des Géants [The Lake Of Giants]
194. Le Cratère aux Surprises [The Crater Of Surprises]
195. La Piste Oubliée [The Forgotten Trail]
196. L'Inconnu de l'île Siribu [The Unknown Man From Siribu Island]
197. Le Puits du Chinois [The Chinese Well]

1971
198. La Bête de Macassar [The Beast Of Macassar]
199. Le Rendez-Vous des Seigneurs [The Rendezvous Of The Lords]
200. Un Ami Dangereux [A Dangerous Friend]
201. Tarou, Dieu des Papous [God Of The Papous]
202. Le Triangle de Feu [The Triangle Of Fire]
203. Un Touriste Bizarre [A Bizarre Tourist]
204. La Jonque Rouge [The Red Junk]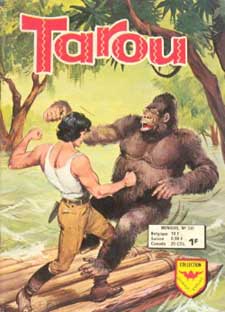 205. Un Homme Cousu d'Or [A Very Wealthy Man]
206. Le Testament du Mongol [The Mongol's Testament]
207. Cavalcade Infernale [Hell Ride]
208. Le Chant des Sables [The Song Of The Sands]

1972
209. Un Nid de Dragons [A Dragons' Nest]
210. Un Sport du Tonerre [A Fantastic Sport]
211. La Baie des Phoques [The Bay Of The Seals]
212. Le Club des Loups [The Wolves' Club]
213. Le Monde est en Péril [The World In Peril]
214. Une Bouteille à la Mer [A Bottle Into The Sea]
215. Passage Interdit [Forbidden Passage]
216. La Vallée des Mirages [The Valley Of Mirages]
217. La Vengeance du Dompteur [The Tamer's Revenge]
218. En Remontant le Colorado [Going Up The Colorado River]
219. Le Réveil des Cherokees [The Cherokee Awaken]
220. L'Homme à la Carabine [The Carbine Man]

1973
221. Le Ranch du Maudit [The Ranch Of The Accursed]
222. Jim Black le Trappeur [Jim Black The Trapper]
(after: reprints)




Publishing History


Tarou was originally serialized in "Aventure", then "Dynamic" and "Ardan", before being granted its own eponymous magazine, which lasted for 222 issues, until Bob Dan's death in 1973.


The Author


Bob Dan was the pseudonym of Robert Dansler (1900-1973), a prolific writer/artist and author of numerous adventure stories, starting in 1935: Jim Mystère, Zorro, Les Fils du Vents [Sons of the Wind], Bill Tornade, Jack Sport, etc. His best-remembered creation, however, remains the Tarzan-like hero, Tarou.

Tarou © 2003 Robert Dansler. All rights reserved.