Publishing History

After starting as a sports illustrator, Robert Bagage went to work for the Lyons-based comic book publisher S.A.G.E. during World War II, starting in 1942 on "Jumbo" and using the pseudonym of "Robba". His first comic book series was Yvon & Toni, a jungle adventure. In 1943, Bagage worked for "Pic & Nic", "Cendrillon" and "Coeurs Vaillants".

It was at that time that Bagage met Marcel Navarro (the future co-founder of Editions Lug), and Pierre Mouchotte (the publisher of "Fantax"). These three men eventually became almost single-handedly responsible for the "small format" publishing phenomenon of the 1950s and 1960s.

After the war, Bagage drew the character of Secret Agent Z.302 (written by Navarro) for Éditions Sprint. Then, in 1946, Bagage left Sprint to create his own publishing company, the Éditions du Siècle, which were renamed Imperia in 1952.

Also based in Lyons, Imperia published a mix of colorful adventure titles (most contained Italian and Spanish imports, with a few French series thrown in):
-- "Tom X" (1946-48) (Doc Savage-type hero),
-- "Radar" (1947-48) (science fiction),
-- "Targa" (1947-51) (Tarzan-like hero),
-- "Garry" (1948-64) (WWII adventures),
-- "Captain Horn" (1948-49) (pirates)
-- "Youpi" (1948-49) (western),
-- "Super Boy" (1949-86) (super hero),
-- "Cassidy" (1951-64) (western),
-- "Buck John" (1953-86) (western),
-- "Kit Carson" (1956-86) (western),
-- "Indians" (1957-60) (western),
-- "X-13" (1960-86) (espionage),
-- "Rapaces" (1961-86) (war stories),
-- "Kalar" (1963-86) (jungle stories)
-- "Jim Canada" (1968-86), and more.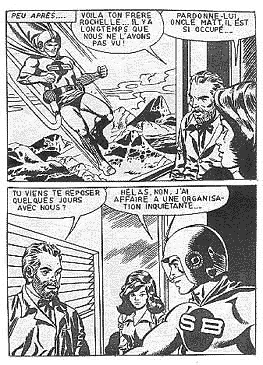 SUPERBOY, HIS UNCLE MATT & SISTER ROCHELLE