Writer: Robert Bagage.
Artists: Robert Bagage (B); Raoul Auger (A).

Tom X is a Doc Savage-like hero who fights former Nazis and various mad scientists, discovers lost civilizations, etc.

The Stories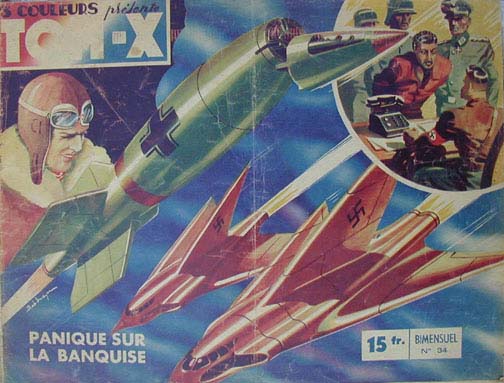 1. Panique à Bikini (Panik at Bikini) (1946) (B)
2. La Vénus de Tarawa (The Venus of Tarawa) (1946) (B)
3. Le Boeuf Musqué (The Musk Ox) (1946) (B)
4. Le Tueur Étincelant (The Shining Killer) (1946) (B)
5. L'Écran Diabolique (The Devil Screen) (1946) (B)
6. Le Piton Infernal (Hell Peak) (1946) (B)
8. Le Dragon Bleu (The Blue Dragon) (1947) (B)
10. Les 13 Cagoules (The 13 Hoods) (1947) (B)
11. L'Oiseau de Feu (The Firebird) (1947) (A)
12. La Pagode Sanglante (The Pagoda of Blood) (1947) (B)
13. Le Chalet (The Cabin) (1947) (A)
14. Les Ravisseurs des Mers Australes (The Kidnappers of the Southern Seas) (1947) (B)
15. La Fin du Tyran (The End of a Tyrant) (1947) (A)
16. Sang et Ivoire (Blood and Ivory) (1947) (B)
17. Le Fantôme des Pyramides (The Ghost of the Pyramids) (1947) (B)
19. Le Zéro de la Mort (The Zero of Death) (1947) (B)
20. New York Va Sauter (New York Is Going To Be Destroyed) (1947) (B)
21. Le Cercle Rouge (The Red Circle) (1947) (B)
22. Le Secret de la Sierra (The Secret of the Sierra) (1947) (B)
23. L'Héritière du Soleil (The Heiress of the Sun) (1947) (B)
24. La Citadelle de l'Abîme (The Citadel of the Abyss) (1947) (B)

Publishing History
Originally serialized in 1946-47 its eponymous magazine, published by Éditions du Siècle (later Imperia). Issues Nos. 7, 9 and 18 do not contain any Tom X stories. Never collected in the graphic novel format.

The Author
FOR MORE ABOUT ROBERT BAGAGE


.


Tom X © 2003 Robert Bagage. All rights reserved.