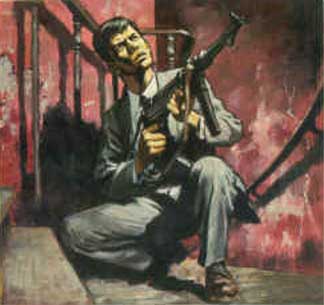 Created & Written by: André Fernez.
Publishing History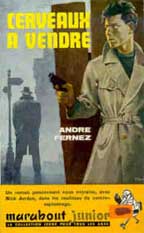 In 1952, Belgian publisher Marabout launched a new young adult imprint, entitled "Marabout Junior", which released a steady flow of adventure novels. By far the most popular series of "Marabout Junior" adventures featured Nick Jordan, an espionage hero created by André Fernez; and Bob Morane, by Henri Vernes.

Nick Jordan is one of the top agents of the French intelligence service that used to called trhe Deuxième Bureau, then became the SDECE in the 1960s, and later the DGSE. His superior is a retired military officer dubbed "Le Vieux" (The Old Man), the name traditionally given to the head of French Intelligence -- like "M" or "Control" in England.

Since the books were written for a YA / young audience, they are free of sex; however, they are remarkably complex, describe real political situations, and contain more than their share of murder and mayhem -- although no sadistic violence. The atmosphere of the Cold war was well rendered by cover artist Pierre Joubert.


| | | |
| --- | --- | --- |
| | Writer André Fernez was previously one of the editors of the weekly "Tintin" comic magazine, from 1946 to 1959. For Tintin, he also wrote a spy story featuring CIA agent Jimmy Stone, entitled "Dispositif Guet-Apens" (The Ambush Set-Up). The story was drawn by Italian artist Dino Attanasio, who was the first artist to illustrate Bob Morane. | |
---
BIBLIOGRAPHY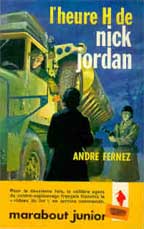 "Marabout Junior":
1. Cerveaux à Vendre (Brains for Sale) (MarJ 148, 1959)
2. Nick Jordan voit rouge (NJ Sees Red) (MarJ 159, 1959)
3. Virus H-84 (MarJ 164, 1960)
4. Nick Jordan sur le Gril (NJ on a Roast) (MarJ 173, 1960)
5. Pleins Feux sur Nick Jordan (Spotlight on NJ) (MarJ 179, 1960)
6. Nick Jordan Prend la Mouche (NJ Get a Bee in his Bonnet) (MarJ 188, 1961)
7. Mais Nick Jordan Troubla la Fête (But NJ Crashed the Party) (MarJ 199, 1961)
8. Pas de Visa pour Nick Jordan (No Visa for NJ) (MarJ 208, 1961)
9. Envoyez Nick Jordan (Send NJ) (MarJ 212, 1962)
10. Nick Jordan se casse la Tête (Mind Bender for NJ) (MarJ 216, 1962)
11. Nick Jordan Rit Jaune (NJ Laughs Last) (MarJ 220, 1962)
12. Jours de Deuil pour Nick Jordan (Mourning Days for NJ) (MarJ 224, 1962)
13. Sans Nouvelles de Nick Jordan (No News from NJ) (MarJ 228, 1962)
14. L'Heure H de Nick Jordan (NJ's Hour H) (MarJ 232, 1962)
15. La Mer à Boire pour Nick Jordan (NJ Swallows a Lot) (MarJ 236, 1962)
16. Nick Jordan Hurle avec les Loups (NJ Screams with the Wolves) (MarJ 240, 1963)
17. Nick Jordan contre GX 17 (NJ vs. GX 17) (MarJ 244, 1963)
18. Carte Blanche à Nick Jordan (Carte Blanche for NJ) (MarJ 248, 1963)
19. Nick Jordan au Pied du Mur (NJ on the Starting Line) (MarJ 252, 1963)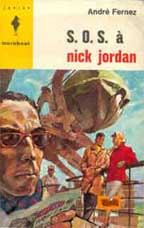 20. Signé Nick Jordan (Signed NJ) (MarJ 256, 1963)
21. Nick Jordan Jette du Lest (NJ Throws Some Dead Weight) (MarJ 260, 1963)
22. Nick Jordan, Incognito (MarJ 264, 1964)
23. La Longue Nuit de Nick Jordan (NJ's Long Night) (MarJ 268, 1964)
24. Nick Jordan contre Aramis (NJ vs Aramis) (MarJ 276, 1964)
25. S.O.S. à Nick Jordan (SOS NJ) (MarJ 280, 1964)
26. Nick Jordan Met le Feu aux Poudres (NJ Starts a Fight) (MarJ 284, 1964)
27. Bien le Bonjour de Nick Jordan (From NJ With Love) (MarJ 288, 1964)
28. La Bête Noire de Nick Jordan (NJ's Arch-Enemy) (MarJ 292, 1965)
29. Nick Jordan Relève le Défi (NJ Takes Up the Challenge) (MarJ 296, 1965)
30. A la Santé de Nick Jordan (To NJ's Good Health) (MarJ 300, 1965)
31. Nick Jordan Mène la Danse (NJ Leads the Dance) (MarJ 304, 1965)
32. Nick Jordan Tourne Casaque (NJ Turncoat) (MarJ 312, 1965)
33. Nick Jordan Perd le Nord (NJ Loses his Direction) (MarJ 332, 1966)
34. Nick Jordan aux Enfers (NJ in Hell) (MarJ 337, 1966)
35. Nick Jordan Mène le Deuil (NJ Leads the Wake) (MarJ 350, 1966)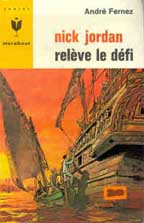 "Marabout Pocket":
36. La Sarabande des Hyènes (The Dance of the Hyenas) (MarP 5, 1967)
37. Lâchez les Chiens! (Unleash the Dogs!) (MarP 11, 1967)
38. Le Coup du Chacal (The Jackal's Trick) (MarP 23, 1967)
39. Corde Raide (Tight Rope) (MarP 29, 1967)
40. La Faute du Mort (Dead Man's Fault) (MarP 38, 1968)
41. Négatif P-224 (Negative P-224) (MarP 44, 1968)