The Book
Les Navigateurs de l'Infini [The Navigators of Infinity] is arguably Belgian writer J.-H. Rosny Aine's science fiction masterpiece. Originally published in France in 1925, Les Navigateurs and its sequel, Les Astronautes [The Astronauts], written at the same time, but published only in 1960, coined the word "astronautique" for the first time in the history of literature.

In it, Rosny's heroes travel to Mars in the "Stellarium", a spaceship powered by artificial gravity and made of "argine," an indestructible, transparent material, not unlike Larry Niven's spaceships in his "Known Space" series. On Mars, the human explorers come in contact with the gentle, peaceful, six-eyed, three-legged Tripedes, a dying race slowly being replaced by the Zoomorphs, alien entities made of minerals.

In the sequel, a young Martian female, capable of bearing children parthenogetically by merely wishing it, gives birth to a child after falling in love with one of the human explorers, undoubtedly the first romance ever written between a man and a non-humanoid alien female. This heralds the rebirth of the Martian race and, with Man's help, the eventual reconquest of their planet.

Les Navigateurs de l'Infini is a colorful, poetic ode to the powers of love and science, a plea for understanding between races, and supporting the view that all living creatures -- men as well as aliens -- are somehow connected in the greater scheme of things. It represented a marked departure from the xenophobic approach shaped by H. G. Wells with War of the Worlds in 1898, which eventually dominated anglo-saxon science fiction until Stanley Weinbaum's A Martian Odyssey in 1934.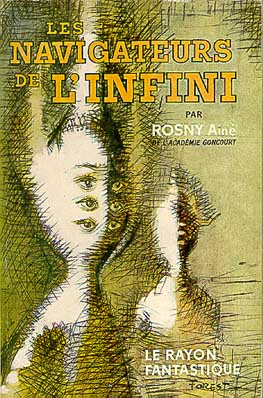 LES NAVIGATEURS DE L'INFINI
(1960 EDITION)
COVER ART BY
JEAN-CLAUDE FOREST