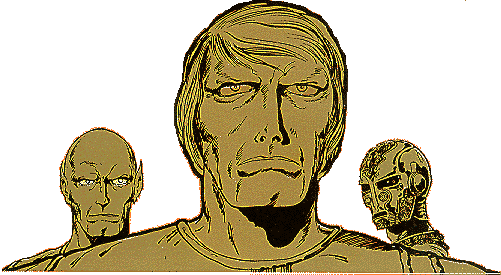 Writer/Artist: Philippe Druillet (1944- )


Lone Sloane is a space opera starring a cosmic freebooter and rebel who deals with dark gods and other-dimensional forces on a Lovecraftian scale, as well as fighting an oppressive galactic empire led by the evil Shaan. Sloane's companions are the neo-martian Yearl, and the mysterious Kurt Kurtsteiner (named after a French science fiction author). His ship is called "O Siddarta".



The Stories


1. Le Mystère des Abîmes [The Mystery Of The Abyss] (Losfeld, 1966 -- reprinted as "Lone Sloane 66", Humanos, 1977, also including "Saint Naufrage des Extases" (unpublished story by Michel Demuth, 1966; and "Nova", Pilote Mensuel No.1, 1974)

2. Les Six Voyages de Lone Sloane [The Six Voyages Of Lone Sloane] (Dargaud, 1972) (includes: 1: "Le Trone du Dieu Noir" [The Throne of the Black God], Pilote No.538,, 1970; 2: "Les Iles du Vent Sauvage" [The Isle of the Doom Wind], Pilote No.553, 1970; 3: "Rose", Pilote No.562, 1970; 4: "Torquedara Varenkor: Le Pont sur les Etoiles" [The Bridge over the Stars], Pilote No. 569, 1970; 5: "O Sidarta", Pilote No.578, 1970; 6: "Terra", Pilote No.598, 1971)

3. Delirius (Written by Jacques Lob) (Pilote Nos. 651-666, 1972; Dargaud, 1973)

4. Gail (Metal Hurlant Nos.18-27, 1977-78; Humanos, 1978)

5. Salammbo (Metal Hurlant Nos.48-54, 1980; Dargaud, 1981)

6. Salammbo 2: Carthago (Dargaud, 1982)

7. Salammbo 3: Matho (Dargaud, 1986)

8. Chaos (Albin Michel, 2000)
Publishing History


Lone Sloane was first published in 1966 by Eric Losfeld, the publisher of Barbarella and Pravda. It then migrated to the pages of "Pilote" in 1970. The fourth episode was serialized in "Métal Hurlant" in 1976. The last three stories are an adaptation of Gustave Flaubert's fantasy epic, Salammbo (see below) with Sloane retroactively implanted in the story. The series is currently available from French publisher Albin Michel.
Translations
Volumes 2 and 3 of Lone Sloane were translated in English by Jean-Marc & Randy Lofficier and published by NBM.


About "Salammbo"

In 1858, French novelist Gustave Flaubert (1821-1880) produced what may very well be the first work of modern heroic-fantasy in the French languange, Salammbo. It was a brash, colorful and exotic novel about ancient Carthage, the North-African city-state which challenged Roman domination during the Punic Wars in the 2nd century BC, and was loosely based on an incident reported by Roman historian Polybius. In it, Flaubert created the fictional character of Salammbo, the daughter of Carthagenian general Hamilcar, and told of her doomed love story with Matho, the leader of the rebel mercenaries who were besieging Carthage. While the supernatural was, at best, understated, Salammbo was a worthy precursor of the opulent, colorful, savage fantasies of Robert E. Howard, and Matho was a true proto-Conan.
The Author


Philippe Druillet (1944- ) burst onto the French comics scene with his first Lone Sloane graphic novel in 1966. In 1969 and 1970, he made waves again when he began serializing new Lone Sloane stories in "Pilote." And in 1974, with Moebius and Dionnet, he was one of the four founding fathers of "Métal Hurlant." Druillet continued to be one of comics' most radical ground-breakers throughout the 1970s with stories such as La Nuit [The Night] (1975), the Moorcock's Elric-inspired Yragaël (1974), Nosferatu (1978), and finally his epic Salammbo trilogy. Druillet's career has now taken a turn towards fine arts.
OTHER SITES:

PHILIPPE DRUILLET'S OFFICIAL SITE (IN FRENCH)

Lone Sloane © 2001 Philippe Druillet. All rights reserved.