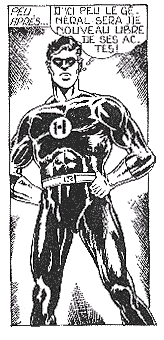 Writer: Claude-Jacques Legrand?
Artist: Lina Buffolente (eps. 1-2); Paolo Morisi (eps. 3-8)

Homicron is an alien from planet Alpha, whose inhabitants have the power to turn into energy beings to explore the cosmos. To save an American scape capsule, Homicron becomes trapped on Earth. He merges with the body of astronaut Ted White, who otherwise would have died from a heart attack. Using an energy transformer designed by girl-friend Rita Tower, Ted White turns into Homicron to fight evil. He is assisted by Latino teenager Domingo.

The Stories

from "Futura" Magazine


1-2. La Lumiere Mysterieuse [The Mysterious Light]
3-4. Message dans l'Espace [Message In Space]
5-6. Au Bord de la Catastrophe [On The Edge Of Catastrophe]
7-8. Sabotage a Cap Kennedy [Sabotage At Cape Kennedy]



(art by Buffolente)

(art by Morisi)
Publishing History


Homicron was published in "Futura" Nos. 1-8 (1972-73). The story was left uncompleted with the evil alien invaders Kyros still on Earth.

The Authors

Unlike other series published in "Futura", the stories of which were credited to Claude J. Legrand, Homicron did not feature any story credit. It is however tempting to attribute it to Legrand.

FOR MORE ON LINA BUFFOLENTE, .

Paolo Morisi is an Italian artist.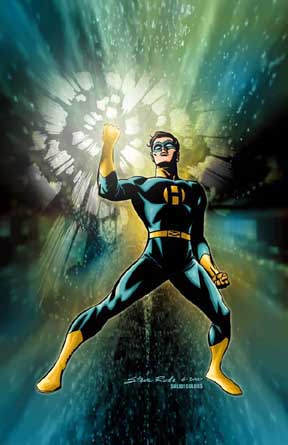 ART BY STEVE RUDE
Writer: Jean-Marc Lofficier.
Artist: Jean-Jacques Dzialowski.

"Un Tigre par la Queue" (A Tiger by the Tail) (Fantask No. 1, 2001)
"Double Jeu" (Double Game) (Fantask No. 2, 2001)
"L'Ombre du Passé" (The Shadow from the Past) (Fantask No. 3, 2001)
"Le Regard de l'Abysse" (Looking Into the Abyss) (Fantask No. 4, 2001)
"Transition" (collected with episodes 1-4 in Homicron, 2003)

Homicron returned in 2001 in Fantask. We learned what happened with the Kyrosians. Ted White was eventually killed, and the Homicron energy persona was transferred into the body of Rita Tower, who has become the new Homicron.


NEW HOMICRON
The new Homicron has since become a member of STRANGERS (Semic / Image Comics, 2003):

Writers: J.-M. & Randy Lofficier
Art: Various.
Prologue: "Le Château de Cartes" (The House of Cards) (in PLANETE COMICS No. 14, 2002)
Art: Manuel Garcia & Eduardo Alpuente
Ep. 1 : "Like an Angel, Feral-Eyed..."
Art: Manuel Garcia, Javier Pina & Eduardo Alpuente
Ep. 2: "In the Shadows of the Night..."
Art: Javier Pina & Eduardo Alpuente
Ep. 3: "Caresses such as Snakes Give"
Art: Fernando Blanco & Eduardo Alpuente
Ep. 4: "The Livid Daylights"
Ep. 5: "Icy till the Evening"
Ep. 6: "Rule With Fear"
Art: Reed Man
Ep. 7: "L'Autre Côté du Monde" (The Other Side of the World)
Art: Fernando Pasarin
Ep. 8: "Où l'On Parle de Fins et de Débuts" (Of Endings and Beginnings)
Art: Mariano De La Torre
Ep. 9: "Le Pont sur les Étoiles" (The Starbridge)