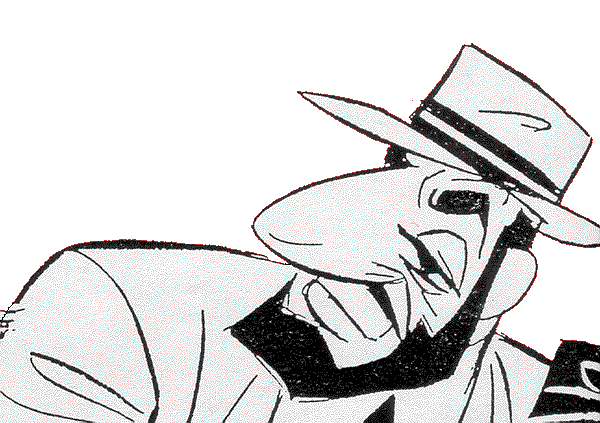 [SIGNED: FURAX]


Creators: Pierre Dac (1893-1975) & Francis Blanche (1921-1974)


The Radio Series

Signé Furax began modestly on 15 October 1951 at 1:10 p.m. on French channel RTF as a short-lived radio serial of ten-minute instalments entitled Malheurs aux Barbus [Woe To The Bearded Men]. Written by renowned humorists Pierre Dac and Francis Blanche (who also starred in it), it narrated the fight of private investigators Black and White against the megalomaniacal villain, Edmond Furax, a cross between Arsene Lupin and Fantômas.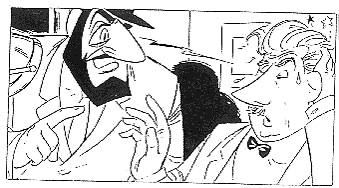 Furax and Socrate by artist Henry Blanc (see below)


In this madcap serial, Furax kidnapped 642 Bearded Men, took over an island in the Hebrides, then traveled through space to Antares, and through time back to the days of the Sun King.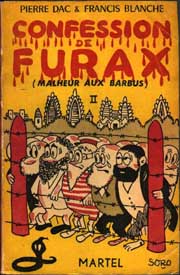 Four years later, in 1956, Furax returned in a new radio serial, Signé Furax [Signed: Furax], this time on the Europe 1 channel. Signé Furax lasted four years, totalling over 1200 episodes, and became a national media event.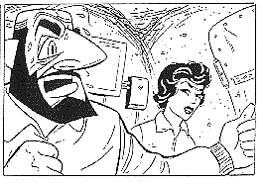 Furax and Malvina
by Henry Blanc

This time, Furax and his girl-friend, the beautiful Malvina, came out of retirement to fight on the side of good and thwart the nefarious schemes of the evil sect of the Babus, led by the diabolical Klakmuf. Furax's allies included a colorful gallery of characters, such as Police Commissioner Socrate, his old enemies and now friends private investigators Black and White, former hitman Asti Spumante, genial scientist Hardy-Petit, his daughter Carole and son-in-law Théo Courant, gang leader Maurice Champot, aka La Grammaire, and even the president of the far-off planet Asterix, Clodomir.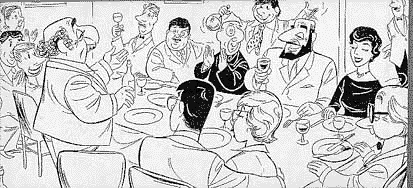 Furax and friends by Henry Blanc


The first series, entitled Le Boudin Sacré [The Sacred Sausage] (1956-57), began with an attempt by the Babus to frame Furax in a plot involving the dehydratation of Paris' best-known monuments to better transport them to their own, middle-eastern state, Filikistan. Furax, however, outwits the Babus and gains control of the sect through the stealing of their sacred sausage, but his secret identity -- that of France's Chief of Police -- is revealed. The story ends with a temporarily insane Furax travelling back in time to the Crimean War in a ultimtely aborted effort to rewrite history.

The next saga, entitled La Lumière qui Éteint [The Light That Dims] (1957-58), began with an investigation into a new plot by the Babus to take over the world, using a strange, blue light which sapped people's wills. The story then moved to the discovery of the Babus' secret base located on the atoll Anatole, which as it turned out, is also a space-faring vehicle. Anatole took our heroes to the far-off planet Asterix, where they met friendly aliens led by President Clodomir. Upon their return to Earth, Furax thwarted a last Babu plan to release an army of giant spiders.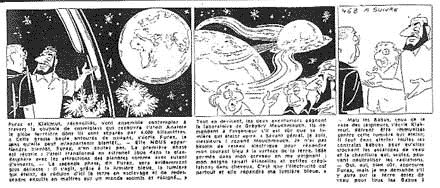 Furax, Klakmuf and Babu scientist Gregory Mouchmouch
discuss the spaceflight of the Atoll Anatole
by Henry Blanc


The third saga, entitled Le Gruyère Qui Tue [The Swiss Cheese That Kills] (1958-59), saw Furax and his friends team up again to save Earth from an invasion of body-snatching alien parasites, the Gsbrr, who literally inhabit swiss cheese. Anyone who ate contaminated cheese eventually woke up with a Gsbrr inside his skull. The Gsbrr used the Babus to try to enslave Earth. But with the help of President Clodomir, and of some parmesan cheese, Furax and his friends eventually defeated the space parasites.

There was a fourth radio series entitled Le Fils de Furax [The Son of Furax] (1959-60), about which little is known.

Finally, five shorter Furax adventures were recorded and sold as 45 rpm records in the early 1960s:
- Menace sur Tancarville [Threat Over Tancarville]
- La navrante comédie des proverbes [The Sorry Comedy of Proverbs]
- Trafic de larmes [Tear Traffic]
- L'Enlèvement du Père Noël [The Kidnapping of Santa Claus]
- Alerte aux homards [Alert: Lobsters]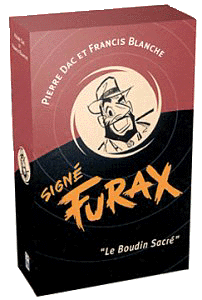 All of the Signé Furax stories (except Son of Furax) are now available in CD audio collections. Order on amazon.fr. (Search for FURAX.)


---
Radio Credits

Writers: Pierre Dac & Francis Blanche
Director: Pierre-Arnaud de Chassy-Poulay
Voices: Pierre Dac (Black), Francis Blanche (White), Jean-Marie Amato (Furax, Asti), Jeanne Dorival (Malvina), Maurice Biraud (Socrate, Maurice Champot), Edith Fontaine (Carole, Mademoiselle Fiotte), Claude Dasset (Klakmuf), Louis Blanche (Hardy-Petit).


---



The Novelizations


The first radio serial, Malheur aux Barbus [Woe To The Bearded Men], was presumably adapted by Dac & Blanche themselves from their own radio scripts and published in four novels by Martel in 1952-53:

1. Malheur aux Barbus [Woe To The Bearded Men] (Martel, 1952)
2. Confession de Furax [Furax's Confession] (Martel, 1952)
3. Mangez de la Salade [Eat Salad] (Martel, 1952)
4. Les Barbus de l'Espace [The Bearded Men In Space] (Martel, 1953)

A second series of novelizations, this time penned by writer Henri Marc, adapted the Signé Furax radio scripts, and were published by Jean-Claude Lattès in the 1970s. First, Lattès published four standard-size paperbacks, then three arger-size trade paperbacks:

Paperbacks:
1. Le Boudin Sacré [The Sacred Sausage] (JCL, 1970)
2. Malheur aux Babus [Woe To The Babus] (JCL, 1970)
3. Crimée... Châtiment [Crimea... Punishment] (JCL, 1971)
4. La Lumière qui Éteint [The Light That Dims] (JCL, 1971)

Trade Paperbacks:
1. Signé Furax (collects 1-3 above)(JCL, 1971)
2. Furax et les Autres [Furax & Others] (collects 4, plus the unpublished 5. L'Atoll Anatole [The Atoll Anatole] and 6. M... comme [M as in...] which were not released as separate paperbacks) (JCL, 1973)
3. Le Gruyère qui Tue [The Gruyere That Kills] (JCL, 1976)
---
The Comic Strip


Furax' success also led to a comic-strip adaptation serialized as 1174 daily strips in the newspaper "France-Soir" in 1957-60. Two collections of the strip were reprinted by Pressibus in 1991 and 1992.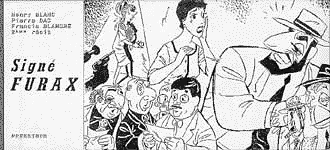 Writer: Roger Mallat and Paul Gordeaux, based on the scripts by Pierre Dac & Francis Blanche
Artist: Henry Blanc.

Henry Blanc (1921- ) began his career as a cartoonist in the 1940s. He worked for animation director Paul Grimault [The King and the Bird] in 1948. In 1952, he became one of "France-Soir"'s major daily strip providers with his adaptation of Signé Furax: 1174 strips published between 1957 and 1960, roughly broken down into 4 stories:

1. Le Boudin Sacré [The Sacred Sausage] (strips 1-255)
2. La Lumière qui éteint [The Sacred Sausage] (strips 256-571)
3. Le gruyère qui tue [The Gruyere That Kills] (strips 572-920)
4. Le fils de Furax [The son of Furax] (strips 921-1174)

Blanc's other strips include Les Nouveaux Mystères de Paris [The New Mysteries of Paris] and a comic adaptation of Frederic Dard's best-selling humorostic detective novels, Commissaire San-Antonio, which lasted for 12 years.


---
BERNARD HALLER
(FURAX)

The Motion Picture


Finally, in 1980, the first Signé Furax story, Le Boudin Sacré [The Sacred Sausage], was adapted into a live action feature film also entitled Signé Furax:

Director: Marc Simenon
Writer: Marc Simenon, based on the radio serial by Pierre Dac & Francis Blanche.
Cast: Bernard Haller (Furax), Mylène Demongeot (Malvina), Jean Le Poulain (Klakmuf), Michel Galabru (White), Jean-Pierre Darras (Socrate), Pasquali (Hardy-Petit).
---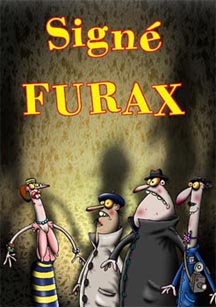 A SIGNÉ FURAX puppet show series of 104 5-minute episodes is currently being developed
by LES ARMATEURS, CARRERE and CANAL +.


---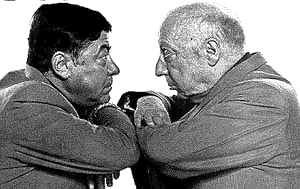 The Creators
(Francis BLANCHE & Pierre DAC)
| | |
| --- | --- |
| | Pierre Dac (pseudonym of André Isaac) (1893-1975) was a renowned French humorist who started his career as a stand-up comedian in 1922 and created and edited the famous humor magazine L'Os à Moelle from 1938 to 1940 (the magazine lasted until 1964). Forced to flee France during World War II, Dac found himself talking to he Free French on the BBC. After World War II, he continued his radio career in addition to writing and performing. Another of his radio serial creations was Bons Baisers de Partout [From Everywhere With Love] (co-created with Louis Rognoni), a madcap James Bond satire featuring the adventures of Nicolas Leroidec, anvil salesman and French intelligence ace. All the characters sported punnish names: Hubert de Guerlasse, l'Adjudant Tifrisse, etc. Some of the stories involved science fiction elements, such as the one where two French agents were sent a year back in time. |
| | |
| --- | --- |
| Francis Blanche (1921-1974) was a renowned French actor and humorist. His film career includes dozens of movies, including Les Belles Bacchantes (1954), La Jument Verte (1959), La Vendetta (1962), Les Tontons Flingueurs (1963), Les Barbouzes (1964), Les Gros Bras (1964) , etc. He was also known during the 1960s as a radio personality who developed a very popular Sunday morning show (entitled "Kangaroos Are Boneless" in 1965) during which he made telephone calls pretending to be the obnoxiously stupid Mr. Macheprot and purposefully designed to drive some hapless victim crazy. | |