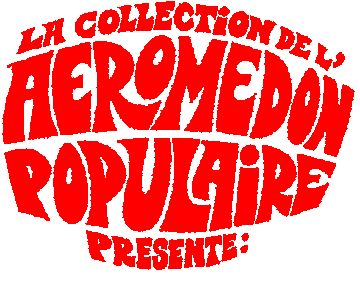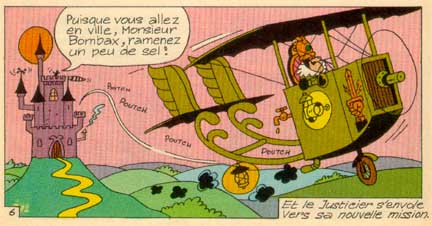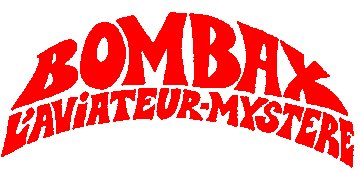 Writer: Fred (Othon Frédéric Aristidès) (1931- )
Artist: Hubuc (Roger Copuse) (1927-1970)

The "Popular Aeromedon" is a anthology of satirical stories parodying French serials & pulp heroes, such as Fantômas, Judex, etc. Bombax is the sole recurring character, but the series also feature Mirandrax, Plombax and Justiflex.
The Stories

from "Pilote" Magazine


1. Bombax : L'Enlèvement des Sabines (The Rapt of the Sabine Women) (8 p.) (Pilote No. 336, 1966)
2. Mirandrax, le Roi de la Magie (Mirandax, King of Magic) (8 p.) (Pilote No. 339, 1966)
3. Zozo, le Justicier Analphabète (Zozo, the Illiterate Avenger) (8 p.) (Pilote No. 348, 1966)
4. Le Comte Diranidref (Count Diranidref) (8 p.) (Pilote No. 362, 1966)
5. Tarsinge l'Homme Zan (Tarape, the Man-Zan) (8 p.) (Pilote No. 368, 1966)
6. Les Deux Orphelines (The Two Orphan Girls) (8 p.) (Pilote No. 377, 1967)
7. Plombax le Plombier Masqué (Plombax, the Masked Plumber) (8 p.) (Pilote No. 381, 1967)
8. Kleptopik le Copomartopicophile (8 p.) (Pilote No. 384, 1967)
9. Tartagnangnan (8 p.) (Pilote No. 397, 1967)
10. La Ruée vers l'Or et le Naufrage du Titanic Réunis (The United Gold Rush and the Sinking of the Titanic) (8 p.) (Pilote No. 405, 1967)
11. Samson (6 p.) (Pilote No. 413, 1967).
12. Le Retour de Bombax (The Return of Bombax) (8 p.) (Pilote No. 417, 1967).
13. Bombax et l'Affaire du Courrier de Lyon (Bombax and the Lyon Courrier Affair) (8 p.) (Pilote No. 418, 1967)
14. Justiflex contre Mastabax (Justiflex vs. Mastabax) (28 p.) (Pilote Nos. 423-430, 1967-68)
15. Bombax et la Nouille Tragique (Bombax and the Tragic Noodle) (8 p.) (Pilote No. 435, 1968)
16. Bombax et le Yoyotaire Diabolique (Bombax and the Diabolical Yoyoman) (8 p.) (Super-Pocket Pilote No. 3, 1969)
17. Bombax et le Clown Triste (Bombax and the Sad Clown) (8 p.) (Super-Pocket Pilote No. 4, 1969)
18. L'Aspirateur Musclé (The Muscled Vacuum Cleaner) (8 p.) (Super-Pocket Pilote No. 5, 1969)
19. Le Phare-Naufrageur (The Ship-Wrecking Lighthouse) (8 p.) (Super-Pocket Pilote No. 6, 1969)




Publishing History


The Popular Aeromedon stories were originally serialized in Pilote from 1966 to 1969 but were never collected in the graphic novel format.
The Authors


After working as a cartoonist for various daily papers, Fred was one of the founders of the humor magazine Hara-Kiri, for which he created the character of Manu-Manu, and Le Petit Cirque (The Little Circus). He then joined the editorial team of Pilote in 1965, and created the character of Philémon. For artist Alexis, Fred wrote the humorous adventures of two incompetent time-travelers, Time Is Money. He also wrote Pan et la Syrinx for Mic Delinx, and 4x8=32 for De Groot. In 1979, he created the character of Cythère, a Sorceress's Apprentice, for Pif. More recently, Fred has embarked on a series of surreal moralistic fables, such as L'Histoire du Corbac aux Baskets (The Tale of the Crow Who Wore Sneakers) (1993), etc.


Hubuc (Roger Copuse) (1927-1970) was a Belgian writer-cartoonist who began writing & drawing "mini-récits" for Spirou in 1961. Working with writer Devos, he created the character of Victor Sébastopol. His other series include Tulipe et Minibus and Pancho Bomba drawn by Mike in 1967-68, Chlorophyle & Minimum drawn by Pierre Guilmard, and Wilbur & Mimosa.


PHILEMON

VICTOR SEBASTOPOL
Aeromedon Populaire © 2002 Fred/Hubuc. All rights reserved.