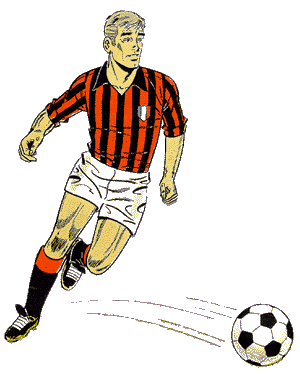 "The Olympio Trilogy"


Writer/Artist: Raymond Reding (1920-1999)

Vincent Larcher is a member of the French national soccer team. He teams up with Olympio, a genetically-engineered superman, to defeat a variety of super-threats.


The Stories

from "Tintin" Magazine


1. Olympic 2004 (TI Nos. 984-1004, 1967)
In the first story of the Olympio Trilogy, Larcher rescues Olympio from the clutches of his father, Prof. Spoliansky, a mad scientist who plans to create a new breed of supermen.

2. 11 Gauchers pour Mexico [11 Left-Handed Players For Mexico] (TI Nos. 1011-1030, 1968)
In the second volume, Larcher and Olympio expose a conspiracy by the mysterious "Triangle" (who may actually be Spoliansky himself), and his eleven assistants, to frighten the world into world peace by using faked alien manifestations at global sports events. One of the scientists, Prof. Sato, turns out to be a traitor, who murders the Triangle and tries to gain control of Olympio.

3. Le Zoo du Dr. Ketzal [The Zoo Of Dr. Ketzal] (TI Nos. 1039-1059, 1969)
Finally, in the third and final volume, Larcher and Olympio travel to Mexico for the 1968 Olympic Games. There, they battle the power-mad Doctor Ketzal, who plans to rule the world using three powerful magical Aztec artefacts.

OLYMPIC 2004


THE ZOO OF DR. KETZAL



THE ZOO OF DR. KETZAL

Publishing History


Vincent Larcher was created by writer/artist Raymond Reding for the weekly comic magazine "Tintin" in 1963. After an "origin" story with no fantasy elements ("Vincent Larcher Avant-Centre", TI Nos. 770-802), the character went into a hiatus, but returned with a vengeance in 1967 with the superheroic "Olympio Trilogy" featured here. This, however, turned out to be a short-lived experiment, and Reding returned to telling more conventional, sports-themed stories. Two more Vincent Larcher stories followed, "Le Condottiere" (TI Nos. 1088-1109, 1970) and "Mini-Jupes & Maxi-Foot" (TI Nos. 1142-1157, 1970), none of which contained any fantasy elements.

The "Olympio Trilogy" was collected in the graphic novel format by publisher Editions du Lombard as volumes 1, 2 and 5 of their Vincent Larcher collection, published respectively in 1969, 1970 and 1973.

Note: The story "Onze Gauchers pour Mexico" is a crossover with Reding's other sports series, Jimmy Torrent & Jari.
The Author

Raymond Reding (1920-1999) is a Belgian comic book writer/artist who started his career writing and illustrating children's tales in "Bravo" in 1944. He then created the character of Mr. Cro, a detective, in 1947. In 1950, he joined the editorial team of "Tintin" for which, in 1957, he created the Jari & Jimmy Torrent series, about the adventures of a tennis pro and his young ward. In 1972, Reding created Section R, about a trio of female crime solvers. He then left "Tintin" for "Super As", for which, in 1979, he created Eric Castel, the adventures of another soccer star. Reding passed away on April 26th, 1999.


11 Left-Handed Players For Mexico

Vincent Larcher & Olympio © 2003 Reding. All rights reserved.