"Bravo" was a 16-page Belgian weekly comic magazine (8-1/2 x 12) that lasted for 11 years, from 19 December, 1940, to 17 April, 1951.


"Bravo" published the following series:
From the U.S.: Flash Gordon & Jungle Jim (Alex Raymond), Felix the Cat (Pat Sullivan), The Katzenjammer Kids (Harold Knerr) and Connie (Francis Godwin);
From Belgium & France: Le Rayon U (E. P. Jacobs), Polochon (Sirius), Zig & Puce (Alain Saint-Ogan), Lamar the Invisible Man (Jacques Martin) and Tom Mix (Calvo).
Two curiosities for the American fan are:


THE FINAL FLASH GORDON PAGES
by Edgar Pierre Jacobs
Flash Gordon had first appeared in France (under the title "Guy l'Eclair") in the French weekly magazine "Robinson", published from April 1936 to June 1940. "Robinson" was owned and operated by the comics syndicate Opera Mundi (owned by Paul Winkler) who imported most of the classic American comic strips in France.

After the end of "Robinson", Flash Gordon migrated to "Bravo", where it was retitled "Gordon l'Intrepide" [Gordon the Fearless].

In early 1942, soon after the US entered World War II, the Nazis stopped the import of American materials and ordered the discontinuation of US strips. Eventually, in mid-'42, the "Bravo" editors ran out of original Flash Gordon pages and asked Edgar P. Jacobs to continue the series as a ghost artist, which he did for a few weeks. But the Nazis stepped in and gave "Bravo" a week to stop the series. So the "Bravo" editors were forced to ask Jacobs to draw a final page bringing the series to a quick conclusion.



CAPTAIN MARVEL Jr vs. DOCTOR SATANAS
by Albert Uderzo
In 1950, "Bravo" published a wholly-new adventure starring Captain Marvel Jr, produced under license from Fawcett, and drawn by Albert Uderzo, an artist who later gained world-wide fame with his creation (with writer Rene Goscinny) of Asterix the Gaul for "Pilote" in 1959. (Captain Marvel Jr had previously been published in France by the Societe Parisienne d'Edition.)

The story was 26-pages long, and was published in "Bravo", 10th Year (Volume 10), Nos. 16 to 41 (1950). It pit Captain Marvel Jr against the evil Dr. Satanas.

PAGE 1 (FULL PAGE)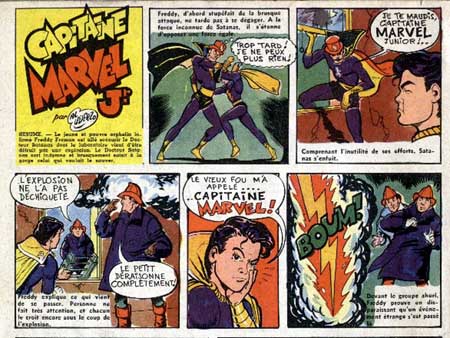 HALF-PAGE