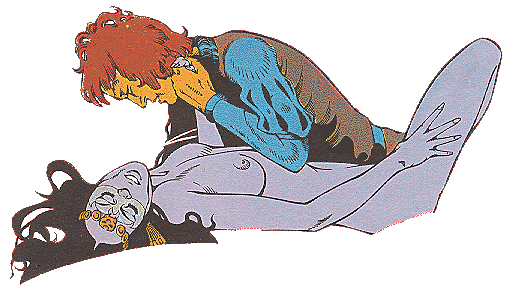 Writer: Serge de Beketch
Artist: Loro (pseudonym of Jean-Marc Loreau) (1943-1998)

Thorkael is a clever rogue who is sent by his master to find the "Eye of the God" that will give his people courage. He then runs afoul of the gods themselves, cruel, egotistic, super-powered individuals who like to play games with the lives of men. Eventually, Thorkael crosses a gate which sends him back into the past.


The Stories

from "Pilote" Magazine




1. L'Oeil du Dieu [The Eye Of The God] (35 p.) (PI Nos. 588-603, 1971)
2. La Porte de Tai-Matsu [The Gate Of Taï-Matsu] (44 p.) (PI Nos. 720-730, 1973)
Publishing History


Thorkael was obviously inspired by Jack Vance's Dying Earth and Cugel stories. When it first appeared in "Pilote" in 1971, science fiction was very much in fashion. Loro, like Forest, Moebius and others, was a science fiction fan who had also been contributing illustrations the line of genre books and magazines published by OPTA. Because of its unusual graphic style -- full-page spreads, bleeds, psychedelic montages, etc. -- Thorkael, like Druillet's Lone Sloane, made a marked impression. However, the series did not blossom, with only one more episode being published in 1973.

The two Thorkael stories were first collected in the graphic novel format by publisher SERG, respectively in 1976 and 1977. Dargaud later reprinted the second story in a softcover album in 1982.
The Authors


Serge de Beketch is a writer who started contributing a variety of satirical and National Lampoon-like humor pages for the "news" section of "Pilote" in 1969. Thorkael was his only regular adventure series. De Beketch left comics in the late 1970s and has, since then, become a noted right-wing editorialist and journalist.


Loro (pseusonym of Jean-Marc Loreau) (1943-1998) began his comics career in the pages of "Pilote" magazine in the early 1970s with a series of fantasy-themed short stories, collected as Deboires d'Outre-Tombe [Misadventures From Beyond The Grave] and Thorkael. He also contributed to the pafes of the French editions of Creepy and Eerie, and illustrated an anthology of science fiction stories by Robert Sheckley. Later works include the cheesecake series Sweet Delice (with writer Moliterni), also for "Pilote", and the adventures of zombi-like private eye, Abe Dopeulapeul. Loro eventually left comics in the 1980s to pursue a career as a commercial illustrator in the South of France. He passed away in 1998.



Thorkael © 2003 Loro/De Beketch. All rights reserved.