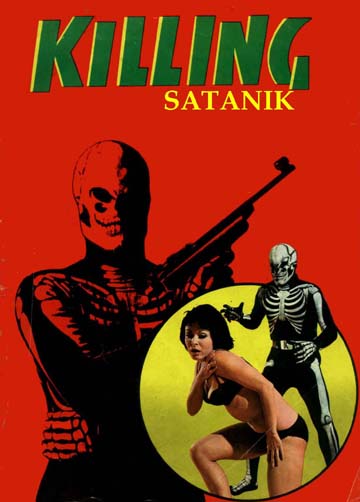 [a.k.a. KILLING]
Satanik ("Killing" in the original Italian edition -- see "Publishing History" below) is a terrifying and diabolical master criminal. Totally without mercy, Satanik mostly goes after other criminals, usually to steal their loot or whatever they're after. His real identity remains unknown. No one knows who he is. Satanik uses a special brand of flesh-like masks he designed to make himself look like any of his targets. He also uses darts filled with Mjanico, the "green death", an Amazonian poison which kills its victims slowly and painfully.

Satanik's only companion is his lover, the equally mysterious Dana, probably the only person in the world to know his secret identity. Dana ably assists Satanik in his criminal endeavors.

Satanik's nemesis is Inspector Mercier, a smart, relentless policeman who is always hot on his trail, but somehow loses every time.


A RARE SHOT OF SATANIK
WITHOUT HIS MASK

SATANIK


DANA


INSPECTOR MERCIER
The Stories

from the French "Satanik" Magazine


1. Le Génie du Crime [The Genius Of Crime]
2. Sang et Drogue [Blood And Drugs]
3. Poupées et Dollars [Dolls And Dollars]
4. Le Regard Qui Tue [The Look That Kills]
5. Justice Mortelle [Deadly Justice]
6. Sept Femmes pour un Rajah [Seven Brides For A Rajah]
7. Nuit de Terreur [Night Of Terror]
8. Le Spectre de la Mort [The Spectre Of Death]
9. Crève, Batard! [Die, Bastard!]
10. Échec à la Pègre [The Underworld In Check]
11. Un Bourreau pour Satanik [An Executioner For Satanik]
12. Le Racket du Vice [The Vice Racket]
13. Pour une Poignée de Sales Emeraudes [For A Fistful Of Dirty Emeralds]
14. Le Masque de la Mort [The Mask Of Death]
15. Une Blonde de Trop [One Blonde Too Many]
16. Assassinat d'un Président [Assassination Of A President]
17. Embrasse et Tue [Kiss And Kill]
18. Poursuite Mortelle [Deadly Pursuit]
19. Laissez-Passer pour l'Enfer [Free Pass For Hell]

FANTOMAS (1911)

BY ALLAIN & SOUVESTRE

(US EDITION)

FANTOMAS - LE MORT QUI TUE
SERIAL BY FEUILLADE (1913)

FANTOMAS
BY HUNEBELLE (1964)

Publishing History


Satanik's literary ancestor was Fantômas, the brain-child of French writers Marcel Allain (1885-1970) and Pierre Souvestre (1874-1914).

Fantômas was created in 1911 and appeared in a total of thirty-two volumes written by the two collaborators, then a subsequent eleven volumes written by Allain alone after Souvestre's death.

Arch-criminal Fantômas is one of the most popular characters in the history of French pulp literature. His adversaries are determined policeman Juve (who may be Fantômas' brother?) and young journalist Jerôme Fandor, who eventually falls in love with Fantômas' own daughter. Another recurring character is the tragic figure of Fantômas' lover, Lady Beltham, who is constantly torn between her passion for the villain and her horror at his criminal schemes.

The character and the monstrously complicated plots designed by Allain & Souvestre were greatly admired by the French surrealists. The Fantômas novels were rich in gruesome scenes, such as:

-- Fantômas sending an innocent man made-up to look like him to the guillotine (in "Fantômas" (1911));

-- Fantômas using gloves made of human skin to leave a deceased man's fingerprints on his victims (in "Le Mort qui Tue" [The Dead Man Who Kills] (1911));

-- Fantômas holding a King prisoner in a secret chamber under the Place de la Concorde in Paris (in "Un Roi Prisonnier de Fantômas" [A King Prisoner Of Fantomas] (1911));

-- Fantômas hijacking an entire subway train;

-- Fantômas commandeering a hansom cab driven by a dead man to spread the plague through the streets of Paris (in "Le Fiacre de Nuit" [The Night Hansom Cab] (1911));

-- and even, on a more mundane level, Fantômas placing razor blades in all the shoes sold in a department store, and filling their perfume sprays with acid!

The first Fantômas book cover, showing a contemplative masked man dressed in a dinner jacket and holding a dagger, boldly stepping over Paris, is so well known in France that it has almost become a cliché. Just as Sherlock Holmes became the archetypal modern detective, Fantômas became the archetypal modern arch-villain.

Among his better-known (and even more horrific) literary descendents are the Italian super-villains Diabolik, Kriminal, Demoniak, Zakimort, Mister X, Sadik... and Satanik.
Diabolik was created in Italy in 1962 by two sisters, Angela and Giuliana Giussani, and was first published in Milan in a pocket-sized comic book, drawn by Gino Marchesi.

(Later artists to work on Diabolik include Sergio Zaniboni, Paolo Ongaro, Alarico Gattia, Lino Jeva, Floriano Bozzi and many more.)

Like Fantômas, Diabolik is accompanied in his adventures by his lover, the beautiful Eva Kant, and is mercilessly pursued by a dedicated policeman, Inspector Ginko.

Diabolik's black-clad silhouette is more than reminiscent of the film serials of Fantômas shot by French film director Louis Feuillade in 1912 and 1913.

(There were numerous other French film and TV versions of Fantômas but none as good or faithful; an early 1960s trilogy of films by André Hunebelle starring Jean Marais is, however, worth mentioning.)

Unlike Fantômas, however, Diabolik began the tradition of choosing his victims among the underworld rather than the honest folks, and while erotocism remained low key, the degree of sadism and violence inflicted upon his enemies became significantly more pronounced.

Diabolik, too, was made into a live action film in 1968, "Danger Diabolik", directed by Mario Bava, starring John Philip Law as Diabolik and Marisa Mell as Eva Kant.

Diabolik's success spawned many imitators.

DIABOLIK (IN ITALIAN & ENGLISH)

DIABOLIK

BY GIUSSANI & MARCHESI

DIABOLIK (1968)
BY MARIO BAVA
KRIMINAL
BY BUNKER & MAGNUS


The most popular of these was Kriminal, created in 1964 by writer Max Bunker and artist Magnus. Kriminal wears a black & yellow jumpsuit made to look like a skeleton and a bone-white skull mask. A twist is that his lady companion was once Inspector Milton (his nemesis)' fiancee.

At first filled with various sadistic crimes, Kriminal was later toned down and eventually became almost a do-gooder.

Several Kriminal films were made, starting in 1967 with Umberto Lenzi's Kriminal, starring Glenn Saxon.

KRIMINAL
BY LENZI (1967)
SATANIK / KILLING

Satanik was created in 1965 by Italian publisher Ponzoni and editor Pietro Granelli as a photo-strip answer to Kriminal. Its original Italian title was Killing (you can even see a "K" on the hero's belt buckle) but it was renamed Satanik for its French edition, published simultaneously with the Italian edition.

Satanik / Killing was even more sadistic than its predecessors, perpetrating various forms of murders and tortures upon its scantily-clad heroines, but never displayed any outright nudity.

Even though it was discontinued in 1967 after only 19 issues because of censorship , the French edition of Satanik / Killing was profoundly influential on an entire generation of teenage readers (hence its inclusion here), who bought the book clandestinely and were secretly thrilled by its forbidden pleasures.
SATANIK
BY BUNKER

By an amusing twist of fate -- or a form of artistic payback? -- Kriminal's creator Max Bunker, then decided to create his own Satanik for the Italian market.

This other Satanik was an ugly female scientist who took a drug that turned her into a beautiful but criminally insane woman.

That Satanik was also made into a film by Piero Vivarelli in 1968, starring the stunning Magda Konopka. (That same year, Vivarelli also made another Diabolik rip-off, Mister X.)

SATANIK
BY VIVARELLI (1968)

SATANIK (IN ITALIAN)
PHOTO GALLERY
Click on the selected box to see additional pictures of SATANIK and the lovely DANA.


POSTER AND PHOTOS FROM THE TURKISH SATANIK/KILLING MOVIE
Killink Istanbulda (Killing in Istanbul)
1967/70/Siyah Beyaz B&W
Yönetmen (Director): Yilmaz Atadeniz
Oyuncular (Cast): Irfan Atasoy, Pervin Par, Yildirim Gencer, Suzan Avci, Muzaffer Tema
Iskelet kostümlü Kilink, bir isin silahina iliskin gizli bir formülü ele geçirmek isterken karsisina Kaptan Marvel ile Süpermen karmasi bir "Uçan Adam" çikiyor. Film, sinirli ölçüde de olsa içerdigi sado-erotizm dozu sayesinde Amerikan süper-kahraman ekolünden ziyade Avrupa antikahraman ekolünün kaliplarina daha yakin bir çalisma olarak dikkati çekiyor.
While trying to find the secret formula of a ray weapon, Klinik in skeleton costume-faces meets "A Flying Man" - a mixture of Captain Marvel and Superman. The movie is considered to be closer to the patterns of the European anti-hero trend than to the American super-hero due to the limited amount of sado-eroticism it includes.
Thanks to Jerome Wicky!

ILLUSTRATIONS BY HORACIO ALTUNA FOR
AN UNCONFIRMED SOUTH AMERICAN EDITION OF KILLING





(CLICK ON IMAGE TO ENLARGE)