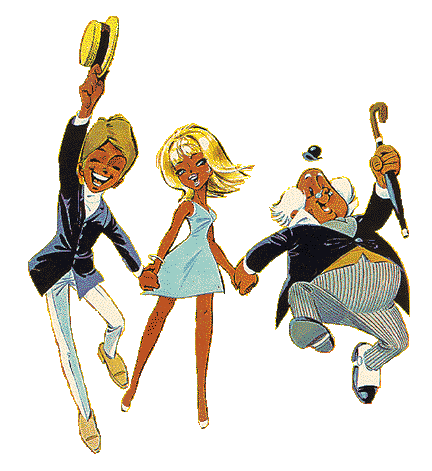 Writer: Greg (pseudonym of Michel Regnier) (1931-1999)
Artist: Dany (pseudonym of Daniel Henrotin) (1943- )
Young legal clerk Olivier Rameau, kindly solicitor Mr. Pertinent, and the stunningly beautiful Colombe Tiredaile (who later becomes Mrs Rameau), save the amiable Slumberland-like kingdom of Rêverose (Pink Dreams) from various threats.

The Stories

from "Tintin",

"Tintin-Hebdo"

& "Nouveau Tintin"

Magazines


1. La Merveilleuse Odyssée d'Olivier Rameau et de Colombe Tiredaile [The Marvellous Odyssey Of Olivier Rameau And Colombe Tiredaile] (TI Nos. 1042-1059, 1968)
2. La Bulle de Si-C'était-Vrai [The Bubble Of If-'Twere-True] (TI Nos. 1079-1102, 1969)
3. Le Château des 4 Lunes [The Castle Of The 4 Moons] (TI Nos. 1125-1149, 1970)
4. La Caravelle de N'Importe-Où [The Caravel Of Anywhere] (TI Nos. 1183-1202, 1971)
5. Le Grand Voyage en Absurdie [The Great Journey To Absurdia] (TI Nos. 1228-1246, 1972)
6. L'Oiseau de Par-Ci, Par-Là [The Bird Of Here-and-There] (TH Nos. 53-61, 1974)
7. Le Miroir à Trois Faces [The Three-Sided Mirror] (NT Nos. 18-36, 1976)
8. La Trompette du Silence [The Silent Trumpet] (NT Nos. 83-97, 1977)
9. Le Canon de la Bonne Humeur [The Canon Of Good Humor] (1983)
10. Le Rêve aux Sept Portes [The Seven Gates Of Dream] (1985)
11. L'Océan sans Surface [The Ocean Without Surface] (1987)
FOR MORE ON COLOMBE TIREDAILE!


Publishing History

Olivier Rameau was originally serialized in the weekly magazine "Tintin" (and its successors), starting in 1968. Each story was then collected in a graphic novel by Editions du Lombard. Volume 10 is a collection of seven short stories, written by Dany.


The Authors


Dany (1943- ) is the pseudonym of Daniel Henrotin. A former student of artists Mitteï and Greg, Dany published his first hit series, the dream-like and romantic Olivier Rameau in "Tintin" in 1968. Dany has also drawn popular adventure series such as Bernard Prince, Arlequin and Equateur. He is also the artist of a popular series of X-rated humor books.

FOR MORE ABOUT MICHEL GREG, .


Olivier Rameau © 2001 Dany/Greg. All rights reserved.