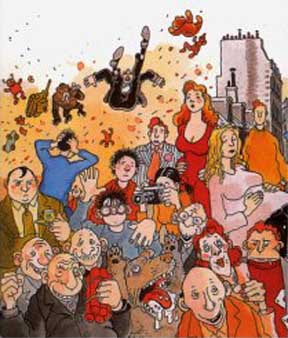 Created by: Daniel Pennac (1944- )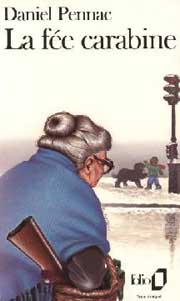 The Malaussene Saga -- sometimes mislabelled in English as the "Belleville Quartet" (even though the series is comprised of five full-blown novels plus two shorter works) -- is set in the popular, racially-mixed Belleville quarter in the eastern part of Paris. The saga centers around the misadventures of Benjamin Malaussène, a professional "scapegoat", a man hired by various businesses to take the blame for whatever goes wrong, and his colorful extended family.

Benjamin 's first recorded employer is an unidentified Galerie Lafayette-like Department Store; he is then hired by the publisher of Editions du Talon (in English: Vendetta Press) known as "Queen Zabo".

Benjamin has an epileptic dog, Julius, and a loving girl-friend, Julie Corrençon, who is an investigative reporter. Together, they have a baby called "Monsieur Malaussene" (don't ask).

Benjamin's mother (no first name mentioned) has a tumultuous love life, resulting in numerous off-springs by different fathers. One of her lovers was the remarkable Inspector Pastor.

Benjamin is the oldest child of the family. His other siblings are: Thérèse, who is a fortune-teller; Clara, who has a son called "C'est un Ange" ("He's an Angel"); Louna, who is a registered nurse and unhappy in love; Jeremy, a would-be writer with much imagination, who names the babies of the family; Le Petit ("The Little One"); and finally, Verdun, who is just a baby. There is also an Uncle Theo.

The supporting cast of characters includes the police, represented by the subtle Commissioner Coudrier, and various inspectors, such as the deep-thinking Pastor, Van Thian, whose daughter Gervaise is a former nun, a detective, and a tattoo artist, Titus, etc.

On the other side of the tracks, the cast include various Belleville residents such as Suzanne, who owns the last theater in Belleville (The Zebra), Cissou la Neige, a tough drug addict with a heart of gold, local merchants such as Hadouch, Mo, Simon, etc.

The Novels

1. Au Bonheur des Ogres (translated as The Scapegoat)
(Gallimard Série Noire, 1985; English translation by Ian Monk, Harvill 1985)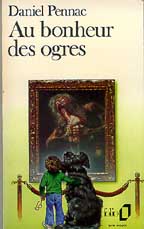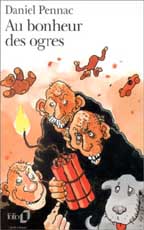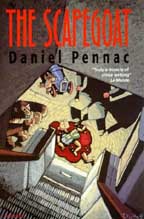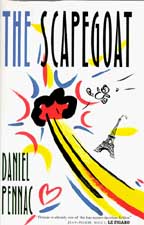 Benjamin Malaussène is a scapegoat. Under the official title of Quality Controller, he works for the complaints department of a large Parisian department store where he bears the brunt of customer complaints. When a bomb goes off in the toy department, he finds himself the prime suspect.

The French novel was originally published in Gallimard's notorious crime thriller imprint, Série Noire; it was later reprinted in its classic literary imprint, Folio (pictured above).

The French title is an homage to Emile Zola's fictional department store, "Au Bonheur des Dames" (1883) -- Ladies' Good Fortune, or Ladies' Hearts Desire, meaning women could find anything they wanted therein. The "Ogres" are of course the villains.

The current French cover artist is the renowned Jacques Tardi, the author of the Adèle Blanc-Sec series.


2. La Fée Carabine (translated as The Fairy Gunmother)
(Gallimard Série Noire, 1987; English translation by Ian Monk, Harvill, 1987)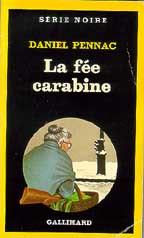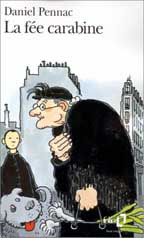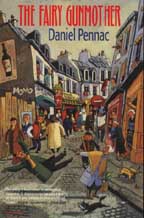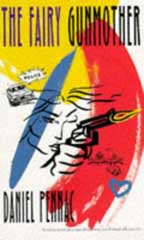 A policeman is shot by an old granny he was trying to help across the street in Belleville on a frosty morning. An old lady needs protection with so many druggies around these days. Dressed as an elderly Vietnamese woman, Inspector Van Thian investigates, ably assisted by the clever Inspector Pastor...

This novel is as much about the remarkable figure of Inspector Pastor as it is about the Malaussene family. It is the last to have been initially published in the Série Noire imprint. The title is a reference to the Fée Carabosse, an ugly, hunchbacke, evil fairy from French fairy tales.

The original English editions of the first two Malaussene novels were not very successful, and it took another 12 years before the saga was picked up again.

La Fée Carabine was adapted as a 1987 made-for-television feature, directed by Yves BOISSET starring Tom NOVEMBRE (Benjamin), Anna GALIENA (Julie), Fabrice LUCHINI, Bernard BLOCH, Daniel EMILFORK, and Hubert DESCHAMPS.


3. La Petite Marchande de Prose (translated as Write to Kill)
(Gallimard NRF, 1989; English translation by Ian Monk, Harvill, 1999)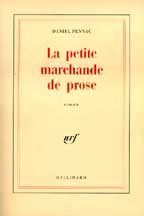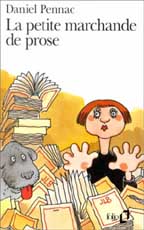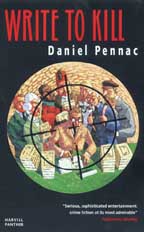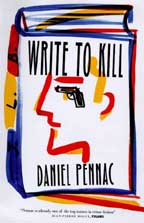 Malaussene now works as an editor for Vendetta Press and her dictatorial publisher, the mercurial Queen Zabo. She requests that he impersonates the firm's best-selling yet anonymous author, whose sales have topped out. But Benjamin is shot in his first public appearance and spends the rest of the book in a coma...

This book was the first to be initially published in the Gallimard prestigious NRF literary imprint as a trade paperback (see above), before being released in the Folio imprint. The entire Malaussene family and Julie take over the limelight in this novel. C'est un Ange is born. The tile is a reference to Andersen's well-known fairy tale, The Little Matchstick Girl (in French: La Petite Marchande d'Allumettes).

The third Malaussène novel is again an elaborate thriller, but it also incorporates social commentary and criticism, always presented with a light and funny touch. In this book, Pennac moves beyond the earlier, simpler novels. The style is more assured, the stories are better and at times quite moving.


4. Monsieur Malaussène
(Gallimard NRF, 1995)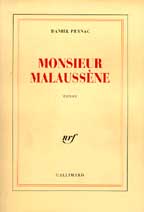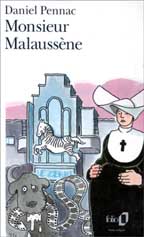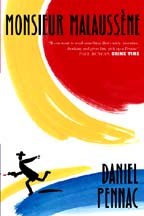 A Thomas Harris-Silence of the Lambs-like serial killer... A recovering Benjamin and his Julie and their baby, all victims of a dreadful conspiracy... A legendary motion picture finally exhibited... And the birth of "Monsieur Malaussène", the latest addition to the family clan!

This is Pennac's masterpiece -- a sprawling 550-page saga that weaves multiple plot threads, including the revisiting of old characters in a new light, and the introduction of new ones. This novel is, in turn, funny, very touching, positively horrifying, and an emotional rollercoaster from beginning to end. A superb literary achivement.



Monsieur Malaussène is currently scheduled to be translated and published into English by Harvill in August, 2003.


4a. Monsieur Malaussène au Théâtre (Monsieur Malaussene On Stage)
(Gallimard NRF, 1996)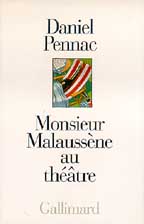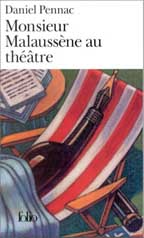 This one-man show (initially directed by Hélène Vincent) features Benjamin (initially played by Daniel Briquet) on stage, retelling choice moments of his life story.


4b. Des Chrétiens et des Maures (Of Christian and Moors)
(Gallimard NRF, 1997)
with its companion piece:
Appellez-Moi Malaussène (Call Me Malaussene) by Jerome Charyn
(Librio, 2000)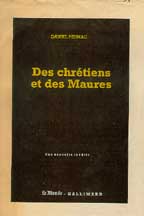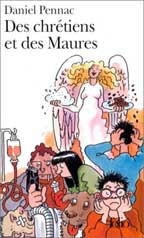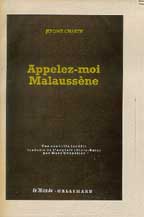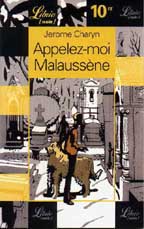 These two novellas were initially offered as a literary supplement by the daily newspaper Le Monde, then reprinted separately in book form.

This is a literary crossover in which Le Petit eventually learns that his father is none other than Charyn's New York detective, Isaac Sidel. Charyn wrote his own version of the events in a separate novella.


5. Aux Fruits de la Passion (translated as Passion Fruit)
(Gallimard NRF, 1999; English translation by Ian Monk, Harvill, 2001)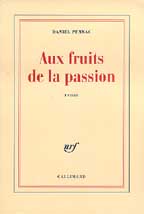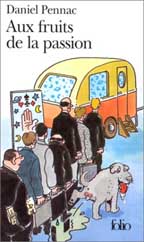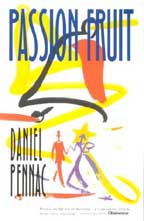 Thérèse is getting married to an eminent graduate from an elite school and high-ranking civil servant. Are Benjamin's bad feelings about her intended husband to be trusted or is is just normal jealousy from an overprotective brother?

This last (so far) book in the series was originally serialized in the French weekly magazine Le Nouvel Observateur.

The Author

Daniel Pennac was born in Casablanca in 1944 in a French military family, and was raised in Africa and South-East Asia. He eventually became a French Literature teacher in Nice, in the South of France, and began writing children's books with Cabot Caboche, published in 1982. The idea to write thrillers came to him during a trip to Brazil. His first Malaussene novel came out 1985. Since then, Pennac has become a best-selling author and French literary phenomenon.