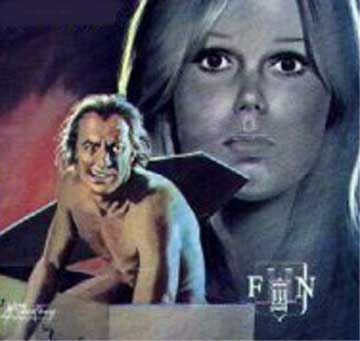 Created by: Paul Béra (Paul Berato) (a.k.a. Yves Dermeze) (1915-1989)


The Story

Since the beginning of time, two supernatural powers known only as HE WHO CONTROLS LISA and HE WHO CONTROLS LEONOX battle each other on Earth. LISA is a beautiful woman with inky-dark eyes. LEONOX is a monster in human form -- a man with a crooked smile. Neither can truly die. They can assume different mortal guises in different times. HE WHO CONTROLS LISA is not "good", no more than HE WHO CONTROLS LEONOX is "evil". They are beyond human concepts. Both Lisa and Leonox enlist human agents in their war. Lisa's latest operative is journalist FRANCIS DALVANT. A recurring character is the meek MR. MOWER, the incarnation of death, who obeys neither powers, but other forces beyond human ken. Cagliostro appears in Vol. 4.
Publishing History


The LEONOX series was created by writer Paul Bera for the "Angoisse" imprint of Editions Fleuve Noir in 1971. A final volume was published in 1977 by another publisher, in another imprint, under another pseudonym.

1. Léonox, Monstre des Ténèbres [Leonox, Monster Of Darkness] (FNAG 207, 1971)
2. Léonox et la Mort [Leonox And Death] (FNAG 211, 1972)
3. Les Mains Sanglantes de Léonox [The Bloody Hands Of Leonox] (FNAG 225, 1972)
4. Léonox et le Mage [Leonox And The Magician] (FNAG 242, 1973)
5. Les Crocs d'Acier de Léonox [The Steel Jaws Of Leonox] (FNAG 249, 1974)
6. L'Être Mystérieux [The Mysterious Being] (published under the pseudonym of "John Luck") (Masque Fantastique 12, Lib. des Champs-Elysées, 1977)



The Author


Paul Bérato (1915-1989) was an experienced writer who produced numerous popular adventure and juvenile genre novels since the early 1940s, using a myriad of pseudonyms such as "Jean Vier", "Michel Avril", "Jean Mars", "Paul Mystère", etc. In 1954, he used the pseudonym of Yves Dermèze to pen the classic Le Titan de l'Espace (The Titan Of Space) and Via Velpa for "Série 2000". In 1970, now signing "Paul Béra", Berato began writing for the "Anticipation" and "Angoisse" imprints of Fleuve Noir.

For the former, he penned the adventures of a self-aware robot with three brains called Robi, debuting in Planète Maudite (Accursed Planet) (No. 423) in 1970; for the latter, he created the Leonox series. In total, he penned twenty-one novels for "Anticipation" between 1970 and 1983.

During that period, Béra also re-used the "Dermèze" pseudonym for two well-crafted science fiction novels published by Librairie des Champs Élysées in their "Le Masque" imprint, as well as one juvenile novel, published by Marabout.