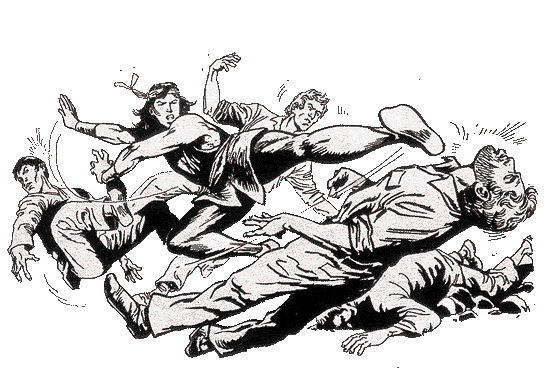 Wri: Michele Gazzarri
Art: Luciano Bernasconi

Raised by the hidden Tibetan civilization of Kappa to fight evil, Kit Kappa grows up to master all forms of martial arts, and the powers of his amazing Third Eye -- astral projection, far sensing, mind control, etc. He is then sent out into the west to work for good and justice. He is accompanied by his clumsier friend, Tapley. His arch-enemy is the renegade Kappan, Darma, who hates Kit and wishes to use his powers for evil.


Publishing History

Created by two Italian artists for the magazine Special-Rodeo Nos. 68-73 (1980).


The Authors

Michele Gazzarri is an Italian writer, who also wrote Dark Flyer.

FOR MORE ON LUCIANO BERNASCONI, .
LUCIANO BERNASCONI'S OFFICIAL SITE

Writer: Eric Stoffel.
Artist: Rich Di Martino.
1. A la Recherche du Passé (Searching for the Past) (Yuma No. 6, 2003)
2. Le Dragon Noir (The Black Dragon) (Yuma No. 7, 2003)