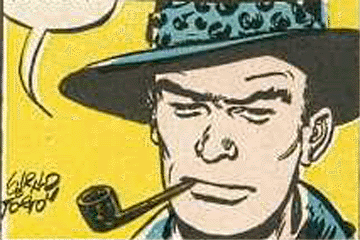 Writer: Jean-Michel Charlier (1924-1989)
Artist: Gerald Forton

Kim Devil is an intrepid explorer who discovers lost civilizations in the Amazonian jungle.
The Stories

from "Spirou" Magazine


1. La Cité Perdue (The Lost City) (Spirou Nos. 820-849, 1953; Dup., 1955)
2. Le Peuple en Dehors du Temps (The People From Outside of Time) (Spirou Nos. 858-972, 1954; Dup., 1955)
3. Le Monde Disparu (The Vanished World) (Spirou Nos. 895-915, 1955; Dup., 1957)
4. Le Mystère du Dieu Blanc (The Mystery of the White God) (Spirou Nos. 927-947, 1956; Dup., 1957)
Publishing History


Kim Devil was originally serialized in Spirou from 1953 to 1956. Then, the stories were collected in the traditional graphic novel format by publisher Dupuis.
The Authors
A former law student and airplane pilot, Jean-Michel Charlier (1924-1989) became the single, major writer of adventure series for Spirou in the 1950s, and Pilote (which he co-edited) in the 1960s. His most famous non-genre creations included the Terry and the Pirates-inspired Buck Danny (with artist Victor Hubinon), the boy scout adventures of La Patrouille des Castors (The Beaver Patrol) (with artist Mitacq), the French air force hero Michel Tanguy (with artists Albert Uderzo and, later, Jijé), the pirate adventures of Barbe-Rouge (Red-Beard) (also with Hubinon), the western series Lt. Blueberry (with artist Jean Giraud), journalist Marc Dacier (with artist Eddy Paape), and more. Jean-Michel Charlier never created any major genre series but used genre elements in some of his adventure series: Belloy, Guy Lebleu, Jean Valhardi, and the Indiana Jones-like Kim Devil with Gérald Forton.

FOR MORE ABOUT GERALD FORTON, .
Kim Devil © 2002 Charlier/Forton. All rights reserved.