The Authors

A popular and prolific artist/writer of the 1930s, Marijac (a pseudonym of Jacques Dumas) (1904- ), was involved in the French Resistance during World War II, and launched the popular comic magazine "Coq Hardi" after the War, thus becoming one of the leading publishers of French comics in the 1950s. His creations include Capitaine Fantôme, Colonel X, the multi-faceted Jim Boum and Guerre à la Terre.

FOR MORE INFORMATION ON AUGUSTE LIQUOIS,

.
Pierre Duteurtre ("Dut") (1911-1989) began his comics career in "L'As" in 1937. After the war, he worked for Artima on Vigor, then for "Coq Hardi", starting with War Against Earth in 1947 and Sitting Bull (1948-53). Duteurtre then went on to draw various historical newspaper strips in the 1960s.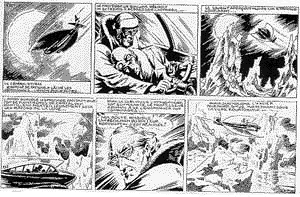 DUTEURTRE