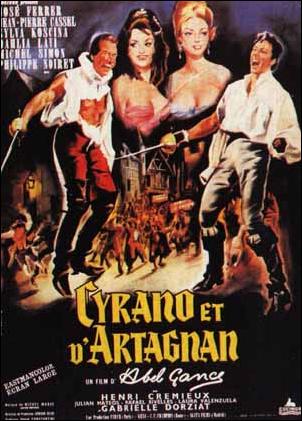 THE GREAT SWORDSMEN
OF
FRENCH HISTORY
1997 postage stamps series
by Guy Coda et Serge Hochain


Chrétien de Troyes
LANCELOT DU LAC

Alexandre Dumas
D'ARTAGNAN

Paul Féval
CHEVALIER de LAGARDÈRE
(a.k.a. THE HUNCHBACK)

Theophile Gautier
BARON de SIGOGNAC
(a.k.a. CAPTAIN FRACASSE)

Edmond Rostand
CYRANO de BERGERAC

Michel Zevaco
CHEVALIER DE PARDAILLAN

The Source Works


Alexandre Dumas (1802-1870)
Les Trois Mousquetaires [The Three Musketeers] (1844)
Vingt Ans Après [Twenty Years After] (1845)
Le Vicomte de Bragelonne ou Dix Ans Plus Tard [variously known as The Vicomte de Bragelonne + Louise de La Vallière + The Man in the Iron Mask and The Son of Athos] (1848-1850)




Paul Féval (1816-1887)
Le Bossu [The Hunchback] (1857)
For more on Paul Féval


Théophile Gautier (1811-1872)
Capitaine Fracasse (1863)



Edmond Rostand (1868-1918)
Cyrano de Bergerac (play) (1897)
Note: Cyrano was previously mentioned in Gautier's Les Grotesques (1844) which influenced Rostand.


Michel Zevaco (1860-1918)
Le Chevalier de Pardaillan
Les Pardaillan (1907) - L'Épopée d'Amour (1907) - La Fausta (1908) - Fausta Vaincue (1908) - Pardaillan et Fausta (1913) - Les Amours de Chico (1913) - Le Fils de Pardaillan (1913) - Le Trésor de Fausta (1913) - La Fin de Pardaillan (posth. 1926) - La Fin de Fausta (posth. 1926)
---
The Historical D'Artagnan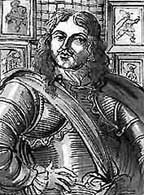 Charles de Batz de Castelmore, Count d'Artagnan, born in Lupiac, Gascogne (Southwest France) c. 1615, the youngest of four children. Joins the King's Guards in 1635. Like Cyrano, takes part in the Siege of Arras in Picardy in 1640. Campaigns in Roussillon in 1642. Goes on a secret mission to England in 1643. Becomes a Musketeer in 1644. Works as a spy for Cardinal Mazarin in 1649. Promoted Captain of the Musketeers in 1657. Marries Charlotte-Anne de Chancely in 1659. Divorces her in 1665. Becomes King Louis XIV's top agent and arrests Fouquet in 1664. Promoted Great Captain in 1667. Promoted Marshal & Governor of Lille in 1672. Dies at the Siege of Maestrich on 25 June 1673.
The Historical Cyrano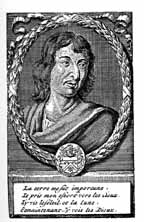 Hercule Savinien de Cyrano de Bergerac, born in Paris on 5 March 1619. With childhood friend Le Bet, joins the regiment of Carbon de Castel-Jaloux in 1639. Takes part in the Picardy campaign in 1640 and is wounded in Arras. Leaves the army in 1641. Becomes a Parisian personality in the theater. Knew Moliere. Famous swordfight at the Tour de Nesles. First works published in 1647 (somewhat plagiarized by Moliere). Writes Histoire des Etats et Empires de la Lune [History of the States and Empires of the Moon] (published posthumously by Le Bret in 1657) and its sequel in 1649-50. First opposes Mazarin, then joins his side during the Fronde. Writes La Mort d'Agrippine published and played (with some scandal) in 1654. Is struck by disease and hit by a falling beam. Finds refuge at the Convent of the Daughter of the Cross where his cousin Mme de Neufvilette (aka Roxane) and his aunt Catherine de Cyrano live. Dies on 28 July 1655.
---
SEQUELS & PASTICHES

For a complete list of Alexandre Dumas pastiches feating the characters from The Three Musketeers, and The Count of Monte-Cristo, refer to PATRICK DE JACQUELOT'S FRENCH SITE ON ALEXANDRE DUMAS PASTICHES.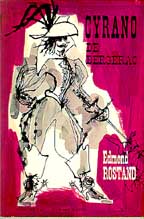 We shall list here only the pastiches featuring a meaningful (ie: "real") encounter between D'ARTAGNAN and CYRANO.

First, let us note that the meeting between Cyrano and D'Artagnan was first described by Edmond Rostand himself in his play Cyrano de Bergerac, Act I Scene IV, taking place just after the famous duel at the Hotel de Bougogne in 1640.

La Jeunesse de Cyrano [Young Cyrano] (1905)
by Henry de Gorse & J. Jacquin
Note: In 1637, young Cyrano has come to Paris seeking fortune and before the tavern of the Caveau located rue de Buci meets the dashing D'Artagnan.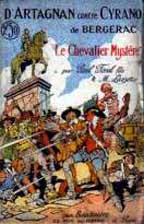 D'Artagnan contre Cyrano [D'Artagnan vs. Cyrano] (1925)
by Paul Féval Fils & M. Lassez
- Le Chevalier Mystère [The Knight Mystery]
- Martyre de Reine [The Martyred Queen]
- Le Secret de la Bastille [The Secret of the Bastille]
- L'Héritage de Buckingham [Buckingham's Inheritance]

These books were issued under in the US as part of "The Years Between" series. Here is the list of six titles I have which were printed by Longmans, Green & Co. in the United States:
1 Mysterious Cavalier, The [1928]
2 Martyr to the Queen [1928]
3 Secret of the Bastille, The [1929]
4 Heir of Buckingham, The [1929]
5 Comrades at Arms [1930]
6 Salute to Cyrano [1931]
(Info submitted by Frank Krieger of Newport Vintage Books)
Note: Paul Féval Fils (1860-1933), the son of Paul Féval, had already penned numerous sequels to his father's classic swashbuckler novel Le Bossu, starting in 1893 with Le Fils de Lagardère [The Son of Largardère]. In 1914, Féval Fils tackled Le Fils de d'Artagnan [The Son of d'Artagnan]. From there, it was but a small leap to embarking on a more ambitious saga pitting d'Artagnan against a younger Cyrano.
In this novel (which starts in 1641, and refers to the same Memoirs of d'Artagnan quoted by Dumas), young Cyrano befriends a "Mystery Knight" (George de Villiers), who turns out to be the illegitimate son of Buckingham and the Queen of France. On the other side of the political fence is D'Artagnan who is helping Cardinal de Richelieu and his successor, the wily Mazarin, to kidnap young George to use as leverage on the Queen to enlist Spain on the side of France. But D'Artagnan still carries a torch for the Queen and uses his mission to help her son reclaim his inheritance. At first enemies, D'Artagnan acquires a grudging resrect for young Cyrano, who is a little jrealous of his elder. They then become true friends and allies. Aramis guest-stars.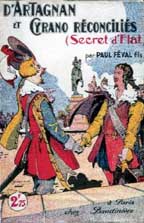 D'Artagnan et Cyrano Réconciliés [D'Artagnan & Cyrano Friends Again] (1928)
by Paul Féval Fils
- Secret d'État [State Secret]
- L'Évasion du Masque de Fer [The Escape of the Man in the Iron Mask]
- Les Noces de Cyrano [The Wedding of Cyrano]
Note: In this novel (which takes place c. 1653-55) d'Artagnan and Cyrano are good friends united by their respect for the Queen and their enmity towards the now Cardinal Mazarin, who kidnaps George and uses his cunning to become force the Queen to become his lover. With the help of Aramis, the two heroes team up to rescue George from his prison at the Mont Saint-Michel, and also rescue the Man in the Iron Mask (Louis XIV's twin brother, as per Dumas). When Civil War threatens, the two heroes are forced to side with the Queen, young Louis XIV and, to their dismay, Mazarin against the rebels who want to use the Man in the Iron Mask. The latter is eventually recaptured and sent to the Chateau d'If.
In the third part, Roxane is now willing to marry Cyrano, while D'Artagnan has proposed to her sister Françoise. The wedding takes place at the Saintes Maries de la Mer. Barbaresque pirates raid the town and capture D'Artagnan and the two women. Cyrano rushes to the rescue; unfortunately, he is fatally wounded and dies at the end of the novel before he could marry a willing Roxane.

The King's Passport (1928)
by H. Bedford-Jones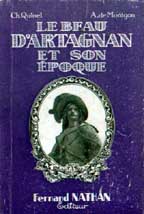 Note: This complex tale pits D'Artagnan, Cyrano and young secret agent Montmorency against a web of schemes involving the King and Queen of France on the one hand, and Richelieu on the other, with Mazarin pretending to serve Richelieu but planning to later grab power for himself. Cyrano ends up supporting Montmorency while d'Artagnan is drawn to Richelieu's side. At the end, Cyrano decides to renounce the army and become a writer instead.

Le Beau d'Artagnan et son Époque [The Handsome D'Artagnan & His Times] (1930)
by Ch. Quinel et A. de Montgon
Note: This is a compendium of various adventures of D'Artagnan, saving the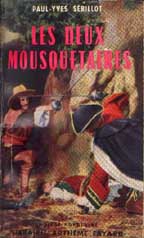 Queen and her children, infiltrating the rebellion, spying on the British, romancing Madame de Tourny, etc. In an early chapter, D'Artagnan has returned in disgrace to his Gascony castle and is visited by his friend Cyrano, with whom he duels and reminisces about the good old days.

Les Deux Mousquetaires [The Two Musketeers] (1954)
by Paul-Yves Sébillot
Note: In 1630, D'Artagnan and a new heroic young musketeer named Kernador accomplish various daring missions for Richelieu, including the securing of a super-gun and the thwarting the Spanish spies who are trying to steal it. In a guest-spot, ten-year-old Cyrano helps D'Artagnan.

Cyrano et d'Artagnan (film, 1963)
Wri/Dir: Abel Gance, with Jose Ferrer (Cyrano), Jean-Pierre Cassel (D'Artagnan)
Note: This is a film adaptation that combines the original Rostand play with material taken from Féval Fils' first novel. An original idea is that the two heroes' then-girl-friends are Marion Delorme and Ninon de Lenclos.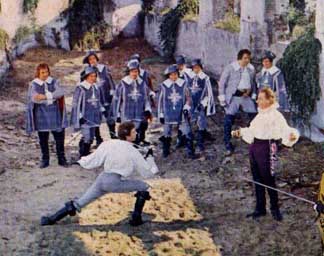 The Return of the Musketeers (film, 1989)
Wri: George MacDonald Fraser; Dir: Richard Lester, with Michael York (D'Artagnan), Jean-Pierre Cassel (Cyrano).
Note: Cyrano guest-stars as the inventor of a hot air balloon.

Rencontres [Encounter] in Les Nouveaux Trois Mousquetaires [The New Three Musketeers] (anth. 1999)
by Jean-Michel Marche
Note: D'Artagnan and Cyrano meet a young Moliere.

Also consult:


FRENCH-ENGLISH SITE DEVOTED TO ALEXANDRE DUMAS


FRENCH SITE DEVOTED TO ADVENTURE & SWASHBUCKLING NOVELS


FRENCH SITE DEVOTED TO DUMAS PASTICHES
---
FICTIONAL TIMELINE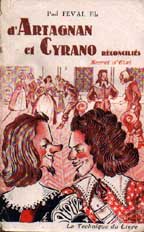 1607 - Birth of D'Artagan (Dumas version)
1619 - Birth of Cyrano
1625-28 - Les Trois Mousquetaires
1630 - Les Deux Mousquetaires
1637 - La Jeunesse de Cyrano
1640 - Cyrano de Bergerac
1641-42 - D'Artagnan contre Cyrano + Cyrano et d'Artagnan (film)
164? - The King's Passport + Rencontres
164?- Le Beau d'Artagnan et son Époque
1648-49 - Vint Ans Après
1649-50 - D'Artagnan et Cyrano Réconciliés 1
1651-52 - D'Artagnan et Cyrano Réconciliés 2
1653-55 - D'Artagnan et Cyrano Réconciliés 3
1655 - Death of Cyrano
1660-64 - Le Vicomte de Bragelonne
1673 - Death of D'Artagnan

Many thanks to Patrick de Jacquelot & Claude Aziza.