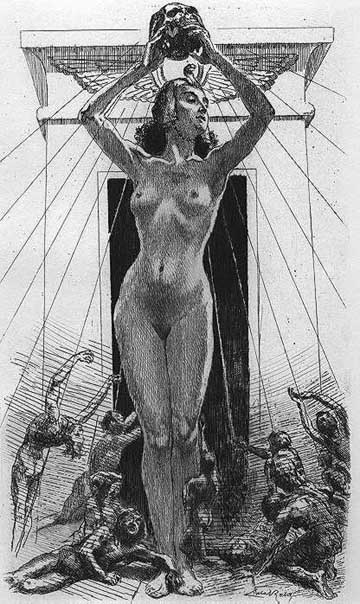 Created by: Pierre Benoit (1886-1962)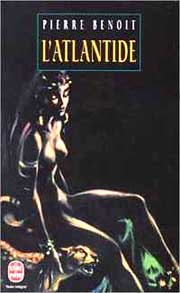 The Story:

The action takes place in 1896 in the French Sahara. Officer André de Saint-Avit has been asked to investigate the mysterious disappearances of other officers and explorers in the desert. During one of his desert missions, Saint-Avit and his fellow trappist monk / officer Jean Morhange save the life of a Targui warrior Cegheir-ben-Cheikh, who is secretly Queen Antinea's procurer. They are drugged and awaken in Atlantis -- a royal palace hidden inside a mountain, overooking a beautiful palm oasis, itself surrounded by the unbreachable Hoggar mountains.

Queen Antinea is the grand-daughter of Neptune and Clito, the last Kings of Atlantis, and through Cleopatra Selene, also a descendent of the Ptolemies of Egypt.



Antinea keeps an undeground mausoleum of red marble with 120 alcoves, or nicres, carved in the wall -- so far, 53 are filled with the numbered and labeled bodies of her former lovers, the lost soldiers and explorers. The bodies have been preserved forever by being dipped into a metallic bath of sulfate of orichalcum, the famous, legendary metal of the Atlanteans. At the center of the room is an orichalcum throne where Antinea will eventually sit and rest for eternity once all the holes have been filled.

Saint-Avit succumbs to Antinea's charms, but Morhange resists her. A spurned Antinea then incite Saint-Avit to kill Morhange with a silver hammer, which he does. When Saint-Avit discovers his friend's body, now No. 54 in the red marble room, he recovers his senses. With the help of Antinea's black slave, Tanit-Zerga, he escapes -- she dies in the desert but Saint-Avit is rescued.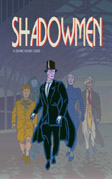 TO FIND OUT MORE, BUY THIS BOOK
---
The Haggard-Benoit Controversy: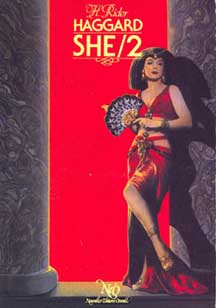 Pierre Benoit's L'Atlantide was first published in France in February, 1919. It was Benoit's second novel, after his already successful Koenigsmark. L'Atlantide went on to win the Grand Prize of the French Academy, was eventually translated into 15 languages and has sold well over 2 million copies.

In October, 1919, an article by Henry Magden in a French quarterly literary magazine accused Benoit of having plagiarized H. Rider Haggard's She (1887). Benoit decided to sue. In the following months, much literary controversy erupted, on both sides of the channel, mostly filled with chauvisnism, but little scholarly research. Benoit eventually lost the case the following year, due to the superficial resemblances between the two works, and the Court's interpretation of the laws of libel.

Since then, Haggard scholars have also put forth the notion that Benoit may also have plagiarized one of Haggard's lesser-known novel, The Yellow God: An Idol of Africa (1908), a fantasy adventure taking place in Africa and England, which includes a magic mask ands other weird fetish objects, a lost race, reincarnation, and a sort of vampirism by an immortal woman whose many husbands she has preserved as mummies.

Even though that thesis is still widely propagated among English-speaking reviewers of L'Atlantide (in its various incarnations), it is in fact less than convincing. The "case against", as it were, is as follows:

















movie poster designed by
Boris Bilinsky
(1900-1948)

1) In his pleadings, Benoit noted that he did not speak nor read English, a fact that was never challenged during his life time. No one has yet come up with a satisfactory explanation of how Benoit could have read either She or The Yellow God.

Jules Verne's publisher, the renowned Monsieur Hetzel, did publish a French edition of King Solomon's Mines in 1888, but in its postface, he added that he would not publish its sequel (Allan Quatermain) because it featured a ridiculous and obnoxious Frenchman named Alphonse, and because, while still of some interest, it was not, in opinion, as good as the first volume.

Hetzel's opinion carried a lot of weight in French literary circles, and as a result, none of Haggard's subsequrent works were translated into French, at least not until much later. She was eventually serialized in 1898 in a newspaper, La Vie Moderne, in a much abridged translation by Labouchere, who had removed any passages that could be deemed prurient.
There was therefore no French book edition of She at the time Benoit wrote L'Atlantide. As to The Yellow God, it was not translated until... 1985! There was no French edition of any kind which Benoit could have consulted.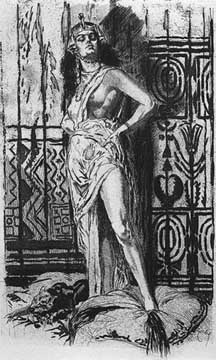 2) Benoit's sources for L'Atlantide are neither hard to find, nor hard to document, and they certainly are more obvious than any elements found in Haggard's novels. They are:

Benoit lived in French North Africa from 1892 to 1907, and did his military service there. His father was a military intendent, first in Tunis, then in Algiers. Benoit was familiar with the notorious theories of French geographer E. F. Berlioux first published in 1874, and expanded in 1883 in L'Atlas primitif et l'Atlantis, of the Saharian Sea, and his locating Atlantis in the Hoggar mountains of the Saharan Atlas.

Benoit knew from life experience that parts of the Hoggar were still totally unexplored, and were guarded by the fierce Targuis, or Tuaregs, or Blue Men of Sahara (because of the color of their robes). He likely had heard of a popular Targui legend about a sorceress who lived in somptuous gardens in Mount Garet-el-Djenoun (The Mountain of the Spirits of Solitude). A feature of the legend was that no man who had ever gone looking for the sorceress had ever returned. (Similar legends can be found in other cultures as well.)

Benoit's father, or his research, would have told him of the then-famous case of two French lieutenants, Quiquerez and Segonzac, who had gone out on a mission into the desert, from which only Quiquerez had returned, under suspicious circumstances. Had he killed his fellow officer? Had they been ambushed? Had Quiquerez abandoned his companion? The truth was never discovered. Benoit also knew of the ill-fated 1880 Flatters Expedition into the Hoggar which had been massacred by the natives.

Finally, historical research informed Benoit of the existence of the legendary Tuareg Queen Tin Himan from the 4th Century AD, who clained to be a descendent of Cleopatra Selene, the daughter of Cleopatra and Marc Antony.

All of these are clearly the foundation upon which L'Atlantide was built, and none of this bear any resemblance to either Haggard's She or The Yellow God.

3) Anyone who actually reads the three novels in question will soon realize that there are in fact few real similarities beyond superficial, thematic ones. Unlike Ayesha, Antinea is full of pride and without any shred of conscience or decency; she devours men for breakfast and uses her wiles to compel Saint-Avit to kill his friend. Antinea is a female sphinx, an avenging fury, a vampire of sorts, the ultimate femme fatale. Unlike Ayesha, Antinea lives in, and enjoys luxury, her servants, and the best the modern outside world can bring her. Unlike Ayesha, Antinea is not a victim of the gods, she is the gods. Interestingly, H.P. Lovecraft wrote to Clark Ashton Smith (H.P. Lovecraft, Selected Letters II.298, 1 October 1927): "Atlantideer, by Pierre Benoit, has excellent style but is more adventurous than fantastic," not bothering to point at any real or imagined similarities with Haggard, which he would likely have done, had he felt it justified.

Haggard himself remained conspicuously silent during the lawsuit; after the affair was over, a French publisher decided to publish a new edition of She for the first time in book form (1920), to which Benoit wrote a very informative and courteous foreword, wishing Haggard's novel much success


TO READ MORE ON THE SUBJECT, CHECK OUT THE ARTICLE ON ATLANTIDA ON THE VIOLET BOOKS WEBSITE WHICH CONTAINS MUCH INVALUABLE INFORMATION ABOUT RIDER HAGGARD AND LOST RACES NOVELS.

Note: The black & white illustrations of Antinea are by French artist Almery Lobel-Riche.

---
The Films:
1. L'Atlantide
(B&W., 3 h 15 min min., 1921)
Dir/Wri: Jacques Feyder.
Cast: Stacia Napierkowska (Antinéa), Jean Angelo (Morhange), Georges Melchior (Saint-Avit), Marie-Louise Iribe.
2. L'Atlantide (a.k.a. The Mistress of Atlantis and Die Herrin von Atlantis)
(B&W., 110 min., 1932)
Dir: Georg Wilhelm Pabst.
Wri: Ladislao Vajda, Hermann Oberlander, Alexandre Arnoux, Jacques Deval.
Cast: Brigitte Helm (Antinéa), Jean Angelo / Gustav Diessl / Gibb McLaughlin (Morhange), Pierre Blanchar / Heinz Klinhenberg / John Stuart (Saint-Avit).
3. Siren of Atlantis
(B&W., 75 min., 1949)
Dir: Gregg G. Tallas (Arthur Dewitt Ripley & John Brahm).
Wri: Rowland Leigh, Robert Lax, Arthur Ripley, Thomas Job, Douglas Sirk.
Cast: Maria Montez (Antinéa), Dennis O'Keefe (Morhange), Jean-Pierre Aumont (Saint-Avit).
4. Toto Sceicco
(Italy, 1950)
Dir: Mario Mattoli.
Wri: Vittorio Metz, Marchello Marchesi, Agenore Incrocci, Furio Scarpelli.
Note: Tamara Lees plays Antinea to comic Antonio Sapore in this Italian comedy spoofing Foreign Legion and other Saharan clichés.
5. Desert Legion
(USA, 1953)
Dir: Joseph Pevney.
Wri: Irving Wallace, Lewis Meltzer.
6. Antinea - L'Amante della Citta Sepolta (a.k.a. City Beneath the Desert and Lost Kingdom)
(B&W., 110 min., 1961)
Dir: Edgar G. Ulmer, Giuseppe Masini.
Wri: Edgar G. Ulmer, Edmond Gréville, Ugo Liberatore, André Tabet, Remigio Del Grosso, Amadeo Nazzari.
Cast: Haya Harareet (Antinéa), Rad Fulton (Robert / Morhange), Jean-Louis Trintignant (Pierre / Saint-Avit).
7. L'Atlantide
(telefilm, ORTF 2, Col., 120 min., 24 February 1972)
Dir: Jean Kerchbron.
Wri: Jean Kerchbron, Armand Lanoux.
Cast: Ludmilla Tcherina (Antinea), Jacques Berthier (Morhange), Denis Manuel (Saint-Avit).
8. L'Atlantide
(Col., 110 min., 1991)
Dir/Wri: Bob Swaim.
Cast: Victoria Mahoney (Antinéa), Tcheky Karyo (Morhange), Christopher Thompson (Saint-Avit).
---
The Author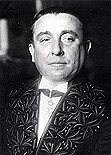 Pierre Benoit was born in Albi, on 16 July 1886. His father was in the French Army. After spending his early years and military service in Northern Africa, Benoit became a civil servant. He published his first novel, Koenigsmark, in 1918. L'Atlantide followed the next year, and won him the Grand Prize of the French Academy. His novels are colorful, exotic adventures, often celebrating women. His heroines' names always beging with the letter "A". Benoit became a member of the French Academy in 1931. He died on 3rd March 1962.