Catherine L. Moore's
SHAMBLEAU
Illustrations by Jean-Claude Forest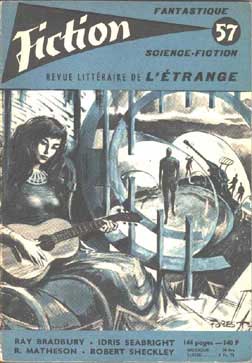 Prior to creating Barbarella in 1964, Jean-Claude Forest had already distinguished himself as a science fiction illustrator by contributing numerous covers to the magazine Fiction (the French edition of F & SF) and the paperback imprint Le Rayon Fantastique.

Shambleau, which had first appeared in the anthology Escales dans l'Infini (edited & translated by G. H. Gallet, Rayon Fantastique, 1954), was reprinted in the Summer 1955 issue of V-Magazine (which later published Barbarella as well), with numerous illustrations by Forest.

You can view the entire story either at the original size (approximately 12 x 18" in files of about 450K) or in a reduced size (approximately 6x8" in files of about 60K).
Scans kindly provided by Andy Robertson