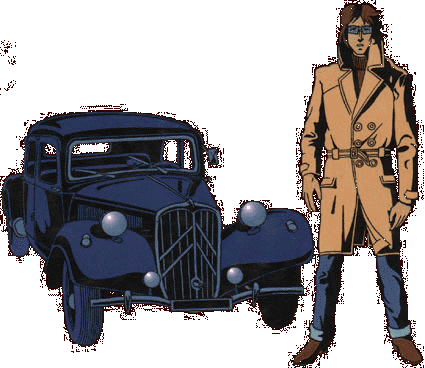 Wri/Art: Patrick Dumas.

Patrick Maudick is a pulp fiction writer. He crisscrosses the roads of France, looking for inspiration, in his vintage Citroen "traction avant." During the course of his adventures, he encounters successively a monster from the depths, the descendants from Atlantis, and a giant spider with an alien brain.


The Story


1. Les Oiseaux du Diables (The Devil's Birds) (Glé., 1981)
2. Les Méandres du Temps (The Meanderings of Time) (Glé., 1983)
3. La Nuit de l'Araignée (Night of the Spider) (never released)


Publishing History


This short-lived science fiction series & homage to Blake et Mortimer was originally serialized in the magazine Circus (#1) and Gomme (#2 and #3) in the early 1980. Two graphic novels were then released. A third story was serialized, but never collected as a graphic novel.
The Author


Patrick A. Dumas (1953- ) began publishing his first comics works in the magazine Falatoff in 1971. Patrick Maudick was his first graphic novel series, launched in Circus in 1980, then continuing in Gomme in 1983 and 1984. In 1985, he embarked on another series, Maître Berger, written by François Rivière. Seven Berger graphic novels were released between 1985 and 1993. He is currently working on a new series entitled L'Oeil de Shiva (The Eye of Shiva). Patrick Dumas also works as a concept artist for videogames.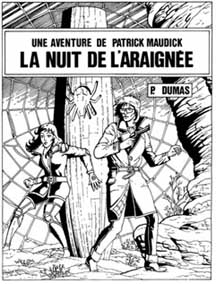 Patrick Maudick © 2002 Patrick Dumas. All rights reserved.

OTHER SITES: