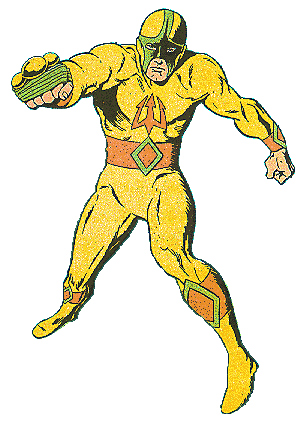 [THE BRONZE GLADIATOR]
Writer: Claude-Jacques Legrand
Artist: Luciano Bernasconi

The Bronze Gladiator is Mike Logan, truant officer by day, superhero by night. Mike lives with his sister Lorna, the only being on Earth who knows that he is in reality an alien justice officer from another planet. Mike's spaceship, with its powerful computer Polyvac ("Polly") is buried under a Pennsylvania mountain lake and helps him in his missions.
The Stories

from "Kabur" Magazine


1. Le Gladiateur de Bronze [The Gladiator Of Bronze] (1975)
2. Ils ont oublie... Titanus [They Forgot... Titanus] (1976)
3. King Kung Fu (1976)
4. Corruption (1976)
5. Le Peuple des Profondeurs [The People Of The Depths] (1976)
6. L'Ombre d'Akhenaton [The Shadow Of Akhenaton] (in "Mustang" No. 70, 1981)
Publishing History

The Bronze Gladiator first appeared as a back-up feature in the short-lived magazine "Kabur" (1975-76). A last episode was published in the final issue of "Mustang" in 1981.

The Authors

FOR MORE ON CLAUDE J. LEGRAND .

FOR MORE ON LUCIANO BERNASCONI, .

LUCIANO BERNASCONI'S OFFICIAL SITE


Wri: F & B Corteggiani & T Stillborn;
Artist: Chris Malgrain.
Le Gladiateur de Bronze: Origine! (Strangers 2, 2003)