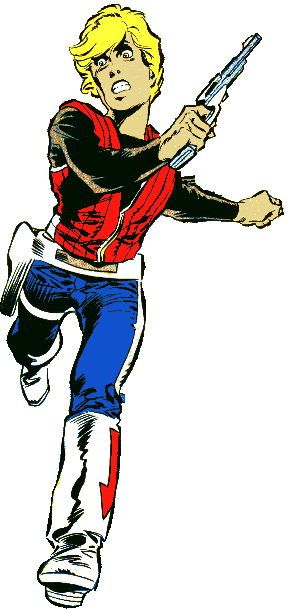 [I, Epsilon, 15-year Old, Son Of No One]
Writer/Artist: Jean-Yves Mitton (1945)

| | |
| --- | --- |
| PSI | Epsilon's story takes place in the year 2086. Epsilon is told that he is the teenage son of Psi, Mikros' old arch-enemy, now the despotic ruler of the self-dubbed "Eden", a futuristic Pan-European city-state. But the super-powered Epsilon revolts against Psi and becomes a rebel. He teams up with Foxie and the robot Mentor to fight Psi and search for his unknown mother. It eventually turns out that Epsilon is, in reality, the son of Mikros and Saltarella. |
The Stories

from "Titans" Magazine

1-3. Enfer en Éden 1-3 [Hell In Eden] (TI Nos. 88-90, 1986)
4-6. Évasion, ou Le Secret d'Éden 1-3 [Escape, or Eden's Secret 1-3] (TI No. 91-93, 1986)
7-8. Hors d'Éden, Point de Salut 1-2 [Outside Of Eden, No Salvation 1-2] (TI Nos. 94-95, 1986)
9-12. Underground 1-4 (TI Nos. 96-99, 1987)
13. Jeux Barbares [Barbarian Games] (TI No. 100, 1987)
14-15. Cité Haute 1-2 [High City 1-2] (TI Nos. 101-102, 1987)
16. Zyklon (TI No. 103, 1987)
17. Déportation (TI No. 104, 1987)
18. Rebellion (TI No. 105, 1987)
19-21. Retour vers Éden 1-3 [Return To Eden 1-3] (TI Nos. 106-108, 1987)
Publishing History


Epsilon was the brain-child of writer-artist Jean-Yves Mitton, who had previously worked on Mikros, a series to which Epsilon is a sequel, for the short-lived magazine "Mustang", published by Editions Lug. After "Mustang"ís cancellation in 1981, Mikros was serialized in Editions Lug's Marvel-based magazine "Titans" until 1986. Epsilon appeared soon after in "Titans" Nos. 88-108. It has not been reprinted so far.

FOR MORE BACKGROUND INFORMATION ABOUT "MUSTANG" AND "TITANS", SEE .


The Author


FOR MORE INFORMATION ABOUT JEAN-YVES MITTON, .