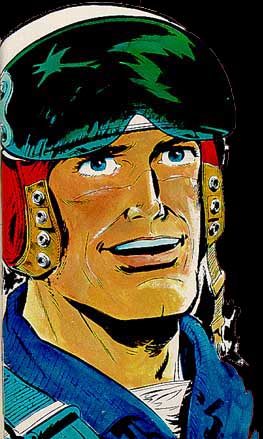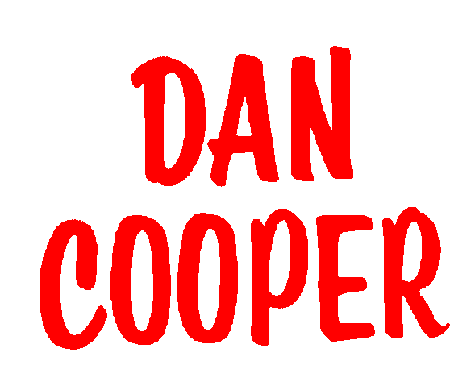 Writer/Artist: Albert Weinberg (1922-2011)

Dan Cooper is a test pilot in the Canadian airforce. In the early stories, Cooper became involved in futuristic attempts at space exploration, and led the first space mission to reach the satellites of Mars. Later stories became more grounded in present-day events, but occasional episodes would pit Cooper against mysterious blue-skinned humanoids observing Earth from space.


The Stories

from "Tintin" Magazine

There are over 40 Dan Cooper graphic novels to date. We are only listing those that contain science fiction elements, followed by their number in the sequential order of the series.

Le Triangle Bleu [The Blue Triangle] (#1) (TI Nos. 323-370, 1955; Lombard, 1957)
Le Maître du Soleil [The Master Of The Sun] (#2) (TI Nos. 394-443, 1956-57; Lombard, 1958)
Le Mur du Silence [The Wall Of Silence] (#3) (TI Nos. 445-475, 1957; Lombard, 1959)
Operation Jupiter (#4) (TI Nos. 476-506, 1958; Lombard, 1979)
Cap sur Mars [Destination Mars] (#5) (TI 519-564, 1959; Lombard, 1960)
Les 3 Cosmonautes [The 3 Cosmonauts] (#10) (TI 760,-790, 1963; Lombard, 1966)
Le Mystere des Soucoupes Volantes [The Mystery Of The Flying Saucers] (#14) (TI Nos. 903-930, 1966; Lombard, 1969)
Panique à Cap Kennedy [Panic At Cape Kennedy] (#15) (TI Nos 945-962, 1967; Lombard, 1970)
SOS dans l'Espace [SOS In Space] (#17) (TI Nos. 996-1017, 1968; Lombard, 1971)
Apollo Appelle Soyouz [Apollo Calling Soyuz] (#20) (TI Nos. 1086-1106, 1969; Lombard, 1973)
Le Canon de l'Espace [The Space Cannon] (#25) (Fleurus, 1980)
Operation Kosmos 990 (#26) (Fleurus, 1980)




Publishing History


Dan Cooper was originally serialized in the weekly "Tintin" magazine, starting in 1954.

The stories were first collected as graphic novels by Editions du Lombard, except for "Operation Jupiter" (#4) which was only collected in 1979. In total, Lombard published 23 Dan Cooper albums.

In 1979, the series was continued by Editions Fleurus, which published 3 more albums.

In 1981, Dan Cooper moved to Editions Novedi (distributed by Hachette), which published 10 albums. The series was taken over by Dargaud in 1988, and sequentially continued with 6 more albums (as of 1994).
Dan Cooper © 2001 Albert Weinberg. All rights reserved.
The Author

Albert Weinberg (1922-2011) began his comics career by working as an assistant to Victor Hubinon (Buck Danny) on a book devoted to the War in the Pacific ("Tarawa") and on the series Blondin & Cirage. From 1949 to 1956, he wrote and drew two space / science fiction series for "Heroic- Albums": Luc Condor and Roc Meteor. Weinberg joined the editorial team of "Tintin" in 1950, for which he created two science fiction series, the remarkable Alain Landier and Dan Cooper. Another character Weinberg created for "Tintin" was blonde tour guide Vicky in 1970. (Dan Cooper met Vicky in the spy-oriented "L'Affaire Minos" (#21) which took place in Athens. In 1971, Weinberg created Knut Andersen for "Pif" and soon after, Barracuda for the German magazine "Zack".


---
ROC
METEOR
| | |
| --- | --- |
| | From 1949 to 1956, Albert Weinberg wrote and drew the science fiction series Roc Meteor for "Heroic- Albums". Roc Meteor is a fearless adventurer who explores new worlds and protects Earth from various extra-terrestrial threats, including a Martian invasion. |