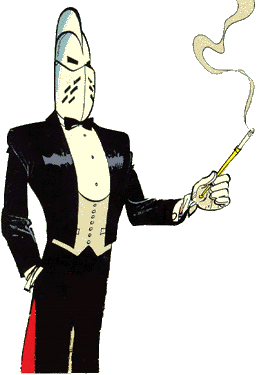 Writer: Maurice Rosy (1927- )
Artist: Will (pseudonym of Willy Maltaite) (1927-2000)

| | |
| --- | --- |
| | Monsieur Choc is the mysterious leader of a world-spanning criminal organization called La Main Blanche [The White Hand]. His true face remains unknown. He usually hides his features behind a medieval helmet, and dresses in a tuxedo dinner jacket. His nemeses are two private detectives: Tif, a bald (and bold) adventurer, and his companion, Tondu, a former navy captain who wears a beard. Many of their adventures involve science fiction or fantasy elements: anti-gravity (ep. 6), android duplicates (ep. 9), giant robots (ep. 12), dream exploration (ep. 13), super-speed (ep. 32). |
The Stories

from "Spirou" Magazine

[Note: Only those episodes featuring Monsieur Choc are listed below.]

Written by Rosy; Drawn by Will:
1. Tif et Tondu contre la Main Blanche [Tif & Tondu vs. The White Hand] (SP Nos. 873-894, 1955; graphic novel #4)
2. Le Retour de Choc [The Return Of Choc] (SP Nos. 913-933, 1956; graphic novel #5)
3. Passez Muscade [Hot Potato] (SP Nos. 942-963, 1956; graphic novel #6)
4. Plein Gaz [Full Throttle] (SP Nos. 988-1029, 1956; graphic novel #7)
5. Choc au Louvre [Choc At The Louvre] (SP Nos. 1350-1370, 1964; graphic novel #8)
6. La Villa du Long-Cri [The Villa Of The Long Howl] (SP Nos. 1373-1393, 1964; graphic novel #9)
7. Les Flèches de Nulle Part [The Arrows From Nowhere] (SP Nos. 1399-1420, 1965; graphic novel #10)
8. Le Réveil de Toar [Toar Awakens] (SP Nos. 1474-1495, 1966; graphic novel #12)
9. Le Grand Combat [The Great Clash] (SP Nos. 1501-1521, 1967; graphic novel #13) [picture below]

Written by Stephen Desberg; Drawn by Will:
Graphic Novel # 32. Traitement de Choc [Shock Treatment] (1984)
Graphic Novel # 33. Choc 235 (1985)
Graphic Novel # 35. Dans les Griffes de la Main Blanche [In The Clutches Of The White Hand] (1986)

(1955)


(1967)


SPECIAL 2-PAGE STORY: L'IMAGE DE CHOC




Choc unmasked at the end of

Le Retour de Choc (1957)...

Publishing History

Tif & Tondu was originally created by Fernand Dineur for the weekly comic magazine "Spirou" in 1938. It was then taken over by Will in 1948. Writer Maurice Rosy came on board in 1955 and immediately created the character of Monsieur Choc and the White Hand. The series' popularity soared. In 1958, Will & Rosy took a six-year break, but returned in 1964 with Choc au Louvre. A number of flamboyant adventures pitting the resourceful Tif & Tondu against Choc followed, until 1967 when Rosy decided the retire the character. He wrote two more Tif & Tondu adventures, then in 1968, passed the writing baton to Maurice Tillieux, who went on to write the series for 11 years. It is only in 1984 that Monsieur Choc made a triumphant return under the pen of writer Stephen Desberg, with Maurice Rosy's permission. Will finally retired in 1991, but the series continues today, in other hands.


...But Passez Muscade (1958) revealed that

he had been wearing a face mask!
The Authors

Maurice Rosy (1927- ) joined the editorial team of "Spirou" in the early 1950s. He contributed stories to Tif & Tondu and Spirou. In 1967, he co-created Attila with Derib. His other popular creation is the cartoony convict, Bobo. Rosy retired from comics in the late 1960s to go into advertising.

Will (a pseudonym of Willy Maltaite) (1927-2000) was a colleague of Jijé and one of the first artists to join the editorial team of "Spirou" in 1948. He took over Tif & Tondu from Dineur, and worked on it regularly until 1991. He also assisted Peyo on Benoît Brisefer and Franquin on Spirou. His other genre series is the whimsical fantasy, Isabelle, co-created with Franquin, Delporte and Macherot. Will passed away in early 2000.

(1985)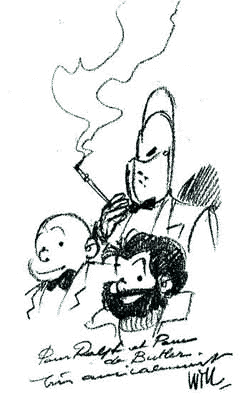 VISIT WILL'S OFFICIAL WEBSITE!

Tif & Tondu © 2001Ed. Dupuis. All rights reserved.