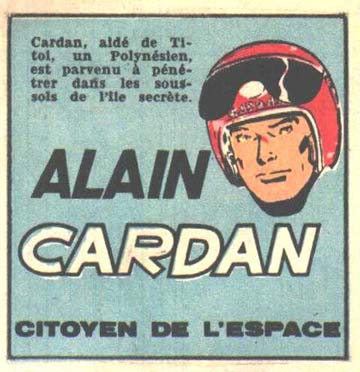 Writer: Yvan Delporte (1928- )
Artist: Gerald Forton

Alain Cardan is a fearless space pilot in a near future when Earth begins the colonization of the planets of the solar system and launches an expedition to another star.
The Stories

from "Risque-Tout" & "Spirou" Magazine


1. Alain Cardan (Risque-Tout Nos. 24; 27-50; 1956)
2. Alain Cardan (Spirou Nos. 996-1006; 1957)
3. Alain Cardan, Citoyen de l'Espace (Citizen of Space) (Spirou Nos. 1013-1039; 1957-58)
4. Allo, Ici Vénus (Venus Calling) (Spirou Nos. 1046-1068; 1958)
5. L'Exode de la Croix Ansée (The Exodus of the Crux Ansata) (Spirou Nos. 1121-1142; 1959-60)
Publishing History


Alain Cardan was originally serialized in Risque-Tout and Spirou from 1956 to 1960. The stories were not collected in the graphic novel format. A fan-produced edition entitled L'Expédition de la Planète Venus (The Venus Expedition) was published in 1990 by the "Editions de l'Amateur Passionné."

The Authors

FOR MORE ABOUT YVAN DELPORTE,

.
FOR MORE ABOUT GERALD FORTON,

.
Alain Cardan © 2002 Delporte/Forton. All rights reserved.